Bayern beat BATE to win Group F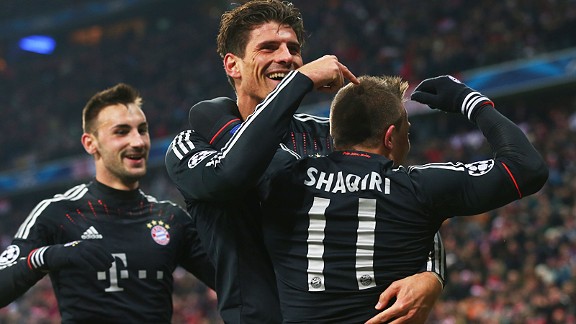 GettyImagesBayern Munich celebrate after becoming the third German team to top their UEFA Champions League group this season.
A quiet night in the Allianz Arena-with half of the Suedkurve absent - saw Bayern Munich top Champions League Group F with a 4-1 beating of BATE Borisov on Wednesday, despite being down a man for nearly half an hour. Now the Reds will await December 20 for the draw of the last-16 where Real Madrid, PSG and Arsenal could all be possible opponents.

Despite needing to win the match to win the group, Jupp Heynckes made six changes to the side that drew with Borussia Dortmund the previous weekend. An unfamilar backline of Rafinha, Jerome Boateng, Daniel van Buyten and Diego Contento stood in front of Manuel Neuer. Anotily Tymoshchuk stood next to captain Bastian Schweinsteiger in holding midfield, while the attack comprised of Thomas Mueller, Toni Kroos and Xherdan Shaqiri looked to feed to Mario Gomez as lone striker - his first start of the season.

BATE started super-defensively, and it would take Bayern some time for the players on the field to get used to each other; needing 22 minutes to open the scoring after Xherdan Shaqiri burst in to the box, passing to Mario Gomez who tapped in easily.

The second half would get a little livelier as Jerome Boteng would see a harsh red for a late challenge on Artem Kontsevoy. This red card- his first foul of the night- means Jerome will not be available in Champions League competition until the quarter-finals. With Holger Badstuber's season-ending injury and Dante being one card away from suspension, it'll be a tricky path for Jupp to decide on a line-up.

But only minutes after going down a man, FCB doubled their lead with Thomas Mueller getting an assist from Bastian Schweinsteiger. You might think that after being up 2-0, and down to ten, Bayern would park the bus the last 30 minutes, but they didn't. Mario Gomez would repay Shqairi's assist with one of his own- the diminuitive Xherdan would score the first header of his career.

Borisov's Denis Polyakov would see red for a dive in the box, and it was ten-on-ten as the pitch would now open up a bit, with substitute David Alaba taking the score up to four on Franck Ribery's corner. Filipenko would score a consolation goal for the away side, beating Manuel Neuer short-post.

Group F winners Bayern Munich now must look to Augsburg over the weekend, 'Gladbach in Bayern's first Friday fixture the next week, and then a trip to Augsburg for their DFB Pokal tie the following Wednesday.

Odds and ends:

I know a lot of people looking forward to facing possibly Chelsea next round, but it's not be as Juventus won their match to qualify ahead of the Blues. Good riddance, I say. Revenge enough is them having to watch this competition on TV.

I said five goals would be scored, just one of them went the other way.

I enjoyed the exchanges between Mario Gomez and Xherdan Shaqiri. Despite barely having any match time together, there was a good understanding between the two.

Am I mistaken in thinking that was Manuel Neuer's first captain's armband in a Bayern kit? Looked good on him.

Scottish referee William Collum let this one get away from him a bit after the Boateng red card. It seemed like he blew a lot of late whistles and the crowd was influencing his decisions.

Xherdan Shaqiri is much more effective on the wing than in the hole.

You should follow Susie on Twitter @fussballsusie .