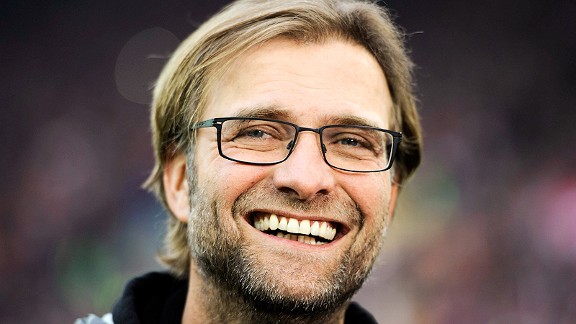 Getty Images/Getty ImagesJurgen Klopp has accomplished wonders since taking the helm at Borussia Dortmund. Will his superb record vs. Bayern continue on Saturday?
Why Dortmund will win

"In the medium run -- from 2008 through to 2011 -- we want to be on par with Schalke, Werder and Stuttgart," Borussia Dortmund's CEO told Der Tagesspiegel in March 2007. A few days later Borussia Dortmund lost 2-1 away to Arminia Bielefeld and dropped down to 17th position in the Bundesliga.

March 30th, 2007 became one of the major turning points in Borussia's recent history. The team at that time coached by Thomas Doll avoided relegation that year but Bielefeld stayed. A line in one of the BVB songs released after the first championship read "I was with you in Munich but also in Bielefeld." Munich in 1997 seemed so far away. The former Champions League winners were on the brink of bankruptcy and coaches coped with the leftovers of a highly-paid but smug squad.

Borussia had been forced to cut their salaries from 57 milliion euros to 26 million in only a few years time. A year later, after yet another dull season in mid-table, Dortmund had somehow reached the cup final against Bayern Munich. The duel between the two clubs was far away from a "clasico" -- a week before the cup final Bayern had hammered Dortmund 5-0, with four of the five goals scored within the opening 22 minutes.

In the cup final Bayern came out as the 2-1 winners after extra time but it was on that cold day in April 2008 that rumors circulated: Jurgen Klopp was to take over as Dortmund coach. Which, as we all know, he did only a few weeks later. Klopp built a new squad, handing a second chance to Nuri Sahin (who had returned from a loan with Feyenoord) and integrating young centre-backs Mats Hummels and Neven Subotic. That was 2008.

In 2011, Sahin left the club for Real Madrid, Hummels and Subotic had made their debuts for their national teams and Borussia Dortmund not only were on par with Schalke and the rest but also won the league. A year later Borussia had won the double, after ending up at the bottom of a mediocre Champions League group. At the end of November 2012 Borussia Dortmund topped its CL group that included the champions of Spain, England and the Netherlands, Dortmund have qualified for the round of the last 16 in the German cup and only lost two competitive games all season.

Despite currently being in third place and drawing 1-1 in a midweek clash against Dusseldorf, Borussia Dortmund look favorites going into the game on Saturday for many reasons. The Klopp XI has won the last four clashes with Bayern but losing to a Bayern team that has only dropped five points all season would seem perfectly normal. However, going into the match backed by the streak Borussia is under no pressure at all, despite trailing Bayern by 11 points.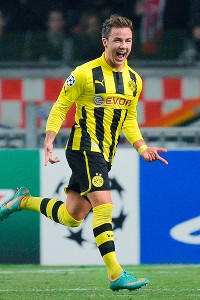 John Thys/Getty ImagesMario Gotze will be an important figure. How well he finds room to operate in the attacking third might well decide this contest.
"We thought we'd play that match, anyway," Klopp told the press on Thursday. He said he was expecting a greedy and liverish opponent, an opponent tailormade for Dortmund's game -- a style based on quick counter attacks while handing the opponent possession of the ball and waiting for mistakes.

With Roberto Lewandowski, Marco Reus and the great skills of Mario Gotze, Dortmund will ask the Bayern defense questions they have not been asked this season. Left back Max Schmelzer in support of Kevin Grosskreutz, who steps up in these big games, and Polish duo Lukasz Piszczek and Jakub Blaszczykowski will win balls against Franck Ribery (who imposes the biggest threat) and Thomas Muller with which set Gotze up. Meanwhile, Ilkay Gundogan and Sven Bender in holding midfield should be able to take Toni Kroos out of the game.

It remains to be seen if Bayern will be able to reply. - Stephan Uersfeld

Why Bayern will win

For a full two seasons, Borussia Dortmund have gotten the better of Bayern Munich. Following Munich's Champions League final apperance and domestic double in 2010, die Schwarzgelben have done everything right to prevent die Roten from collecting any domestic trophies, culminating in last season's DFB Pokal final that Dortmund resoundingly won 5-2. It was only part of a heart-breaking spring as Bayern had seen their chances to win the Bundesliga fade -- again to Dortmund -- and a defeat to Chelsea in the Champions League final despite playing pretty football.

After the Pokal loss in Berlin, Philipp Lahm said that "we were the better team for 90 minutes, but we made disastrous errors and kept handing it to our opponents on a plate, a situation Dortmund used to the full." Indeed they did, striking ruthlessly on the break to exploit Bayern's very tired defense.

No trophies for two years meant things would change. Christian Nerlinger made way for Matthias Sammer as director of sport and many new faces joined the squad to shore up a first team that never really had anything beyond a starting XI. Gone are the days when a Franck Ribery or Mario Gomez injury meant a lot of hand-wringing; this season has seen positive contributions from all in the first team in a rotating system that Jupp Heynckes has used to great effect.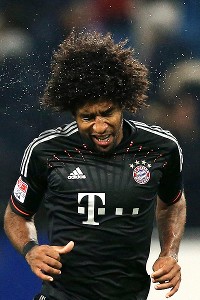 Joern Pollex/Getty ImagesIf this game comes down to defenses, Bayern might hold the edge given the strength of Dante and co this season.
This effect has seen Bayern absolutely dominate the Bundesliga for the first half of this season with 37 points and a +35 goal differential, while BvB has been a bit lackadaisical with the league, dropping to third -- 11 points back and +14. It seems, after last season's exit in the Champions League group stages, coach Jurgen Klopp has his attention somewhere other than a domestic trophy. As such, Dortmund have become the darlings of the Champions League this season, winning a potent Group of Death with one match to spare.

Klopp may say that Saturday's match is just one like any other, but it sounds disingenuous. In their midweek match against a struggling Fortuna Dusseldorf, a disjointed Dortmund looked as though they were thinking about the weekend rather than what was in front of them, ending up with a draw in a game they should have won and allowing Bayern (who beat Freiburg 2-0) to stretch an even greater league lead.

Borussia Dortmund may play a style that's favorable against a team like Bayern -- high pressing, allowing possession and waiting for mistakes -- but gone is the impatience of seasons past for the Reds. While they generally hold the lion's share of the ball, the build-up to score is more controlling with the midfield poking in to the attacking third, waiting to find gaps it can exploit.

For me, the match comes down to individual defensive errors, and I like the way Bayern stacks up, only allowing a paltry five goals so far this season -- two of which were flukes. Before Jerome Boateng's injury, he was the highest rated defender in the league. Since his injury, Brazilian Dante's play has gone up another few notches (and it was fantastic before) stopping absolutely everything in front of him, while Holger Badstuber is in his more comfortable position at center, rather than on the left wing.

On the wings, David Alaba and Philipp Lahm have the pace to cope with a quick Dortmund attack, but both must be mindful not to throw themselves too far forward. While Javi Martinez is showing why he was so sought after, Bayern will be happy to have the heart of the team back on the field in Bastian Schweinsteiger, who missed the midweek match against Freiburg given his accumulation of four yellow cards.

Stephan mentioned that Bayern need to win this match more than Dortmund. From a psychological standpoint he is correct -- Munich needs to sort out its bogey team. But really, looking at the standings, a draw would suffice to leave Bayern ten points clear atop the table. I would say that Dortmund needs to win this match more if they have any hope of capturing a third straight title. It remains to be seen if Klopp's men are eyeing that prize or the chance of European greatness instead.

With all seven German teams looking to advance to the elimination rounds of European competition, suddenly the world's footballing eyes have swung to Deutschland and a full 203 countries are broadcasting this match live. Forget the Clasico or the Manchester Derby; these two German giants are sure to show the world why the Bundesliga is so entertaining.

Stephan Uersfeld works as a Germany correspondent for ESPN. He was born and raised in Dortmund and followed the ups and downs of his hometown club since the mid-80s. He has been to Munich in 1997 but not in Biefeld ten years later.

Susie has covered Bayern Munich and the German national team for ESPN since 2008. She is still trying to figure out how to liberate Gerd Mueller's 1970 Golden Boot from a restaurant in Fort Lauderdale, Florida.