Herbstmeister! Bayern crowned autumn champions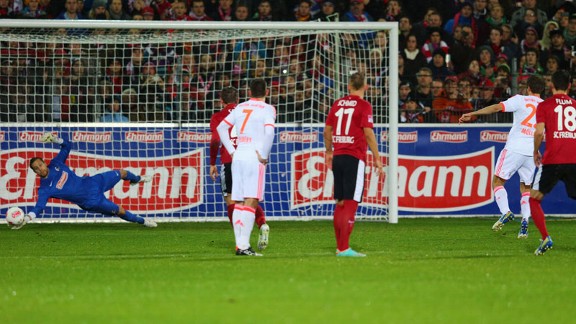 GettyImagesThomas Muller opens the scoring for Bayern from the penalty spot
A harsh penalty and a just red went against SC Freiburg in the first 17 minutes of a rainy match in the Mage Solar Stadion. But despite those setbacks, Christian Streich's ten men held back a somewhat sloppy Bayern Munich until sub Antoliy Tymoshchuk struck the nail in the coffin in the 80th minute. Yes, you read that right - Antoliy Tymoshchuk.

Bayern Munich also broke another record with this one: They are the first Bundesliga squad to be crowned Herbstmeister (winter champions) with three matches left before the winter break. Out of their now 18 "autumn master" titles, they have gone on to win the "salad bowl" 14 times. A ten-point lead over newly second-placed Bayer Leverkusen puts the Reds in good shape before Borussia Dortmund (and I) come to town over the weekend.

Jupp Heynckes gave Mario Gomez the start up front, with Xherdan Shaqiri in the hole behind him, and Thomas Mueller and Franck Ribery on the wings. Gomez definitely needed the match minutes. And it showed. Despite his glorious return to Bundesliga play against Hannover 96 - scoring within half a minute of being on the pitch - the German international will still need some time to fine-tune.

Every cross to Mueller just seemed a bit out of reach for him, while Ribery was distastefully selfish. He had chances where he could have laid off to a team-mate, but chose the glamour role of trying to run through the entire Freiburg defence instead - most notably in injury time when FCB could have scored a third if he'd let sub Claudio Pizarro in on the action. One would think he's trying to catch up to Thomas's goal tally - troubling, I think. But, it's one match and I am willing to give him the benefit of the doubt.

And while I absolutely love the engine of Shaqiri, he is not suited to the playmaker's role. Perhaps Heynckes' better option would have been to put Xherdan on the right with Thomas in the middle? While Toni Kroos has had lovely moments there this season, it is also a spot that Mueller plays well.

In front of the backline, not much to complain about with the new partnership of Toni Kroos and Javi Martinez. Javi is slowly, but surely, settling in to his role, while it was kind of a one-off for Toni. Bastian Schweinsteiger had to sit this one out after receiving four yellow cards so far this season so he would be available for Saturday's match against BvB. I did think that Antoliy Tymoshchuk would get the nod, though. But the Ukranian's fresh legs saw him round 'keeper Oliver Baumann to seal three points for die Roten. It was just the fourth goal of his Bundesliga career.

Philipp Lahm added his fourth assist with the Tymo goal, but the star of the backline was certainly Dante. While some may question Javi Martinez's transfer fee (which I think will be fine in the end), Dante was an absolute steal from 'Gladbach for an estimated 4.7 million euro - a little more than one-tenth of what the Spaniard cost. Whoever Brazil's next manager might be, they would do well to call him up. He is an absolute beast!

While all that follow Bayern week-in-and-week-out would call this match sloppy (myself included), the boys in red still completed nearly 90% of their passes. Our particular brand of Spanish-based "tiki taka" - which I will fittingly re-name "tiki-taki-tiki-taki-oy-oy-oy" - sees a high percentage of completion, but sadly, for this one, not when it counted. Die Bayern will need to tighten it up a bit for the match on Saturday.

And on that note, I am off to Munich. I'll be traveling all day Thursday, so you will have something on Friday before the Dortmund match. The Christkindlmarkts will be open. Snow is expected. And every barkeep I know in Munich has texted me their schedule. It's looking to be an epic week, and I'm very much looking forward!

You can follow Susie on Twitter: @fussballsusie .