Javi Martinez returns to Spain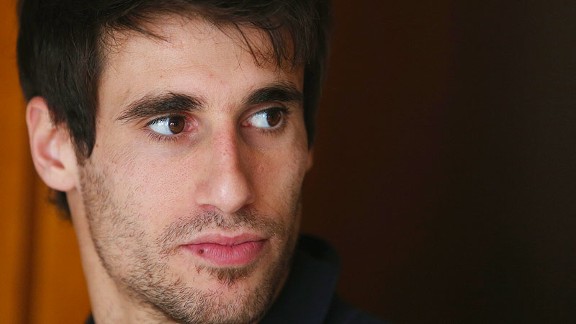 Alexander Hassenstein/Bongarts/Getty ImagesA Champions League trip back to Spain should motivate Javi Martinez to finally assume his spot alongside Bastian Schweinsteiger in midfield.
"I'm really looking forward to the match, and I'm obviously hoping we'll hand them a first home defeat of the season." -- Javi Martinez

There would be no time like the present, of course, as the Bayern Munich squad is in Javi's homeland and looking for first place in Group F against Valencia CF on Tuesday. A "soft groin" injury (can anyone tell me what that is?) and subsequent surgery for Luis Gustavo means that the Spanish holding midfielder will be getting his chance to solidify his place in midfield alongside Bastian Schweinsteiger -- all this some three months after coming over from Bilbao for a Bundesliga record transfer fee of 40 million euros.

Coach Jupp Heynckes has taken his time with Martinez, allowing him the chance to grow accustomed to Bundesliga play and the disparity of styles between the German league and La Liga. However, the Valencia game is his time to shine (and to see if it was all worth it) as the Brazilian's injury and Antoliy Tymoshchuk's underwhelming play leaves Heynckes with little choice but to start Martinez.

Javi recently spoke with fcbayern.de about the upcoming Valencia match.

On the differences between La Liga and the Bundesliga: "German football is possibly a little more physical, more athletic, and has more tackling. It's a little bit more like the English game. The pace and the rhythm aren't quite as high in Spain, because they set more store on a passing game with lots of touches of the ball."

On Valencia's place in La Liga: "Valencia are a very good, balanced team with a number of excellent individuals. They've had to sell lots of big names in recent years, the likes of Villa, Silva, Mata, Albiol, Marchena and Jordi Alba, but despite that, they're always there or thereabouts near the top, routinely fighting for third or fourth place in the 'other league' beneath the dominant pair of Barcelona and Real Madrid."

On Los Murcielagos' current form: "They were in a trough when they came to Munich two months ago, but they're on a roll now. And they've beaten Borisov twice. They're a dangerous team."

When asked if he was aware of his personal record against Valencia, he replied: "Not really, but I guess it's not particularly good." Yet when told it was five wins, two draws and six defeats (with Javi scoring once), Martinez said "Okay, let's hope we can make it six wins on Tuesday."

So with the holding midfield pairing of Schweinsteiger and Martinez set, who else will start for Bayern on Tuesday? A likely back four of Philipp Lahm, Daniel van Buyten, Dante and David Alaba should stand in front of Manuel Neuer. Although Holger Badstuber is fit, Daniel had a decent match against Nurnberg and I don't see Jupp shaking things up for a match as important as this.

Arjen Robben is still out but despite not being 100 percent, Franck Ribery will start as Xherdan Shaqiri just didn't make the grade in the Bavarian derby. Thomas Mueller on the right, Toni Kroos as playmaker and Mario... Mandzukic should round up the attack. Look for Mario Gomez, meanwhile, to be a second-half substitution.

On the other side, Valencia CF coach Mauricio Pellegrino will be unhappy that Fernando Gago is likely to miss the game due to injury, meaning Jonathan Viera should continue in central midfield. Yet the under-fire manager will be pleased that Los Che have won eight straight European matches at home and are in a good vein of form, beating Atletico Madrid, BATE Borisov and Espanyol (with a disputed penalty to seal victory).

Although two draws in the last two matches would be enough to see Bayern Munich through to the last 16, it would be lovely to nab three points in the Mestalla. That, coupled with a Borisov loss, would likely see die Roten crowned as Group F winners. And that being said, perhaps it's not such a good idea when you look at who might finish in second place in their groups. But, as the saying goes, you've got to beat the best to be the best, right?

You should follow Susie on Twitter @fussballsusie.

Note: I was going to write a piece on Howard Webb as he's got the whistle for this game, but a Twitter friend (@BayernM_online) beat me to it and wrote something you should read. Find it here.