Bayern Munich's disappointing derby draw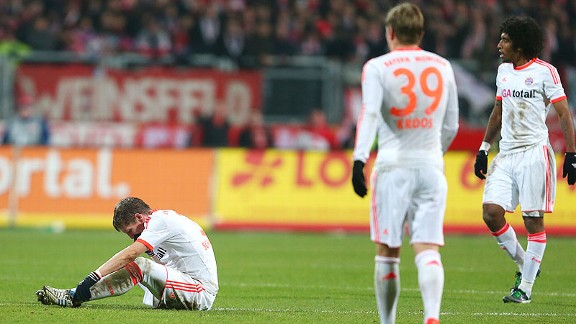 Alexander Hassenstein/Bongarts/Getty ImagesWith focus firmly on a crucial Champions League game in midweek, a misshapen Bayern squad failed to beat lowly Nurnberg.
With Franck Ribery and Arjen Robben both sustaining knocks in Bayern's pointless midweek friendly matches, Mario Gomez left in Munich and Holger Badstuber left on the bench, Bayern Munich could only manage a scrappy 1-1 draw away to 1. FC Nurnberg.

Jupp Heynckes made six changes to the starting XI against Frankfurt. Manuel Neuer was between the sticks behind a backline of Rafinha, Daniel van Buyten, Dante and David Alaba. Antoliy Tymoshchuk partnered with captain Bastian Schweinsteiger in holding midfield. With "Robbery" out, the attack consisted of Thomas Mueller, Toni Kroos and Xherdan Shaqiri, with Mario Manduzkic up front.

While I was happy -- before this Bavarian derby started -- to see Rafinha, Tymoshchuk and van Buyten get starts, it didn't end up that way as all three had poor matches. If the not-so-speedy Belgian van Buyten hadn't started, Jupp Heynckes would have chosen Javi Martinez to partner Schweinsteiger. Or conversely if Tymo was in, Daniel shouldn't have been at the back. But that trio, stacked at they were toward the right side of the field, was a big part of FCB's unworthy play on Saturday.

More: Dortmund, Stuttgart win

And it all started out so well, as Antoliy -- with his only positive play of the match -- caught Javier Pinola in possession. He then launched the ball to Toni Kroos, who crossed to Mandzukic for the Croatian's ninth Bundesliga goal. With just three minutes gone, one would have expected a different scoreline by the end.

Not to be; as the match continued with referee Manuel Graefe steadily losing control of a tense derby, FCN scrapped back and gave as good as they got, the two teams trading blows throughout the first half. Timothy Chandler was a standout for Nurnberg while Rafinha and Kroos directed balls straight at keeper and captain Raphael Schaefer.

The second half started horribly for Bayern as Toni Kroos lost the ball in midfield to former Bayern youth product Feulner, who unleashed a wickedly curving shot from 25 yards out that escaped Manuel Neuer. On the very next play, Dante saved the Reds' blushes as a last-gasp tackle ahead of Sebastian Polter's shot saved Munich from going down 2-1.

Tymoshchuk was replaced by Javi Martinez, Rafinha for Philipp Lahm, and Mandzukic by Claudio Pizarro as Bayern tried to settle things down, but Nurnberg parked the bus and defended heavily until the final whistle.

This draw sees Bayern with ten wins, one loss and one draw in 12 Bundesliga matches, securely on top of the table with 31 points. (Given Schalke's 2-0 defeat at Leverkusen, Bayern now holds an eight point lead.) A Spanish encounter looms Tuesday at Valencia in Champions League group play before the boys return home for a weekend match against Hannover.

It has to be said that this is the first match in Bundesliga play that Munich has given up a goal away from home. The sky is not falling. No, not yet.

Odds and ends:

I hate midweek friendly matches.

Liked the fireworks from the Bayern away support, as they're trying to shut it down in the Allianz.

Only Mueller and Neuer were any good today.

Anyone think Gebhart looks like a poor-man's Contento? Also, he better hope he never meets me...

What was Felix Magath doing in the stands? Gloating? Or feeling nostalgic?

Shaq was exceptionally poor with crosses and corners.

You should follow Susie on Twitter @fussballsusie.