Is there room for two Super Marios?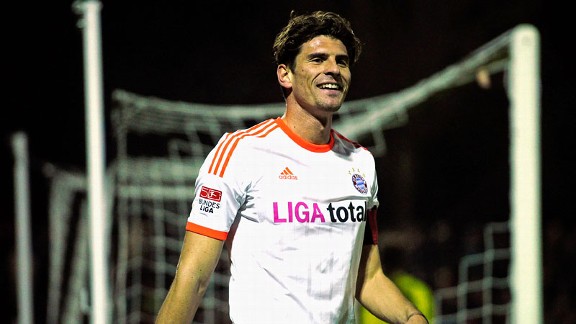 Lennart Preiss/Bongarts/Getty ImagesMario Gomez' return is good for Bayern, but how will coach Jupp Heynckes keep his three top forwards rotated and happy?
While every sports news media outlet was singing the praises of that Swedish guy -- what's his name? Ibra-something? -- yesterday, I was thinking that just the day before Bayern's very own Mario Gomez, sidelined for three months after ankle surgery, scored four in his first match back -- he even burst a ball with a hard penalty strike.

OK, so it wasn't against the Three Lions. But a friendly against sixth-division side Falke Markt Schwaben has to mean something, doesn't it? No? Ah well, hats off to you, Zlatan! But, I don't write the PSG column.

Just when Jupp Heynckes would have had the luxury of his entire line up -- Holger Badstuber had just come back back to team training along with Mario Gomez -- Jerome Boateng gets hurt, tearing a groin muscle. I for one cannot wait for the day when all players are available, just to see who Jupp will decide to play. But what will Heynckes do when he's got three available strikers? Claudio Pizarro has shown that he can ride pine for a number of weeks and still come out firing (a la the Lille match). Will either Mario be able to do the same?

Mario Mandzukic made 56 apperances for Wolfsburg in two seasons from 2010-2012, netting 20 times under managers Steve McClaren and Felix Magath. After scoring three goals for Croatia at the European championships this past summer, Bayern scooped him up for an estimated 13 million euros. When the preseason injury occured to Mario Gomez, the "other Mario" took his place as regular starting striker, gathering eight goals in ten apperances so far this term.

Meanwhile, Mario Gomez, ever a standout at Stuttgart, was signed by Munich in 2009 for a then-record transfer fee estimated between 30 and 35 million euros. After a disappointing 2009 campaign that saw him net 14 goals in 45 total appearances (in all competitions), he really came into his own in 2010. An Ivica Olic injury -- coupled with Miroslav Klose looking for a way out -- saw Gomez become the regular striker. And strike he did, scoring 39 goals in 45 matches. This rate nearly continued into the following season, where he netted 41 times in 52 games.

As you can see, neither Mario has spent any considerable time on the bench over the past few seasons. And they both, along with Claudio, come with their own unique set of skills. While Gomez is more of a pure striker, both Pizarro and Mandzukic are better with the ball at their feet although the former is prone to getting caught offside. 'Mandy' is great in the air, but height -- and a head for the ball -- isn't an issue for either of the other two. Gomez seems to always end up in the right place at the right time while Pizarro and Mandzukic do better to create their own luck.

While Gomez would enjoy being included in the squad away to Nurnberg on Saturday, no one wants -- nor needs -- to rush him. But, perhaps a 15 minute spell against Bundesliga competition might bring his rehab up a few notches. However, as Jupp Heynckes cautioned to FCB.tv: "There's no decision as yet about his availability for Saturday."

On finding his return to the starting XI, Gomez said: "I've been up against very, very good strikers for eight years now, and I've always come out on top. I'll come out on top again this time."

It may not be this Saturday but the time is certainly coming when Jupp Heynckes will have to make some hard decisions. Can the three strikers (like the rest of the team) be rotated to full effect? Whose underwear will be in a bunch over it? Is there room, at Bayern Munich, for two Super Marios?

You should follow Susie on Twitter @fussballsusie.