Oy Veh! Armin gives up before it's even started.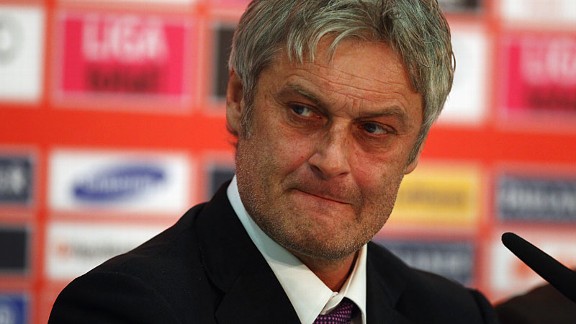 GettyImagesArmin Veh: Former manager of Hamburg
It's got to be tough to be an Eintracht Frankfurt player ahead of their showdown with Munich on Saturday. Die Adler coach Armin Veh spoke to Bild about their chances in the Allianz: "I have wondered whether it makes any sense at all me travelling. I have never won at the Allianz Arena."

Seven points seperate the two clubs, although Schalke 04 remain in second-place on goal differential. And Frankfurt, after being promoted this season, are having a fantastic term. So, why so glum, Armin? He insists that the two clubs are not on a level playing field, stating: "Martinez cost 40 million euros and he probably earns 10 million euros a year in wages - with those 50 million euros for just one Bayern player we could afford to pay the wages of our whole team for two years."

OK, so there's that.

Mario Mandzukic has recovered from the flu and is available. Meanwhile, the other Mario will feature in a friendly on Tuesday, and should rejoin the squad after the international break. (More on him in midweek.) Jupp Heynckes will do without Luis Gustavo - who also missed the match against Lille - and Holger Badstuber, who is still out with a torn thigh muscle.

Mr Glass-Is-Half-Empty will not have the services of Martin Amedick, who has only made two apperances this year after seeking psychological help last season for burnout, and Carlos Zambrano, who broke his toe against Stuttgart. Midfielder Pirmin Schwegler is also close to suspension after his fourth booking so far this term.

There is no mention of the Bild interview on Eintracht Frankfurt's website. No surprise there. Instead, we get this little nugget from Armin Veh from the pre-match press conference in Frankfurt: "We will not defend deep and focus on our defensive third, our game is to also go forward and to attack. Of course we might have to hold back in a few more situations on Saturday. But we will stick to our way of playing, the 20 points we collected in 10 matches were well deserved."

"If you look at the standings it is indeed a top match. But to me it is not the match of the season for us, the ones against teams competing directly with us such as Augsburg or Mainz are far more important. But overall we are not competing with Bayern."

Already just playing for second? We're not even at the winter break yet!

You should follow Susie on Twitter @fussballsusie .