The foundation van Gaal built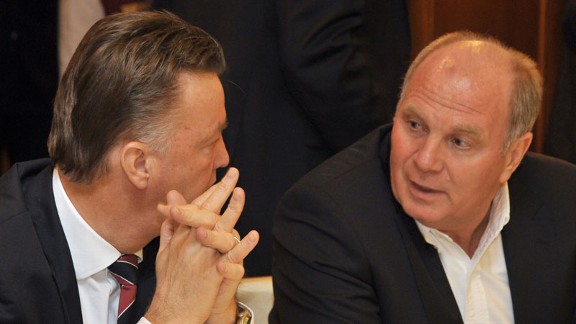 PA PhotosLouis van Gaal says he would never work with Uli Hoeness again
Louis van Gaal, former Bayern and current Netherlands national team coach, had some choice words to say about his former boss in Munich. "The only one who kept pressing for my sacking was Uli Hoeness," he said. "No one else."

Hoeness wanted van Gaal out because of the latter's refusal to change - as the squad that had come one win away from a treble in 2010 was suffering from a rigidity in Louis' coaching philosophy. "When I feel it's not working, and give [LvG] five chances to change- and he will not - then I must make decisions against [his] interest", Hoeness said after the Hamburg match.

Both, surely, are right to some extent. Van Gaal, on one hand, was responsible for starting David Alaba at left-back, cementing Thomas Mueller's place in the senior squad, and bringing in Luis Gustavo. Saying that, he tried everyone at left-back, ruined Thomas Kraft and brought in Edison Braafheid. 'Memba him?

But what he did do right was usher in our current attacking philosophy - although he fought with Franck Ribery often - and for that credit is certainly due. But, it suffered from a lack of connection between the attack and defence, and that is a problem being rectified by current coach Jupp Heynckes.

FC Bayern, this year, regardless of personnel on the pitch, are a much more fluid starting XI. And the team grasps the constant positional changes during a match. Rather than the FC Hollywood-style of bickering that was happening - "It's your fault." "No, it's your fault."- more work is being put in at either side of the field. "We are all one or two percent more eager to win this season," Mueller has said.

It's paying dividends now. Despite missing a gaggle of stars for periods this term, Bayern still lead the Bundesliga by seven points, are in the last 16 of the Pokal and sit in a favorable Champions League position. Even for this Lille match - with Mario Mandzukic doubtful with a cold and Mario Gomez not fully fit quite yet - there are still good striking options in Claudio Pizarro and, if need be, Thomas Mueller.

It seems that Toni Kroos has got over his tummy trouble and will be available to start. So, the only men Jupp Heynckes will be missing are Holger Badstuber and Emre Can - who ruptured ligaments playing for the reserves over the weekend. Much to the chagrin of Bayern bloggers everywhere, Jupp hasn't released a Startelf and won't do so until just before match time. Surprisingly, he did announce that Arjen Robben would start this one. It's a toss-up to guess the rest.

Lille OSC trainer Rudi Garcia is waiting for late fitness tests for defenders Franck Beria, Mathieu Debuchy (who would be matched up against Ribery) and Marko Basa. Garcia will also be missing Idrissa Gueye, Ryan Mendes, Lucas Digne and Adama Soumaoro.

Lille are no push-over, as evidenced by our first meeting in France. And the boys from Munich are expecting another rough-and-tumble match. Heynckes remarked to fcbayern.de: "In the reverse fixture they proved they have incredible power, they're prepared to mix it and they'll fight. I'm expecting the same on Wednesday. My team knows what it'll be like."



You should follow Susie on Twitter @fussballsusie .