Robben and Pizarro see Bayern through to last 16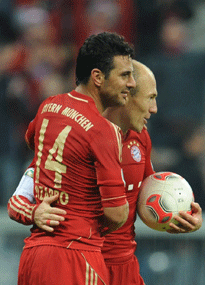 GettyImagesArjen Robben and Claudio Pizarro grabbed a brace apiece for Bayern against Kaiserslauten
So, I write an article praising Arjen Robben with the hopes that he will: a) Start the match. And, b) Make a positive contribution. While I'm not feeling exactly smug - more happy than anything else - it was touch-and-go from the start as Robben's first attempt at his patented move came to naught. And did my Twitter followers let me know! However, as all were pressing "send", Arjen burst down the right, chesting a long ball down and threaded a clinical pass through two Kaiserslautern defenders into space, perfectly placed for an on-rushing Claudio Pizarro. 1-0 to Bayern.

- Bayern stroll with Robben brace

The teams went in to the dressing rooms at half-time with that same score, and 'Lautern could not help but be encouraged by Bayern's slim lead. They had some decent counter-attacks in the first half as well; notably Idrissou's shot forcing Tom Starke into a diving save and Zellner's deflected shot that dinked the outside of the goalpost.

The Dutch Tulip scored his first of the night a scant four minutes after the restart after Claudio picked up a poor clearance by Leon Jessen, passing to Robben who scored, naturally, with his left foot. Pizarro then completed his brace nine minutes later, with a header from Xherdan Shaqiri's set piece. Not to be out-done, Arjen Robben claimed his own double in the dying minutes of the match thanks to a lay-off from the Peruvian.

After Jupp Heynckes made nine changes to the side that lost to Leverkusen last weekend, I would have thought the first goal would have taken more than 12 minutes. While the journos have implied that Heynckes fielded a B-squad, the 11 men on the pitch brought their A-game. Tom Starke, deputising for Manuel Neuer in goal, stood behind a back four of Rafinha, Javi Martinez, Jerome Boateng and Diego Contento. It was a good day all around for the defence, and nice to see Rafinha and Contento get quality time on the pitch.

Emre Can and Antoliy Tymoshchuk, marshaling the midfield, did well in the holding positions. Can made a couple of rookie errors, but shows an aggression that's needed for that spot. And the Ukrainian Goldilocks got a full 90 minutes in - and in complete control. Well done by the veteran.

Shaqiri dives a bit too much for my tastes, but you can't help but love his engine. And David Alaba had a good, if unspectacular, day in the central attacking-midfield role. His curling free kick, narrowly saved by Sippel, is the only thing that really sticks out in my mind.

Captain of the Bayern side, and man-of-the-match, Arjen Robben was ecstatic afterwards, joking about continuing his captaincy when saying: "I'm going to have a word with Philipp."

He told bundesliga.de: "A 4-0 might look comprehensive, but we played with a team which hardly had any match practice and wasn't used to playing together. Such a performance doesn't just happen, so I'm very proud of the lads because they did a really good job."

When asked about the drastic shuffle of personnel, coach Heynckes added: "I consider it normal, because we practice passing, movement and attacking ideas every day. And that's why I said in the team talk: 'Guys, it will all fit together, you have it in you.' And the players proved it impressively."

Note: No odds and ends for this one, as I had a less-than-spectacular feed.

You should follow Susie on Twitter @fussballsusie .