What is Bayern's best back four?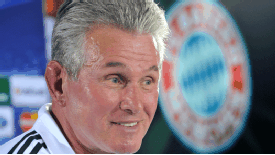 GettyImagesAll is not well in the Bayern camp
With eight wins out of eight in the Bundesliga, Bayern Munich not only have the best attack in the league, but also the best defence - scoring 26, while only conceding two. And while manager Jupp Heynckes has had the luxury of being able to rotate in his attacking positions; he hasn't been afforded the same at the back. Rafinha, with ligament damage, and Diego Contento and David Alaba, with foot fractures, all started the season in rehabilitation.

The last eleven matches have seen Heynckes start the same back four of Philipp Lahm, Jerome Boateng, Dante and Holger Badstuber, while rotating at least one squad member up the other end of the pitch. But now, with the return of all three injured defenders, let's explore Bayern's best back four. And as the coach told fcbayern.de, "there's no player who can rule out the possibility he might have the pleasure of sitting next to me on the bench."

Captain Lahm, Rafinha and Boateng can all play at right back. The outstanding candidate is der Kapitan, who is among the best in the world in the position. Rafinha is the odd man out here as this is his truly favoured position, and he is unlikely to be included anywhere else in the starting eleven. Boateng has been used here for Germany, and would be available if the first two, for whatever reason, were unavailable.

Bayern have played 13 competitive matches this season without a proper left back. For the first two, Emre Can started, with wildly mixed results. While in the last 11, centre back Badstuber, who has grown increasingly more comfortable in the role, filled in. But now, with the return of Alaba and Contento back into the fold, Badstuber must move across to the centre to fight for a spot.

Unfortunately for Contento, Alaba sparkled as left back last term as the former went down with injury. Contento, while talented, hasn't really received a decent run over the last couple of seasons, and it seems likely to continue here. I mean, how does Heynckes not start Alaba if he's fit? I, for one, did not see the point in starting Badstuber against Lille when Alaba was ready to play.

Next, we have four talented guys fighting for two spots at centre back in Boateng, Badstuber, Dante and Daniel van Buyten. As Arsenal have their big German in Per Mertesacker, we've got a corresponding Belgian in the shape of Van Buyten. Currently out with a rib injury, he is admittedly on the downward slide of his career. But, even at 34 years old, he still does certain things very well. Running is not one of them. But he's got a killer left foot (he actually burst a ball last season against Cologne) and is a great header of the ball during set pieces.

Badstuber is an enigma to me. Losing his father weeks after being offered his contract at Bayern in 2009, the Germany international seems a very serious type. His ever-frowning countenance has given him the moniker "B***hface", and while he was good (not great) at filling in at left back, his true position is in the centre. Also a left-footed defender, his ball distribution is excellent, and he holds the ball well. He doesn't, however, get down well for tackles. And his crossing this season, while not really a centre back issue, left a little to be desired.

Boateng is easily the most naturally gifted of the four. And the quickest. Aggressive like Dante, he plays short passes well. The Germany international is prone to make one stupid error per match - generally a bad tackle which sees him a receive a yellow, and usually to the detriment of the team.

Dante, coming over from Borussia Monchengladbach last season, has been the lynch-pin in the central defensive shake-up. Talented and aggressive, the Brazilian's only knock is a lack of concentration on set pieces. He tends to ball watch. And as he's not the fastest, which has come close to hurting Bayern a few times this term.

And lest anyone forget, should the aforementioned four all somehow get injured then Javi Martinez, Antoliy Tymoshchuk and Luis Gustavo have all have experience of playing at centre back. It's a nice problem to have for Heynckes, certainly, but the trick here will be to keep everyone happy.

The question is, while the rotation is working offensively, can it work defensively as well? There were a few blips along the way to start the season, as the midfield and forwards were getting used to lining up with different members every week; is this something that can now be risked defensively at a tricky part of the season?

Yes, things are humming along nicely in the Bundesliga. They are five points up on Frankfurt, seven on Schalke, 12 on Dortmund and Leverkusen - who come to Munich on Sunday. In the Champions League, however, Bayern sit in third - level on points with Borisov and Valencia. Is now the time to "fix" it? If it ain't even broke?

Sami Hyypia's Werkself are the next Bundesliga test for die Roten. After securing a 4-0 away win over Rapid Wien on Thursday, a scant two days of rest sees them visit the Allianz Arena, and a city that has not been kind to Bayer Leverkusen. In the last 18 competitive matches in Munich, 'Kusen has managed a paltry two points.

Hyypia will have almost a whole squad to choose from, as Stefan Reinartz and Sidney Sam have returned to training. The lone absentee being Michal Kadlec, subbed off early against Vienna with suspected ligament damage.

For Bayern, Martinez (hip) and Franck Ribery (thigh) are doubtful after the very physical Lille match. But, there's a light at the end of the tunnel for Arjen Robben, who has returned to team training. He may feature on Sunday for a bit, but will certainly be involved in the DFB Pokal fixture against Kaiserslautern next week.

Finally, what is my best back four? I'm partial to Lahm - Boateng - Dante - Alaba. What is yours? Who would you start against Leverkusen? And why? Let the discussion begin...

You should follow Susie on Twitter @fussballsusie .