Down-tempo Bayern upends Hannover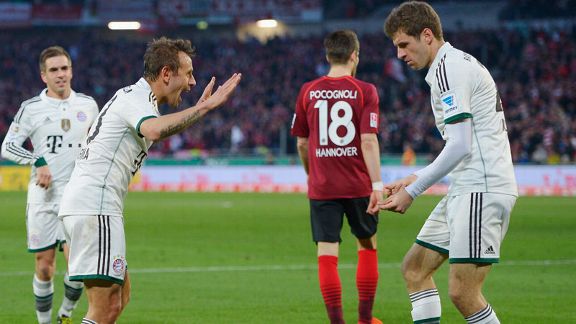 GettyImagesThomas Mueller celebrates with Rafinha after netting for Bayern.
Bayern Munich's Startelf lacked intensity after their midweek Champions League tie against Arsenal, but didn't suffer the traditional "European hangover" against Hannover 96 on Sunday. Instead the away team were clinical in their chances with first-half goals from Thomas Mueller and Thiago Alcantara.

Mueller would seal his brace in the second half, and Mario Mandzukic would top it all off as Bayern are now 47 matches unbeaten in the league with a commanding 19-point lead atop the table.

As expected, rotation was the order for the day for Pep Guardiola's men with Toni Kroos getting a rest for Bastian Schweinsteiger -- the midfielder's first start since fall. Dante gave way to Javi Martinez at centre-back, Thomas Mueller started for Arjen Robben on the right, and Tom Starke deputised in goal for Manuel Neuer.

The changes to the lineup are notable as all four contributed greatly to the Bayern Munich cause. Starke in goal may have been a "gasp!" for many supporters prematch, but he proved himself over 90 minutes. Although somewhat positionally awkward at times, with a successful take-on, three fine saves and several clearances, he was definitely channelling Neuer's "sweeper-keeper" brand of goalkeeping.

Guardiola may have found his new centre-back in Martinez. While he, paired with Schweinsteiger, bossed midfields all over Europe last season, the change from Jupp Heynckes' to Guardiola's system -- and some long injury spells -- meant that the Spanish defensive midfielder might need to find another role for playing time under the new coach.

Martinez had a somewhat lacklustre match against Arsenal until he was moved to centre-back, and on Sunday in that same position, starting in lieu of Dante, was given a chance to shine. And, shine he did! Four interceptions, 17 clearances, 12 out of 13 headed duels and a tidy 90 percent pass completion ratio sums up a very controlled, impressive performance from him.

Mueller -- playing on the right for Robben -- has been criticised lately for uninspiring performances in the league. But just when you count him out? The Raumdeuter never fails to provide. His brace on the day takes him up to 20 goals across all competitions this season -- top scorer for the team, thus far.

The name on everyone's lips, however, was Schweinsteiger. On his first start after recovering from a second ankle surgery, the Fussballgott provided the key pass for the opening goal, and assisted the second. His stats are not as gaudy as Martinez's, or Mueller's, but nonetheless you can be certain that anyone who follows Bayern Munich, or the German national team, was extremely happy to see him on the pitch, and playing without pain.

It would be a testy match at the HDI-Arena as referee Knut Kircher would deal out yellow cards to Rafinha, Mame Biram Diouf and Szabolcs Huszti over the course of 90 minutes while constantly cautioning Jerome Boateng, Marcelo and the ever-testy Mandzukic. But Boateng would have the first real chance on goal after 11 minutes as he threaded the Hannover defence, driving low only to be saved by keeper Ron-Robert Zieler.

David Alaba saw his free kick deflected over before Artjoms Rudņevs rounded Starke at the other end of the pitch -- Bayern's backup keeper only managing to get a hand to the shot, barely saving what should have been an opening goal for the home side.

That early chance by Rudnevs went to waste as Schweinsteiger released Rafinha down the right flank. The Brazilian's cross found an on-rushing Mueller's head for the first of two from the German attacker.

Zieler saved from Mandzukic and Mueller in quick succession, but could not stop Alcantara's close thumper after Schweinsteiger sprang the offside trap. And the half would close out with a bit of back-and-forth.

With a 2-0 lead to start the second half, Bayern dropped the tempo another few notches -- not entirely in their favour -- as an impatient Rudnevs struck well over with Starke off his line. Munich's keeper would be called in to action again, palming out a Diouf header and coming out to block Manuel Schmiedebach's effort.

But Mueller bagged his brace on 55 minutes as David Alaba slotted a pass to Mandzukic. The Croatian striker would lay off for Mueller as Zieler was well off his line, leaving an open target.

Edgar Prib's rocket took a wicked deflection off of Huszti's face -- trickling just wide of Bayern's post -- before Mandzukic almost scored with a scissors-kick. But the emotional Mandzukic would not be denied for long; floating a header for Bayern's fourth of the day after Zieler had committed.

Robben came on for Mueller, Toni Kroos on for a quiet Mario Goetze, and Claudio Pizarro for Schweinsteiger as Hannover made a last-ditch attempt to pull one (or more) back to close out the match. Christian Schulz came the nearest after a Hannover corner, and Rudnevs -- impatient again -- might have scored, but it was not to be for the other die Roten.

It's difficult to say that this wasn't a great performance -- especially considering the scoreline -- without insulting Hannover. They put a great 25-30 minutes in, and Bayern, unlike last year's unit that bombarded the goal all the time, made the most of what they were given.

Two weeks free of a midweek match will certainly be a boon. And Schalke 04 awaits on Saturday.