Opposite ends of the spectrum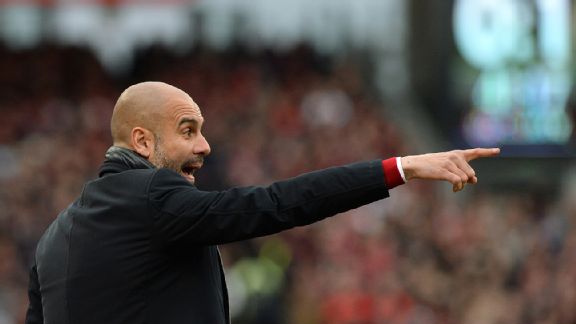 Christof Stache/AFP/Getty ImagesPep Guardiola and Bayern are flying high, but wounded Hamburg could still provide a stern test.
Winners of five trophies in 2013, recording 45 consecutive Bundesliga matches without a loss and potentially 70 million euros' worth of players coming over on a free transfer in July, it would seem that Bayern Munich can do no wrong. Although the club has been slightly in debt -- incurred from the construction of the Allianz Arena -- they've been in rude financial health over the last ten years while also maintaining low season ticket prices for their support. Indeed, their business model is revered around Europe. And for good reason.

But, it just got better.

From the official Bayern Munich press release: "FC Bayern Muenchen and Allianz, the club's partner of many years, are further extending their partnership. As part of a capital increase in return for stock, Allianz SE will acquire an 8.33 percent stake in FC Bayern Muenchen AG. In return for the stock thus acquired, FC Bayern Muenchen AG will receive 110 million euros."

- Report: Schweinsteiger close to return

With the increase in capital, Bayern's other minority partners, Audi and adidas, now control 8.33 percent as well, still leaving the 75 percent majority interest for the fans and the board which is laid out in FC Bayern's Vereinssatzung (articles of the team). The money will not be used for transfers, but instead to pay off the remaining debt on the Allianz Arena (heretofore named until 2041) and to reconstruct the youth facilities in Munich.

Unlike the oligarchs and oil sheikhs that own several of Europe's massive clubs, Bayern has been strict about only using money they have in regards to transfers. Now, debt-free, they'll have a little more leeway to compete with those said clubs. (As if playing for Bayern weren't attractive enough, currently?) And with the additional renovation of the youth facilities, Bayern Munich is setting themselves up for the future, too.

While Bayern, love them or hate them, are at the top of their game both sportingly and financially, Hamburger SV is a big mess. Losers of six straight Bundesliga matches, most recently to Hertha Berlin, the long-standing Bundesliga club now faces relegation.

"And that was that," said Raphael Honigstein in the Guardian after Berlin's Sami Allagui made it 1-0, with Hamburg completely collapsing for the rest of the match.

The ensuing chaos led Hamburg's advisory board to an epic eight-hour meeting in which the replacement of present coach Bert van Marwijk for former general manager -- and former coach of Wolfsburg and Schalke -- Felix Magath was discussed. Eight hours that could only be summed up by HSV spokesperson Joern Wolf: "[Chairman] Carl-Edgar Jarchow and [sporting director] Oliver Kreuzer have informed the advisory board about the sporting situation. The advisory board went on debating after that, but there is no decision."

Ouch.

To heap misery on top of misery, 17th-placed Hamburg face Bayern in Wednesday's DFB Pokal quarterfinals before facing a six-point relegation crunch match on the weekend against last-placed Eintracht Braunschweig. Just what is van Marwijk and Hamburg to do?

In Monday's pre-match press conference, instead of answering questions about Wednesday's meeting with Bayern, van Marwijk read a short statement instead: "What has happened here over the past few days is completely new to me. I have the feeling that the club is on a path to self destruction. Which is a shame for such a great club."

He added: "I can promise that we will not stop demanding that everyone at the club stick together. We will battle until the end to stay in the Bundesliga and I am convinced that we can."

Reporters were not allowed to ask questions.

But, I can. Does the beleaguered van Marwijk essentially give this one up as lost from the get-go, instead concentrating on keeping Hamburger SV in 1. Bundesliga? Or does the clock that sits proudly in Hamburg's Imtech Arena -- slowly, methodically keeping track of the years, days and hours die Rothosen have been a part of Germany's premiere competition -- finally grind to a halt?