Bayern comfortable derby winners over Nurnberg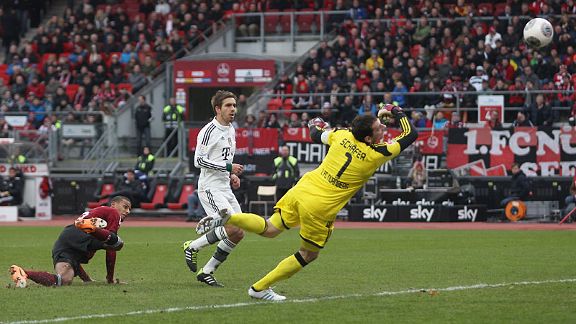 AllsportLahm scores his first Bundesliga goal of the season.
Gertjan Verbeek's scrappy Nurnberg side came out with guns blazing to open the derby, but Bayern Munich were able to withstand the initial pressure. Goals by Mario Mandzukic and Philipp Lahm on either side of the half assured their side maintained their 13-point lead atop the Bundesliga table in what was ultimately a tidy 2-0 win.

Manchester United conspiracy theorists can take heart in the news that Toni Kroos was an unused substitute in this match. Joining him on the bench were Xherdan Shaqiri, Javi Martinez and Claudio Pizarro. Bastian Schweinsteiger, although having returned to team training, was not yet match fit and did not make it.

- Lahm ends drought at Nurnberg

With Franck Ribery out, and Shaqiri on the bench, Pep Guardiola chose Thomas Mueller and Arjen Robben for his wings, with Thiago Alcantara and Mario Goetze in the middle. Manuel Neuer stood tough in goal with Rafinha, Jerome Boateng, Dante and David Alaba in front of him. The two goal scorers, Mandzukic and Lahm, played as striker and single pivot, respectively.

A boisterous home crowd at the Grundig Stadion got behind der club and Verbeek's men came early and often at Neuer's goal. Daniel Ginczek came first, before Josip Drmic shot just wide and Hiroshi Kiyotake rattled the crossbar from a Markus Feulner pass as Munich were trying to figure out their short passing game on a less-than-perfect pitch.

USA international Timothy Chandler was subbed off after just 10 minutes with a knee injury before Robben's chipped shot went just wide. Drmic and Ginczek kept the very excellent Neuer busy, but the away team struck first: Alaba crossed to Mandzukic waiting in the box, and the Croatian half-volleyed past Nurnberg keeper Raphael Schaefer.

Verbeek was dealt a second injury blow in the first half as Ginczek was also subbed out in the 22nd minute, leading the coach to say postmatch: "We started very well and were outstanding for 20 or 25 minutes. We had a few chances. We were able to compensate for the first injured player, but less so for the second. It's one of Bayern's qualities that they can fashion a goal from a single chance. We lost our rhythm after that."

Goetze fizzed a shot just wide across the face of Schaefer's goal as Bayern changed their playing mentality from their unsuccessful short game to a more suitable long-balls-forward style. Mandzukic's head took yet another knock, before Robben hit the post and Mueller the crossbar on the rebound for what surely should have been the second goal for Die Roten.

Mandzukic elicited a diving save from Schaefer and Tomas Pekhart's deflected shot was saved by Neuer, as the half closed out with the first of two very uncustomary things to happen to Lahm in the match. The first, a yellow card for a professional foul. The second would come just after the restart as Mandzukic sprang the offside trap, passing unselfishly to Lahm who just slotted past Schaefer. It was the captain's first goal since December 2010, against St. Pauli.

All the amazing energy exerted by the home team had caught up to them, and Bayern began to see a flurry of chances after the second goal. Alaba and Goetze linked up marvellously, stretching out Schaefer, but unable to see it through, before Mueller agonisingly hesitated in front of an open goal, letting the ball get away from him.

Robben struck the post, and Alaba's free kick swerved just wide as referee Tobias Welz gave the gift of yellow cards to Mandzukic and Mueller. But the play slowed considerably after that, with Marvin Plattenhardt taking the ball off Robben's toe as he squared towards goal, and substitute Claudio Pizarro adjudged offside after he'd put the ball in the net.

Bayern Munich have now extended their unbeaten run in the Bundesliga to an incredible 45 matches ahead of Wednesday's DFB Pokal showdown against a reeling Hamburger SV.