Thiago late wonder strike seals victory over Stuttgart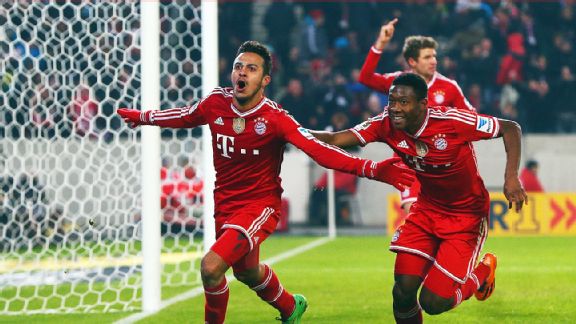 Alex Grimm/Bongarts/Getty ImagesThanks to Thiago's wonder goal, Bayern keep rolling in.
Making up the last match of the Hinrunde due to Bayern's Cup World Cup play in December, the club travelled to Stuttgart's Mercedes Benz Arena on Wednesday. And what most might have thought was a sure three points for Bayern -- as VfB is currently sitting in 12th place -- turned out to be anything but. Vedad Ibisevic opened the scoring for the hosts in the 29th minute and it would take a long time until the visitors pulled one back, with substitute Claudio Pizarro heading past Sven Ulreich with barely 15 minutes remaining.

Both sides deserved a point as the match grew increasingly testy over time -- eight yellow cards were handed out on the day by referee Manuel Graefe, but Stuttgart would have their hearts broken with half a minute to play with a wonder strike from Thiago Alcantara. 2-1 to Bayern as die Schwaben lay down, utterly dejected, on the pitch post-game as Bayern unbelievably -- and not wholly deservedly -- maintained their record 43-match unbeaten run in the Bundesliga.

- Report: Stuttgart 1-2 Bayern

It would be the first time this season that Pep Guardiola made no changes to his Startelf, running out the same side as Friday's 2-0 Rueckrunde opener against Borussia Moenchengladbach. But what had worked so well against the Foals went missing here. Lackadaisical defending and an inability to mount any real sort of attack for much of the match left Bayern -- with their extremely high line -- especially vulnerable to Stuttgart's counter attacks. Stuttgart's Timo Warner and Ibisevic garner special mention for flummoxing Bayern's backline for much of the evening.

It was a bit of back-and-forth to get things started as Thomas Schneider's very young side were giving as good as they got, not cowed by the competition. Toni Kroos chipped early wide of Ulreich's goal before pressure by Jerome Boateng caused Werner to shoot over Manuel Neuer's not long after.

Referee Graefe might have called Rafinha for a handball in the box after a point-blank shot by Martin Harnik -- Harnik would continuously tangle with Austrian teammate David Alaba all game long -- before Moritz Leitner saw the first yellow on the day with a Toni Kroos tackle. But Graefe made up for his earlier non-call by allowing a slightly offside Ibisevic goal after Antonio Ruediger and Werner linked up to push the ball through to the Bosnian striker.

After falling behind, Guardiola's Bayern started to exert more pressure and gain chances, but Stuttgart stayed well-formed in defence. Alaba and Thomas Mueller did well to link up only to find Ulreich at the end, while Kroos shot well over before the VfB keeper made an incredible reaction save from a Thiago blast.

Guardiola made no changes to start the second half, but they were surely coming as Munich was lacking a target man with some height in the box. Equally, Stuttgart came out determined to seal the deal as Ibisevic nearly made it two for the hosts. Kroos saw yellow before Ulreich cranked a massive throw to Harnik, whose effort would be blocked off the line by Boateng.

The cards kept coming as Dante fouled Mohammed Abdellaoue and Gotoku Sakai got Alaba before Guardiola finally got some physicality into his line-up, substituting Mario Mandzukic for Xherdan Shaqiri -- this coming after the Croatian striker failed to make the team their last time out -- and Claudio Pizarro for a petulant Toni Kroos, who angrily threw his gloves as he left the pitch.

Both players would be crucial in turning the tide for Bayern as Pizarro's first touch saw him shoot just wide, and Mandzukic providing some lovely work for Alaba only to see the wing-back fluff his opportunity. Mandzukic continued to stay in the action as he and Thiago were denied point-blank, before Pizarro finally found the equaliser, a flicked-header from a Thiago free-kick that Ulreich could only get a hand on.

Stuttgart still fancied their chances after the Pizarro goal as they and Bayern traded shots for the remainder of the match. Dante perfectly timed a tackle to deny an Abdellaoue strike and Werner shot straight at Neuer, before an amusing kerfuffle as Harnik saw yellow for a Dante trip, while Boateng -- sticking up for his teammate -- got a card for dissent.

Mandzukic was saved by Ulreich and Konstantin Rausch shot wide at the other end as the match moved in to injury time, with Bayern only having three minutes to collect maximum points. It took them two-and-a-half as Thiago scissored Rafinha's cross home for his first Bundesliga goal -- a wonder strike, indeed, and an immediate front-runner for goal of the season.

The popular football adage is that great teams find a way to win even when they're not playing well. This match was certainly an example of that. But all that said, the adage should not diminish the accomplishments of a young, hungry Stuttgart side that came out to play ball. Well played, Schneider and your men! Well played.