Borussia suffers first loss at home as Bayern thrive
Mario Goetze opened Bayern Munich's account in the seventh minute and Thomas Mueller doubled the lead on a penalty in the second half at Borussia Park to send Bayern ten points clear atop the Bundesliga table -- all before their mid-week make-up match, due to Club World Cup play in December, against VfB Stuttgart.

It had the makings of a very "FC Hollywood" kind of match. From the veritable who's-who of managers in the stands -- German national team's Joachim Loew, Manchester United's David Moyes, former Bayern and Borussia legend Jupp Heynckes were all present -- to the pre-game news of Mario Manduzkic not making the team due to unsatisfactory training earlier in the week, it looked like a day where Bayern Munich would end up in the loss column.

Indeed, I told my betting friends to take Borussia Moenchengladbach for the win. Well, at least I won't be getting those phone calls anymore.

"We're Bayern Munich and our standards are the very highest," Matthias Sammer told ARD ahead of the match, regarding Mandzukic's exclusion. And with Arjen Robben not 100 percent fit, Franck Ribery a doubt and Bastian Schweinsteiger and Javi Martinez both absent, things would surely go wrong.

But, they didn't, winning 2-0 with ease.

- Report: Bayern cruise at Gladbach
- Wrap: Dortmund stumble again

With Mandzukic out, you might have thought that Mueller would get the start up top, but you would have been wrong. Doing what he does best, Pep Guardiola pulled a switch, starting Mario Goetze as lone striker and Mueller on the right wing. Their subsequent link-up play was dazzling -- we might have to start calling Goetze a "Raumdeuter" ("space creator"), as well -- combining well and often to befuddle an unfamiliar Foals back four.

Just six minutes in, Goetze rounded Alvaro Dominguez and angled past 'Gladbach keeper Marc-Andre ter Stegen, the ball agonizingly grazing the outside of the post. The near miss had me thinking, "Uh oh. So, this is how it's going to be." But, my fear turned to joy a minute later as a Rafinha through-ball found Mueller who charged down the right. His cut-back found Goetze in the box and he made no mistake this time, shooting past ter Stegen from close range for his fifth goal in a Bayern kit.

Toni Kroos and Rafinha crushed shots from distance at ter Stegen as he and Manuel Neuer were out to prove their prowess as "sweeper-keepers." Ter Stegen came way out of the box with a diving header to save an unmarked Xherdan Shaqiri, as Neuer would come out, almost to the half-mark, to thwart a Borussia fast-break.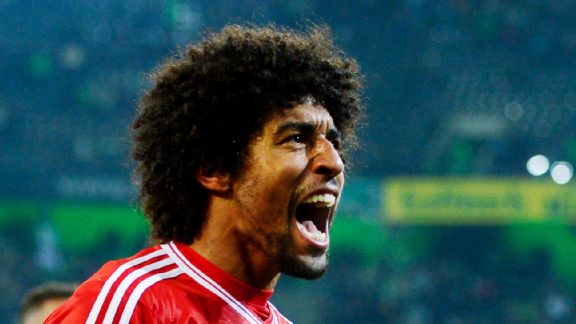 Dennis Grombkowski/Bongarts/Getty ImagesDante and Bayern had little trouble in beating Gladbach.

But, what was a sort of a one-sided affair started to change as Lucien Favre's men got the better run of play to end the half. Making the most of contact with David Alaba, Raffael earned a free-kick at the top of the box. Juan Arango's bruising shot was only able to be pushed up and over by Neuer.

The ensuing corner saw Patrick Hermann open but unable to control the ball, rolling over the line. And after a quick throw-in, springing Bayern's offside trap, Max Kruse ripped a shot at Neuer, who was able to palm it out. A last-minute first-half attempt by Arango would, again, be saved by Bayern's keeper.

Bayern Munich's lapse of concentration towards the end of the first half would not carry on to start the second as a Rafinha cross found Mueller's head, and ter Stegen would dive to save. He would dive once again as Thiago Alcantara powered from distance before Jerome Boateng headed over.

Shortly after saw absolute mayhem in the 'Gladbach box as ter Stegen made two point-blank saves in succession only to have Granit Xhaka called for a handball. Mueller stepped up to the spot, sending ter Stegen the wrong way for Bayern's second goal on the day.

The match might have gone differently with 30 minutes left as Hermann's shot -- with Neuer beaten -- struck the inside of the post. He'd get another stellar chance soon after, but would whiff it just wide of goal. Branimir Hrgota was brought on in his stead, and with his first touch just shot wide.

Kroos saw yellow for tripping Xhaka before Arjen Robben finally returned to the pitch after a seven-week absence, replacing a disappointing Shaqiri. He'd be tripped a couple of times -- one of those a yellow card for Christoph Kramer -- as the clock wound down with Claudio Pizarro coming in for the superb Goetze.

Pizarro made the most of the dying minutes of the match with a lovely pass to Alaba -- who would try and pull a Stefan Kiessling-esque ghost-goal with a ripped shot in to the side netting -- and a pretty turn-and-shoot in the box that initially got past ter Stegen.

Munich becomes the first away team to get all three points at Borussia Park, and is looking to go 13 points clear with a victory over Stuttgart in mid-week. While Guardiola demands perfection, Moenchengladbach is a very good squad -- now sitting in fourth-place, level on points with Borussia Dortmund.

Yet overall, there's not much to complain about in this match. Raphael Honigstein perhaps summed it up best on Twitter:


without the ball, Bayern certainly not flawless. but with it, pretty close

— Raphael Honigstein (@honigstein) January 24, 2014