Dante to United makes zero sense for Bayern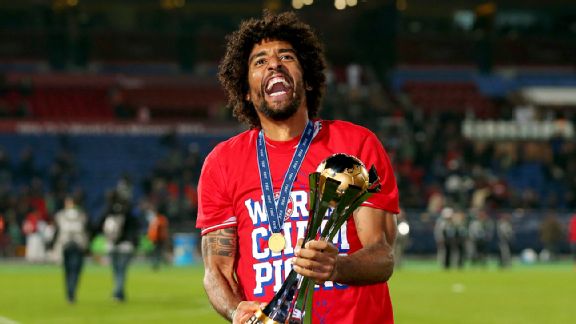 Alex Livesey/FIFA/Getty ImagesBayern Munich defender Dante helped the German club win last December's Club World Cup.
Twitter was a-flutter on Tuesday as reports leaked from an interview that Bayern Munich's Dante had given to Fox Sports Brazil about him possibly moving to Manchester United. The video, transcribed from Portuguese in to English by @igorthebrave -- a Brazilian Bayern supporter-- can be found here.

- Report: United yet to make Dante approach

Parts of the story went missing in the translation, and it seemed to the non-Portuguese speaking public that this could be a possibility -- that is -- until you listen to the whole interview. And while Dante Bonfim Costa Santos would certainly be a boon to a Man United side that's certainly struggling this season, the deal would make absolutely zero sense for Bayern Munich.

If Bayern were to sell:

Dante would be cup-tied. And with United currently sitting in seventh place in their domestic league, things aren't looking too rosy for a Champions League spot next season for the Red Devils. So, why would they bring someone in who can't help in all competitions?

It would also leave Munich very scarce at the centre-back position: Jerome Boateng, back-up Daniel van Buyten, in-training Javi Martinez and lastly, Diego Contento -- who has played at centre-back exactly twice this season. It seems to me that a team that is defending a treble would not look to leave themselves spread so thin in a position where it's so hard to find quality.

Is a summer move a possibility?

I suppose. But, financially, it still doesn't add up. While reports are everywhere saying Chelsea's David Luiz is coming over to Bayern after the World Cup, his current market value is 26 million euros while Dante's is 17 million.

While Luiz is four years younger than Dante -- and trust me, I actually would love to see him at Bayern, if only for the beautiful centre hair pairing of him and Dante -- centre-backs tend to play longer in their careers than anyone else more forward. So, 30 years old, to me, is not so much a liability currently.

One must also take into account the return of Holger Badstuber next season. The long-suffering back -- after two torn anterior cruciate ligaments -- is finally running, and likely returning to the fold to begin 2014-15. If Holger can come back successfully, it will mean that Bayern will lose Van Buyten, therefore putting Munich back to the exact same amount of centre-backs.

What does this all mean?

Dante's agent, Marcus Marin, rubbished the rumours (via Press Association Sport), saying: "He has two more years on his contract, and we are now on the race to make a new contract, but at the moment we have not found a solution. So, we are still waiting for Bayern."

"I've heard many things out there," Dante told Fox Sports Brazil, "But, right now I'm just focused on Bayern Munich. So, let's wait and see how things work out for now on."

At 30 years old, the time is ripe for Dante to secure his future, understandably. And Bayern Munich is stingy (except in the case of Franck Ribery), giving more than one-year contracts to players of a certain age. Sorry for your loss, Manchester United, but this is just a ploy by Dante's crew to get Bayern to extend the talented Brazilian's contract.