Ribery comes third, but Heynckes takes the cake
"The goal behind extending the voting for the Ballon d'Or award was to make sure that [Franck] Ribery doesn't win." -- Uli Hoeness in AZ.

"For 50 years, Ballon d'Or considered the victories on the pitch. Since FIFA took it over something has changed." -- Michel Platini in L'Equipe.

While I don't think it was exactly a conspiracy, it's hard to argue with Cristiano Ronaldo's selection. I honestly thought that Arjen Robben should have been top three-- and you can take that how you will -- but the entire vote seems to be a slapping-of-teammate's-backs and voting for friends without voting for rivals. One only needs to look to German national team coach Joachim Loew's empty ballot, who abstained because he thought the transparency was distasteful, to see where allegiances lie.

• Duarte: Ronaldo shows his human side
• Smith: Trouble picking the best
• Molyneux-Carter: Bringing balance to Ballon d'Or

It is interesting to note, however, that Ribery was the clear choice of media voters around the world with 80 top-spot votes, over Ronaldo's 48 and [Lionel] Messi's 30.

Bayern captain Philipp Lahm left Borussia Dortmund trainer Jurgen Klopp off of his "Coach of the Year" ballot. Poland and Dortmund captain Jakub Blaszczykowski did not include a Bayern Munich player in his Ballon d'Or vote. And so it goes...

The FIFPro World XI ended up a complete shambles as Barcelona would end up with four first team players in Dani Alves, Andres Iniesta, Xavi and Messi; while Bayern Munich, winners of five trophies over the calendar year, only got three: Manuel Neuer, Lahm, and Ribery. All three richly deserved, indeed they were the first Bundesliga players to be included in the best XI since its inception in 2005, but where were Robben, Bastian Schweinsteiger, Thomas Mueller and David Alaba?

Lahm won his spot at left-back-- a position he only plays on rare occasion for Germany so Dani Alves could get in at right-back? Shenanigans. Although, this is more a fault of the general public, and the La Liga fanboys and girls, hitting refresh on FIFA's website. There is no way that Barcelona -- a team that got completely mauled by Bayern 7-0 on aggregate -- should have more players represented in the best XI.

And don't even get me started on Sergio Ramos...

But, the Germans did sweep the goalkeeping and coaching categories with women's national team coach Silvia Neid garnering honors, as well as German keeper Nadine Angerer. Manuel Neuer finally won -- hopefully the first of many -- best number one, but the icing on the cake was Jupp Heynckes receiving just tribute for the most epic season in German football ever.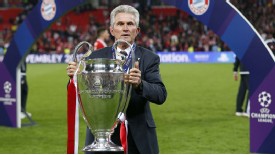 AllsportJupp Heynckes was named manager of the year after guiding Bayern Munich to a historic treble.
As Neuer looked on with tears in his eyes, a highly emotional Heynckes said: "I'm delighted to add the crowning glory to my career with this prestigious award. It's something I couldn't have dreamed of 10 years ago. Naturally I'm thrilled with the award, as anyone would be. I've experienced the lot in almost 50 years in football and naturally it's wonderful to be here tonight."

Although Heynckes had already found Champions League glory with Real Madrid in the 1997-98 season, that trophy pales in comparison to his orchestration of Bayern Munich's 2013 treble-winning squad. After 50 years, of playing successfully for Borussia Moenchengladbach (he's third in Bundesliga history for goals scored), and coaching around Germany and Spain, his final season would be his swan song.

And for Bayern Munich supporters all over the world -- what a swan song it was! Winners of the Bundesliga with 91 points -- 25 ahead of second-placed Dortmund -- only needing 28 matchdays to secure the title. Top of the table from start to finish, most consecutive wins in a season, fewest losses, fewest goals against... Shall I continue?

Plus -- 80 goal differential, no away losses, most away points, fewest away goals conceded … and this is before the brilliance of the Champions League and the way that Bayern schooled Juventus, and the aforementioned Barcelona, to reach the final at Wembley. A week later Heynckes would cement his legacy with a DFB Pokal victory in Berlin over VfB Stuttgart.

Current Munich coach Pep Guardiola is now hogging all the headlines (a friend of mine called Heynckes "the best lame duck coach in history"), but none of it would have happened without "Osram".

Danke, Herr Heynckes! It's a season that will never, ever be forgotten.