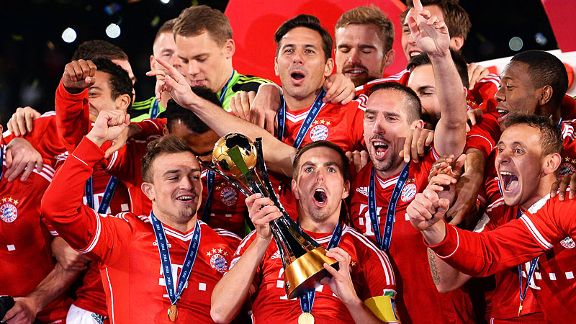 GettyImagesBayern Munich lift the Club World Cup.
After the Robert Lewandowski transfer was made official, many people that do not actively support the Bundesliga -- or whose second team is Borussia Dortmund -- felt a need to chime in on how horrible Bayern Munich is as an organization. In what may very well be an exercise in complete futility, I will therefore attempt to explain to people who don't follow the German league that often that FC Bayern is not the Evil Empire some make it out to be.

Bayern Munich is not the biggest club in all the land.

Real Madrid actually tops the list, overcoming Manchester United in the last year. Remember the 94 million euros that Real Madrid spent on acquiring Cristiano Ronaldo from the Manchester club in 2009? Or, more recently, Gareth Bale's 91 million euro transfer fee, that could work out to be even more? Bayern Munich could never compete with those figures.

Even as Lewandowski was set to honor his handshake agreement with Bayern, Real tried to swoop in, offering the Polish striker an "immoral contract" according to his agents; 81 million euros was supposedly in the works, but Lewandowski and his handlers stood firm.

Next on the list would be Manchester United. But it's hard to criticise them now as they've recorded three straight losses to start the New Year. Still, it's easy to point out the Glazers -- who have put the side into serious debt -- placed the storied club teetering on a tightrope of finances. It seems to be more manageable as it goes along, but at what cost?

FC Barcelona ranks third on the list of biggest clubs in the world. And all I have to say here is Sandro Rosell. In not allowing anyone other than Catalans to be "Socios," he's managed to alienate 95 percent of his international fan base. That is, if anyone were paying attention.

And before Bayern Munich comes up, there's Arsenal. It's hard for Germans not to follow/admire the club if only for the sheer amount of countrymen who play for them. Lately Lukas Podolski, Per Mertesacker, Mesut Ozil and Serge Gnabry are all in the first team.

Arsene Wenger, economist that he is, has taken a pragmatic view during his tenure as coach of the Gunners by never breaking the bank -- until Ozil came along. The only misgiving for the club is the ticket prices charged at the Emirates -- easily the highest in the Premiere League. Fortunately, for Bayern away support, their club augmented that price, putting in 90 thousand euros toward the away Champions League tie in London, meaning more manageable prices for die-hard fans.

What responsibility does Bayern Munich have to the Bundesliga?

None, actually. It's largely been the success of Bayern that has kept the league, at the very least, in the back of everyone's minds. That is, until a few years ago, when Bayern, after not succeeding in Europe for the first time since 2001, steadily began its climb back up the ladder.

The amazing Champions League final of 2013 brought German football back to the forefront, and now, shockingly, everyone has an opinion on it. Between 2001 and 2013, while FC Bayern won the league seven times, Dortmund claimed three, and Werder Bremen, VfB Stuttgart and Wolfsburg all got one.

And yes, there is a fair bit of hegemony here. But why is that? In the years between Bayern Munich's third straight European Cup win in 1976, until Uli Hoeness took over as general manager in 1978, the club was certainly not in the robust financial health it is in currently. Hoeness, love or hate him, did wonders for Bayern Munich over many years; increasing membership which now stands only slightly second to Portugal's Benfica, and making smart business decisions all along the way.

But what is the aim of a football club? It's to win, is it not? Especially if you're a European "super power." For a big club, you never ever walk out on the pitch for a draw. Or to hope things go your way. The objective is always to win. Nobody looks at any of the other leagues and says "so and so is ruining football." Why should it be different here?

Pep Guardiola took the easy route by picking Bayern Munich.

When Pep Guardiola accepted the position back in January 2013, nothing was a sure thing. But as he's a stickler for perfection, and coming into a treble-winning side, he had to leave his mark. Nevermind the fact that he could've earned more with other clubs. Karl-Heinz Rummenigge stated at the time: "If it were purely down to money, then Bayern would have had no chance."

Instead Guardiola took a team that had won basically everything, and turned them on their heads. Instituting a vastly different formation than what the Rekordmeister were accustomed to, Guardiola brought in a 4-1-4-1 -- with Philipp Lahm in the single pivot due to injuries, and enjoyed great success as the team won 14, drew two and lost none in the first half of the season.


Contrary to popular opinion, Bayern Munich are very giving.

They've saved, or helped, clubs and former players along the way. Whether it's supporting former player Breno -- after being convicted of arson in 2012 -- with a probationary job until he can be released back to Brazil, or Gerd Mueller's resurrection with the club after a long road with alcoholism, once you're in the Bayern family, you're family. And every member feels like-minded.

Bailing out St. Pauli, local resident 1860 Munich, and Borussia Dortmund (to a smaller degree) have also shown the heart of the biggest club in Germany .

But it begs the question: Are Bayern Munich truly the Evil Empire?

Munich, as a city, is posh by Germany's standards -- no doubt. The poshest city in the land. But the number of buses you find outside of the Allianz Arena on Saturdays gives a different tale of who their support is. The working class, from hundreds of kilometers away, come in to see their Verein when Bayern is in town. This is where the passionate fan base comes from -- and indeed, where my family comes from.

It's easy (and lazy) to pile misery on Bayern Munich for trying to build a legacy -- a dynasty, perhaps. But this is a team that wants to win, and if any other squad had the same ethos, would you be complaining? I think not.