Friction ahead of Ireland
At a press conference in Frankfurt, German national team general manager Oliver Bierhoff addressed rumors of unrest in the German camp. "We have a strong Bayern bloc, a strong Dortmund bloc, two confident players from Real Madrid and the two Londoners," said Mr. Bierhoff.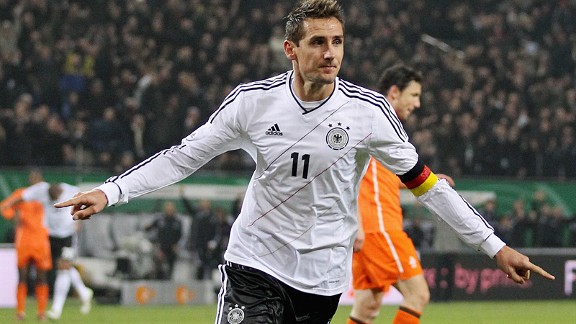 GettyImagesMiroslav Klose is hunting down Gerd Mueller's scoring record
"We've rarely had a situation where so many players felt they should start," he continued. "We are happy and grateful this is the case. Of course, there will be some who'll be unhappy about not getting in, but the team spirit has been totally sound and I'm sure it will continue to be so."

Well, the team spirit may be sound, but Uli Hoeness was up to his old tricks a few days prior; unnecessarily bagging on Lazio and Germany striker Miroslav Klose. Herr Hoeness thinks that Miro's scoring record - four goals short of Gerd Mueller - should be put in to perspective: "Mueller scored against England, France and Italy," he said, "whereas Klose scored at least 80% of his goals against Liechtenstein (and other minnows)."

That's a bit harsh, innit?

Klose, who played four seasons with Bayern (2007-2011), gains his 125th cap against Ireland on Friday. And while, yes, only eight of his German goals have come against the "top" footballing nations (while Gerd scored 19), German coach Jogi Loew sprung to the Polish-born striker's defense: "Miro has significantly performed for German football and the team. What he has done in the last 12 or 13 years is a great achievement. I can't understand the criticism."

While Bierhoff added: "I'm disappointed about these comments. Klose has been of great service to this team. We should all pull together instead of fostering unnecessary disquiet."

Kicker.de has listed Germany's probable starting XI as: Neuer - Boateng, Mertesacker, Badstuber, Schmelzer - Khedira, Schweinsteiger - Mueller, Oezil, Reus - Klose.

Now you can see the "everyone thinks they should start" problem. It's a shame that no one really plays the one position Germany needs extra players: left-back. Marcel Schmelzer, who had an absolute horror show against Austria, will get the start as Loew, while critical of the Dortmunder, wants to give him time to develop there.

Bastian Schweinsteiger will wear the captain's armband as Philipp Lahm sits this one out on accumulated yellows. His return to form, happy and healthy, couldn't come at a better time for die Mannschaft.

Mesut Oezil gets the nod over Toni Kroos despite Toni's sparkling form this season. And Marco Reus goes ahead of Arsenal's Lukas Podolski at left attacking midfield.

All I can say is, that's some bench you've got there when Kroos, Goetze, Podolski, Schurrle and Hoewedes are planted on it. Let's see if Herr Loew, who made a grave personnel error against Italy, deals with those kind of problems.

You should follow Susie on Twitter @fussballsusie .