January transfer window ins and out at Bayern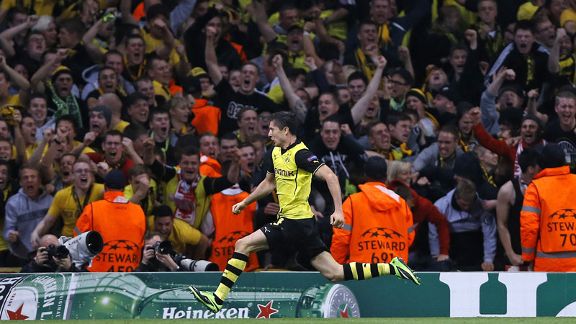 APRobert Lewandowski wheels away after striking a late winner at Arsenal.
When Bayern Munich manager Pep Guardiola took over at the beginning of this season, he complained of having too large a squad. Yet it all worked out quite well as the first team has suffered a rash of injuries in the first half of season, giving everyone (except departed Jan Kirchhoff) playing time and saving what might have been a few bruised egos -- and saving Guardiola some selection headaches.

So, here we arrive at this winter edition of silly season, and while Karl-Heinz Rummenigge has stated Bayern will not make any winter purchases, there may be a few deals in the works for the summer. From the painfully obvious to the "where did that come from," here is a short list.

HIT LIST
Robert Lewandowski is Bayern Munich's worst-kept secret, with the Borussia Dortmund striker leaving little hints for months of his intention to join the treble winners on a free next summer. His original intention was to make a public decision by Jan. 2; instead, he will travel to Munich for his physical this weekend, with the pre-contract announcement likely coming shortly after that.

David Luiz is an interesting prospect -- Guardiola is said to be a fan of the Brazilian defender -- but if Bayern do make a move, it wouldn't be until the summer. Even then, this deal would depend on the health of Holger Badstuber, and any decisions by Daniel van Buyten.

On Jan. 1, Bild announced Bayern had expressed interest in young Matthias Ginter, a central defender from struggling SC Freiburg. While Dortmund are probably the front-runners to secure his talents, Munich have yet to officially jump into the fray.

Eintracht Frankfurt CEO Heribert Bruchhagen made news when he told Sport 1 in November that Bayern not only had an agreement with Lewandowski, but also their talented midfielder Sebastian Rode. While Rode is certainly a plus, do Bayern continue with their "you can never have too many midfielders" tack? Again, we'll have to wait until summer to find out.

Koke to Bayern, as rumoured in the Independent, makes no sense. While I'm sure Guardiola is well aware of the midfielder's talents, I am also sure that Bayern will not be swooping for every young prodigy out of Spain. This rumour is likely fueled by Munich's signing of Thiago Alcantara, and the fact that Manchester United had pursued him as well.

EXIT LIST
And finally, the only person to leave this winter is Jan Kirchhoff. I wrote about it at length here. Sadly, as the fifth- or sixth-choice centre-back under Guardiola, Kirchhoff was never going to get any real playing time this season, which he will find at Schalke 04 during his 18-month loan spell at the Gelsenkirchen outfit. He is eligible to return for the last year of his contract, but by then, Bayern Munich may have just passed him by.

Bayern seem content with their lot heading into the second half of the season, and their depth will only get stronger with the return of Arjen Robben and Bastian Schweinsteiger.