The glory of 2013 came on the heels of some very dark days for FC Bayern and their supporters. Although Louis van Gaal found success in getting Bayern to the Champions League final in 2010, the rigidity of his system, and his irascible personality, would ultimately lose him the dressing room -- and his job. The Bayern brass once again called Jupp Heynckes for his third spell with the team to try and even the keel of FC Hollywood's wayward ship.

The 2011-12 season wouldn't go exactly as planned either, even though Munich spent long spells atop the Bundesliga table. A 1-1 draw with Hamburger SV on Matchday 20 of that campaign saw Borussia Dortmund take over first place for good, eventually beating the Rekordmeister by eight points, and then humiliating them in the DFB Pokal final 5-2.

And we all know what happened next...

Losing to Chelsea on penalties after being 1-0 up in the 83rd minute in the Champions League final in Fussball Arena Muenchen would be the organization's most bitter pill to swallow. On a personal note, I cried for two days. But, that wasn't all as the German national team would fail -- again -- that summer, losing to Italy in the Euro 2012 semifinal.

Picking up the pieces of shattered dreams, psyches and ankles, Bayern would have to find a way to carry on in the 2012-13 season. It began with the removal of ineffectual sporting director Christian Nerlinger, instead bringing in "bad cop" Matthias Sammer from the DFB.

Depth and talent also came in the forms of Dante, Xherdan Shaqiri, Mario Mandzukic, Claudio Pizarro, Tom Starke, and famously Javi Martinez -- who would literally have to break in to his old club Bilbao to collect his belongings -- in a record, yet acrimonious, 40-million-euro transfer.

And then it all began.

After winning the first eight matches of the 2012-13 season, Bayern Munich suffered their first loss to Bayer Leverkusen. It would be the sole blip on the year, and Bayern went in to the winter break nine points clear on top of the table.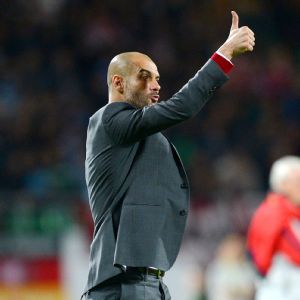 Lars Baron/Bongarts/Getty ImagesPep Guardiola has a hard act to follow at Bayern, but he is embracing the expectations.
With Heynckes wishy-washy over continuing on after the season, Munich's front office went after the best available coach, persuading Pep Guardiola to sign a four-year deal on Jan. 16. After Karl-Heinz Rummenigge stated that Heynckes would always have a position with Bayern, the coach would testily say: "Moenchengladbach is my club."

Perhaps that little bit of back-door dealing gave Heynckes the desire and power to go out in the best possible circumstance, but to many it seemed that the 2-0 home loss to Arsenal in the Champions League round of 16 -- after beating the Gunners 3-1 in London -- was the true turning point for the Bavarian side.

Meanwhile, in the Bundesliga, Bayern was terrorizing opponents: Beating Mainz 05, 3-0; Schalke 04, 4-0; VfL Wolfsburg, 2-0; and Werder Bremen, 6-1 before facing foes Borussia Dortmund again in the DFB Pokal quarterfinals. Arjen Robben scored the lone goal in that encounter to propel Munich forward.

After the March 30 match against HSV which saw Bayern crush their opponents, 9-2 -- my match of the season- - the team opened their Champions League quarterfinal campaign against Juventus. An early deflected goal by David Alaba in the first leg would be the difference-maker as Juve could never quite recover; Bayern winning 2-0 home and away.

Bundesliga Matchday 28, on April 6th, would see Bayern clinch the title, -- by far the earliest in a season in league history, before Barcelona came calling in what was supposed to be the Champions League semi-final showdown. With an injured Lionel Messi and a patchwork back four, Barcelona had no answer for a rampant Munich; Bayern destroyed Barca 4-0 and 3-0.

While Munich could only manage a draw in their return to Dortmund in a very testy match in which Rafinha saw red -- while Sammer and Dortmund manager Juergen Klopp had it out on the sideline -- the business end of Bayern saw president Uli Hoeness volunteer to step down after his arrest for tax evasion. The board would decline, and Hoeness will retain the presidency until his trial is complete.

In the moment of the year, Dortmund and Bayern took over London's Wembley Stadium for the first all-German Champions League final, and the match didn't disappoint. A goal from Mandzukic opened the scoring, only to have Ilkay Gundogan pull one back for the black-and-yellows on a penalty.

But, Arjen Robben got his redemption -- and the winner -- late in the match that gave Bayern Munich their fifth Champions League trophy, and our tweet of the year: "@BVB 1:2 fuer Bayern." The winning goal, and subsequent final whistle, are the crowning moments of my life to this date. And I consider myself a very lucky girl to have been in the stadium as a part of Bayern's finest hour.

But it wouldn't stop there as the next weekend saw the club beat VfB Stuttgart in the DFB Pokal final, 3-2, completing the first German treble. Unfortunately, Dante and Luiz Gustavo were called up by Brazil, and were unable to take part, while Spain released Javi Martinez for the match, understanding its importance.

Heynckes got his swan song, and his treble. And after being a bit petulant when Guardiola signed with the club, he remarked: "Bayern Munich is my club," heading off to retirement on his farm with his wife and his dog.

Guardiola took over only to revolutionize Bayern's 4-2-3-1, instead implementing a 4-1-4-1. Thiago Alcantara and Mario Goetze joined, while Bayern bid a fond farewell to Luiz Gustavo -- the player wanting regular time ahead of next summer's World Cup, as well as fan favorite Anatoliy Tymoshchuk, and sadly, Mario Gomez -- unhappy with his back-up role to Mandzukic.

While shouts of "why fix it, if it ain't broke?" (myself included) resounded throughout the Bayern Munich world, Guardiola was patiently, painstakingly tweaking the treble-winning side to newer, better things. And with injuries to Thiago, Martinez and eventually Bastian Schweinsteiger, the trainer chose to utilize captain Philipp Lahm in his single pivot role with great success.

Bayern opened the 2013-14 season beating Moenchengladbach, 3-1, with Dante forgetting which team he was playing for; scoring the opposition's only goal. Matchday 4 saw a 1-1 draw with SC Freiburg, before the end of August saw Bayern finally get their comeuppance against Chelsea in UEFA's Super Cup final-- defeating them on penalties 5-4 after drawing 2-2 in regular and extra time in a match eerily reminiscent of their 2012 Champions League final.

September saw Bayern beat Schalke 4-0 (again!) -- Guardiola remarked: "It was our best performance of the season so far" -- before the team started their Champions League campaign against Manchester City in October. It was a master-class performance, 3-1, that would certain usurp the Schalke match as truly the best performance by the team.

It would take the Oct. 19 game against Mainz 05, which Munich won 4-1, to finally propel the team to the top of the table -- a position they have not relinquished. Sitting seven points clear, with a match in hand, going in to the winter break.

Bayern lost their final group stage Champions League match to Manchester City, but it was probably the one they could afford to lose -- they still topped their group, while also garnering a new record for consecutive matches won in that competition, beating Barcelona's 2002 record. Bayern ended the calendar year with a paltry three losses, after beating Raja Casablanca 2-0 to secure their fifth piece of silverware -- the Club World Cup.

Meanwhile, Franck Ribery was named UEFA's footballer of the year, the club enjoyed their best year financially, and Guardiola broke the record for most consecutive matches without a loss to start his career. And although the Winterpause is surely needed-- with injuries to Robben and Schweinsteiger -- Bayern fans from around the world can hardly wait for what 2014 will bring.

And to all my faithful readers and commenters, it has been a pleasure -- beyond belief -- to be able to share my thoughts and observations with you all! This year was so amazingly special-- indeed, it may never be repeated -- we can all take it close to our hearts. And when we're all old and gray, we can say: "2013 was the best year ever."

Prost Neujahr! Wishing you and yours, and certainly FC Bayern Muenchen, all the best in 2014.