Bayern Munich: Kings of the World
A smidge of Bayern-Dusel (undeserved luck) was on display on Saturday despite the team not even being in Bundesliga competition on the weekend, instead facing Raja Casablanca in FIFA's Club World Cup finals. Losses suffered by Borussia Dortmund to Hertha Berlin and Bayer Leverkusen at Werder Bremen ensured the Bavarian outfit a seven-point lead in the league's Hinrunde with a match-in-hand to be made up at the end of the winter break.

But, we've other things to discuss.

Overwhelming tournament favorites Bayern Munich scored two goals via Dante and Thiago Alcantara early in the first half-- and then put the "complacent brakes" on-- doing just enough to see them through the rest of the match, eventually winning 2-0.

- Bayern revel in fifth title of 2013

Disappointing to some, perhaps? I really think Bayern could have done better in the Stade de Marrakesh, but in the end? Can you really complain? They are now the current holders of the Bundesliga, DFB Pokal, Champions League, UEFA Super Cup and FIFA Club World Cup (not to mention the Uli Hoeness Cup, Paulaner Cup, Telekom Cup and Audi Cup).

Losing the DFL Super Cup to Dortmund is something all Bayern fans can, maybe, live with considering the stellar year the team has put together.

The surprises that were supposed to be in the semi-final line-up against Evergrande didn't bear fruition until the final as Pep Guardiola left Mario Mandzukic, Mario Goetze and Daniel van Buyten on the bench; instead including Thomas Mueller, Dante and Xherdan Shaqiri -- the Swiss international's first start since October.

Facing an unchanged Casablanca line-up, Shaqiri and Toni Kroos would make the first attempts for Bayern before Mouhssine Iajour eased past Dante, only to shoot wide. But the Brazilian centre-back would make up for his early error on a corner when Jerome Boateng headed back in to the box; Dante only needing to turn and shoot past Raja keeper Khalid Askri.

A lovely interchange between Shaqiri, Philipp Lahm and Mueller came to naught as Mueller shot directly at Askri. Casablanca was left on their heels, unable to put together any sort of counter with Bayern's smothering repossession in the opening minutes.

Iajour ventured forth for a couple of half-chances before Munich got their second on the night: David Alaba tore down the left, only to slip and recover, serving up the ball to Thiago who drove top-corner.

Dante came close with a header just over the bar on another Bayern corner as Manuel Neuer ventured increasingly out of his area trying got get a piece of the action. The Bayern duo nearly paid dearly as Neuer lazily passed to Dante -- who did a bit of ball-watching -- as Chemseddine Chitibi struck just wide of the open net.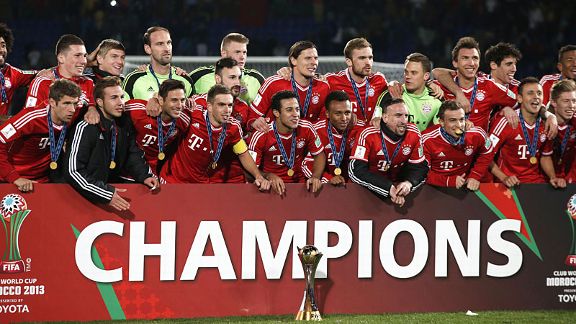 GettyImagesBayern Munich lift the Club World Cup.
The second half opened with Casablanca's first two corner kicks, but Chitibi would make way for midfielder Vianney Mabide before Mueller got close -- taking on Askri and two defenders -- before stellar work by Iajour threatened again with a swift header saved by Neuer.

Alaba body-checked Adil Karrouchy for a free-kick, but Karrouchy only saw his effort over the bar before Pep Guardiola -- unhappy with Bayern's defensive output -- subbed in Javi Martinez for a flagging Kroos.

The best chance for Bayern's third came as Shaqiri struck the woodwork, point-blank, and Thiago sent the ensuing loose ball wide. But, the champions had definitely taken their feet off the gas, as not even the inclusions of Mandzukic and Goetze could spark the team for more goals. Instead, they'd let Neuer get some work in -- saving from Mabide, Mouhssine Moutouali and substitute Badr Kachani to close out the match and hoist their fifth trophy of the year.

There will be some year-end pieces when I talk about how much 2013 means to me, but suffice it to say that I am an ecstatic girl! Bayern Munich closes out the year with an impossible amount of silverware, breaking (or winning) hearts and records all over the world. And I am so very lucky that I am one small part.

Bayern Munich: Kings of the World.