Next stop for Bayern? The world!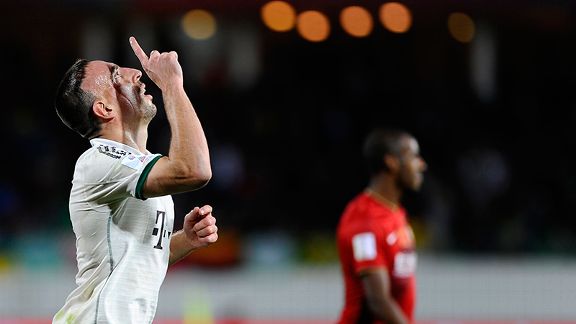 AllsportFranck Ribery set Bayern on the road to victory.
The Great Wall of China, I'm now convinced, consists of a crossbar and an upright after Bayern Munich struck both a combined four times during their Club World Cup semi-final win over Guangzhou.

Late first-half goals from Franck Ribery and Mario Mandzukic put Bayern in control and, just two minutes after the restart, Mario Goetze fired a beauty past Guangzhou keeper Zeng Cheng, sealing a berth in Saturday's final against either Belo Horizonte's Atletico Mineiro or the hosts, Raja Casablanca.

Bayern were certainly a decided step up in class compared to the opposition Marcello Lippi's Asian champions are accustomed to facing. With 75 percent possession and 27 shots (nine on target), a mere three goals for Pep Guardiola's men might be considered as lacking by some, but the woodwork saved further blushes for Lippi's side.

Indeed, all credit is due to a resolute Evergrande unit. Sure, it was "park the bus" and take your chances on the odd break, but Guangzhou did that very well considering the strength of the opposition.

- Bayern breeze through

Bayern had tweeted, before the official line-up was released, that there might be some selection surprises in store. However, despite youngsters Lukas Raeder, Mitch Weiser, Julian Green and Pierre-Emilie Hojbjerg all getting call-ups for this competition, sadly none would feature here (along with Jan Kirchhoff, again) as Guardiola fielded a strong line-up to ensure a passage to the final.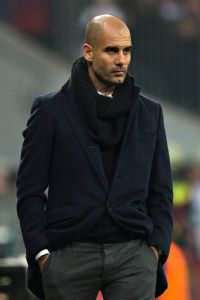 John MacDougall/AFP/Getty ImagesGuardiola is seeking his third Club World Cup win as a coach.
Manuel Neuer -- who might have been a midfielder in this match -- was covered by a back four of Rafinha, Jerome Boateng, Daniel van Buyten and David Alaba. The captain, Philipp Lahm, played in single pivot behind the attacking quintet of Goetze, Toni Kroos, Thiago, Ribery and Mandzukic.

The opening 10 minutes of the match (okay, nearly all of it) was spent in Bayern's attacking third and featured a couple of Kroos attempts and an Alaba offside call. Kroos, again, shot wide minutes later before Thiago struck the woodwork after controlling a Lahm chip.

Ribery, taking a free kick he had won, shot over before Neuer made one of several trademark runs out of his box to deny Guangzhou anything of note offensively. A Kroos rocket then glanced the underside of the crossbar before Ribery's strike was saved awkwardly by Cheng, with Mandzukic looking for the rebound.

Boateng had a great chance, but Ribery would open the scoring after Mandzukic and Thiago were denied, the Frenchman shooting through traffic and past Cheng.

Mandzukic came close just before he scored Bayern's second. After possession was regained immediately following his failed attempt, Thiago crossed in to the Croatian striker, whos scored with a diving header.

The second half opened as brightly as it could for the Southern China Tigers as Muriqui, largely unimpeded, got down the flank only to shoot wide of Neuer's goal. Seconds later, though, Goetze drove beautifully past Cheng for Bayern's third and final goal of the night.

Meanwhile, Javi Martinez came on for Kroos and Xherdan Shaqiri replaced Ribery while Claudio Pizarro also came on for Mandzukic as Bayern kept up their attacks.

Ribery whipped a shot at the crossbar and Cheng pushed another Goetze attempt onto that same post. Shaqiri struck the post with a cracker and Goetze again found the crossbar, but the score remained the same.

Thiago, who made headlines earlier this week with an interview in which he compared his current teammates with those he had at Barcelona, had a lovely match in attacking midfield, a position to which he is more suited, in my opinion.

Goetze, meanwhile, is nearing full fitness and continues to impress. I've rightly given him a bunch of stick since he came over from Borussia Dortmund, but his quality week-in-and-out to this Bayern squad is starting to pay dividends.

And so we can look forward to another final while also remembering the past. This Club World Cup trophy, should Bayern be so lucky to collect it, would be their fifth piece of silverware in 2013 and, as the current manager said of his predecessor at a news conference, would largely belong to Jupp Heynckes and his treble-winning squad:

"I am so lucky for Jupp," said Guardiola. "And the players and I hope we can win the title."