Looking to go Herbstmeister against Hamburg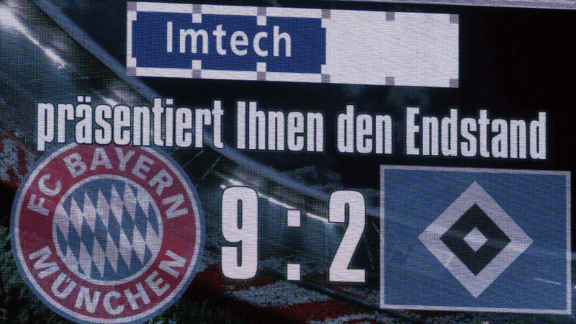 GettyImagesBayern Munich recorded the biggest Bundesliga win of the season against Hamburg last year
The last time these two teams met in the Allianz Arena, Hamburger SV left the pitch dejected. They'd conceded seven times unanswered before two late consolation-ish goals from set-pieces allowed the northern outfit to raise their heads a little higher in defeat.

For Bayern, there's a pattern here, perhaps, looking at the Manchester City loss. The word "complacent" gets bandied around a lot, but I think it's apt in both these matches. In last season's HSV game, Bayern were up 7-0 before Jeffrey Bruma headed in from a corner. And although Franck Ribery would net again just a minute later, Heiko Westermann added another header shortly after. While everyone was marvelling at the silly goal total, the question begged to be asked: Why couldn't Bayern play 90 minutes of football?

Midweek's final Champions League group stage match against Manchester City asked the same question. Up 2-0 within 15 minutes, it should have been a repeat of the first time these two teams met this season. Instead, Bayern could only manage to play 20-some-odd minutes of football, allowing Manuel Pellegrini's "B-squad" to take advantage and steal a win.

OK, so the match was basically a dead rubber. But, City were only one goal away from the top of the group as it turned out. Cue the return leg against Arsenal in last season's Round of 16 -- the Gunners ending up one goal away from tossing Bayern out.

That loss to Arsenal was the drive to propel Bayern Munich to greatness -- and history-- it's been said, but it was uncomfortably close to being an entirely different thing. Looking ahead to Saturday's match against HSV, can Munich use the loss against City as a reminder that, although many would consider them to be the best in the world, nothing will be handed over without a fight.

Pep Guardiola in his prematch news conference stated: "Sometimes, it's easier to maintain your concentration following a defeat. I'm curious to see our reaction after the City game, but I'm hoping for the best."

While Bert van Marwijk said ahead of Saturday: "I have never travelled anywhere wondering how many goals we would concede on that day. I want to take something from the game."

Unluckily for Van Marwijk, he's without first-choice keeper Rene Adler, who suffered an ankle injury in the loss against Augsburg. Westermann, out with a knee injury, and Vedad Ilicevic -- out for personal reasons -- also add to the Hamburg coach's woes. Although personal reasons kept captain Rafael van der Vaart out of last week's match, the Dutch talisman returns to the fold.

Hamburg, pieced together at the back, will feature Venezuelan Tomas Rincon to try to limit the damage by European and French Footballer of the Year Ribery, while ex-Bayern man Marcell Jansen will be in charge of holding down whoever may feature on the right for Bayern.

I say "whoever" because in light of Arjen Robben's injury, and Bayern Munich's Club World Cup appearance, Guardiola has brought in young German-American Julian Green to the squad for the international competition. He's impressed mightily for Bayern's Amateure squad this season; even garnering his first professional contract. Might we see a run-out for Green on Saturday?

Jerome Boateng -- who recently signed a new contract until 2018 -- is suspended for this one, while Javi Martinez is rated doubtful after suffering a shoulder injury against Manchester City. He'll be evaluated on matchday.

David Alaba was also listed as doubtful, but since the injury is a jammed finger and the rules prevent you from using your hands, I'd expect him to start.

Hamburg have conceded 20 goals on their last three visits to the Allianz, and while Saturday's goal haul might not be as gaudy as the last time out? I don't expect much difference here. A win on Saturday would also crown Bayern Herbstmeister (fall champions) despite not featuring in the following week's Bundesliga fixtures because of their participation in the Club World Cup finals.