Five reasons why Franck Ribery should win the Ballon d'Or
After winning Best Player in Europe, Franck Ribery was surely the front-runner to win the Ballon d'Or on Jan. 13, 2014, in Switzerland. But then, FIFA -- due to low voter turnout, and wanting to get the playoff World Cup rounds in -- extended the vote. And Cristiano Ronaldo, consequently, would impress mightily with his hat trick over Sweden to appear in Brazil next June.

So what may have been a shoo-in of sorts for the France international now sees Ribery -- with the punters -- as bottom of the top three. While his goal haul is not as gaudy as the other two nominees', I'd suppose it comes down to how you consider the award.


1. Would Bayern have won the treble without Ribery?

It's a postulation, to be fair, but you cannot discredit the work he's done in this calendar year. It is about this calendar year, right?

While Ronaldo was busy coming in second in La Liga, Lionel Messi -- his Barcelona winning top dog in the league -- was hampered by injury. Meanwhile, Ribery and Bayern Munich pulled off a treble. Could it have been done without the Frenchman?

If Ribery had played no part of 2013's Bundesliga Rueckrunde (second half of the season), his likely replacements would have either been Arjen Robben to the left, with Thomas Mueller to the right, or Xherdan Shaqiri as a direct replacement on the left. Neither of these options is horrible, mind you, but would it have been enough to get Bayern through all three competitions, while breaking even more records to start the Bundesliga first half (Hinrunde), as well as most consecutive wins in Champions League history?

2. Best players against best teams.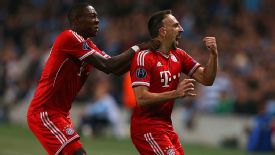 GettyImagesConsistency has been the key word in Franck Ribery's past season.
Ribery would provide the assist to fire Bayern home for their fifth Champions League title -- a flick to Robben -- while Messi and Ronaldo presumably watched it on the telly. The Argentinian striker pulled up lame against Bayern in the semifinals (a pattern to be repeated in the current season), and Ronaldo wouldn't have his typical show against Borussia Dortmund -- although he'd come close, with a few fluffed chances.

3. Ribery won European Player of the Year over Ronaldo and Messi.

So why not in the Ballon d'Or? Taking national teams into play, only has Messi become somewhat recently more capable for Argentina than when he'd won the award multiple times in a row. But Portugal would struggle -- just like France -- to qualify for Brazil next June.

And yes, Ronaldo's hat trick against Sweden was spectacular! No one would argue with that. But if Messi's former "meh" performances for Argentina didn't count, why should Ronaldo's great one now?

4. Consistently the best player on the best team.

Again, no one ever accused Messi of playing for the best team in the world when he won the award four years (three years in its current form) in a row. While Robben provided many sparkling moments for die Roten -- indeed, I would've picked him over Messi for the three-man shortlist -- week in and week out, throughout this year, Ribery shone the brightest in a team of stars.

5. Don't make excuses for Ronaldo or Messi.

Both are individually brilliant. Both have deserved to win (or have been voted for) over the past several years. And both have ridiculous goal totals. But if the award were based solely on goals scored, FIFA should just call it such: A Torschuetzenkoenig der Welt (I obviously prefer the German).

The best overall performance, leading a team that is arguably currently best in the world, is without a doubt Franck Ribery.