Bayern survive physical Augsburg to reach last eight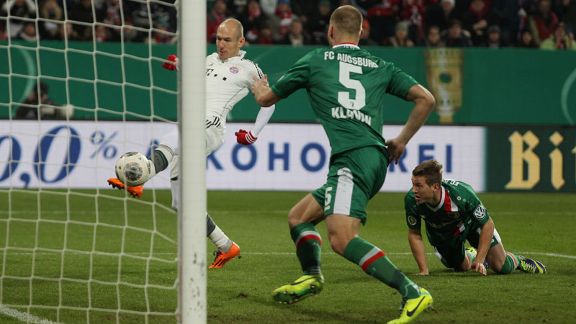 GettyImagesArjen Robben gave Bayern Munich the lead early on against Augsburg.
Arjen Robben fired the opening salvo, but would be stretchered off the pitch minutes later. His replacement, Thomas Mueller, scored the double in the second half for Bayern Munich as they beat derby "rivals" FC Augsburg, 0-2, to progress to the DFB Pokal quarterfinals.

Although the Fuggerstaedter hadn't beaten Munich in over 50 years, their highly physical style of play was looking to change last season's result at the same stage. Franck Ribery saw red for getting a hand to Ja Cheol Koo's face in that one; but that, like Wednesday's result, ended the same.

Manuel Neuer -- without Philipp Lahm or Bastian Schweinsteiger on the pitch -- again got the captain's armband. But, the hosts would start brightly as Daniel Baier struck wide early before Rafinha and Mario Mandzukic fired Robben ahead: The Dutchman's initial shot coming off FCA goalkeeper Marwin Hitz, but the rebound saw it through for Munich.

The early strike for a very in-form Robben would be his last of the day as he was taken out ten minutes later by Hitz. Marginally off-side (maybe), Robben ran at the keeper in a one-on-one situation -- oblivious to the whistle (perhaps) -- and Hitz tackled, studs-up and no ball contact -- opening a gash at Robben's knee. He'd be taken to the hospital -- stretchered out -- from the result.

Hitz saw yellow -- understandable, perhaps, as it was technically a dead play -- but that nasty bit of violence -- and lack of a red card from referee Felix Zwayer -- set the tone for the match. It felt like Augsburg coach Markus Weinzierl told his team: "If you can't beat 'em, hack 'em." And hack away they did, as the foul-count post-match would be 23/10.

Mueller would come on for the injured Robben, and immediately -- with Bayern's recent talisman gone -- the away side dropped off. Sascha Moelders slightly headed at Neuer, before the FCB keeper dived to save Andre Hahn's strike.

Mario Goetze and Jerome Boateng skied over Hitz' goal before Dante took a shot to the family jewels. And Mueller would have a penalty denied as Matthias Ostrzolek tackled him down; and the fouls kept coming -- the second yellow on Paul Verhaegh for a foul on David Alaba.

The first half would close out with no more great chances for either squad, and the second would open with Bayern trying to slow things down -- building from the back. Goetze and Mandzukic would make half attempts before Hahn struck crisply but saved by Neuer.

Halil Altintop and Moelders made way for Arkadiusz Milik and Raul Bobadilla as Weinzierl looked for fresh legs. Pep Guardiola would counter those substitutions by bringing on Ribery in lieu of Goetze. He of the cracked rib would immediately make his presence known getting down-pitch and slotting to Mueller -- the German international would be unable to control the ball.

Neuer came way (and can I say "waaaaaay") out for the umpteenth time in the match before a sub-par Mueller, once again, silenced the rumbles about his performance after a long Toni Kroos corner kick found Jerome Boateng well over the box. The centre-back chipped it in to Mueller -- his header getting past Hitz to double the lead for Bayern.

I wouldn't be surprised if Ragnar Klavan was concussed after a Neuer punch-out struck him directly in the head as Beier also saw yellow for a tackle on Thiago Alcantara. And Guardiola would hear my call (probably not) for youngsters as Pierre-Emilie Hojbjerg got a run out for the final few minutes.

Bobadilla headed just over, and FCA sub Florian Holzhauser got close, as Bayern endured, and eventually triumphed, over their overly-aggressive competition. The run of form in Pokal competition sees them undefeated since their ignominious loss to Borussia Dortmund in 2012's final.

Kaiserslautern, Hamburg, Dortmund, Hoffenheim, Bayer Leverkusen, Eintracht Frankfurt, Wolfsburg? The draw is Sunday. Can't wait to see who's next! After the winter break and Bayern has a chance to regenerate, of course.