Bayern laboriously beat Braunschweig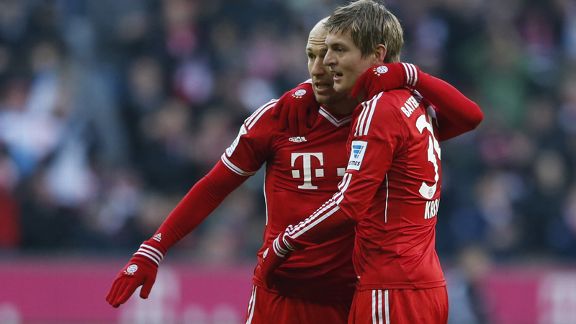 AssociatedArjen Robben and Toni Kroos celebrate during Bayern Munich's Bundesliga game against Braunschweig.
While the first 45 minutes was a typical master-class performance for Bayern Munich, Eintracht Braunschweig came out to play in the second. A first-half brace by the wonderful Arjen Robben sealed the deal as Bayern went on to win 2-0, maintaining their top spot in the Bundesliga, four points clear of Bayer Leverkusen.

Just three days after their tiring victory in Moscow against CSKA, Pep Guardiola only made two changes to the Startelf: Daniel van Buyten came in for Jerome Boateng while Thiago Alcantara got the start for injured team captain Philipp Lahm.

Manuel Neuer started with the captain's armband at home -- the first in his tenure at Bayern -- but would rarely be seen, as the first half was all Munich. Braunschweig trainer Torsten Lieberknecht opted to park the bus, however his plan went awry as Robben collected a Mario Goetze dink just two minutes in. One touch was all the Dutchman needed to fire past Daniel Davari.

- Robben at the double

With 80 percent possession in the half, Bayern continued to string together long spells of keep-ball while the visitors sat deep. Dante's headed effort came close to adding the second for the home team 19 minutes in, but Mirko Boland cleared off the line.

That second goal finally came on the half-hour mark as Robben collected a pinpoint diagonal from Toni Kroos -- trapping with his chest while beating three defenders -- with a trademark curled effort into the top corner.

Javi Martinez shot from distance, and then headed over the bar from a Kroos free kick as Bayern closed out the half with some very gaudy statistics.

But, where the first half was all Bayern, the second became a bit muddled for the home side as Marco Caligiuri's long-distance shot, just two minutes after the restart, deflected off Dante's boots and forced Neuer into an awkward save. Ermin Bicakcic fluffed a gilt-edged chance minutes later after a Braunschweig corner sneaked through the Bayern defence.

Mario Mandzukic came on for Thomas Mueller, but Bayern might have been guilty of complacency (and a bit of exhaustion) as the Croatian international was largely ineffective, as well.

Midfield destroyer Martinez again headed over from a Kroos free kick before losing a boot in the fray, but Neuer and David Alaba would combine to save a clean sheet for die Roten. Neuer came well out to tackle Domi Kumbela, and the rebound at open goal -- struck by Kevin Kratz -- was kicked out by Bayern's stellar left-back.

Davari denied Robben Bayern's third on the day as the winger had rounded his defenders, but Kratz struck the crossbar from a deflection from a free kick at the top of the box to almost pull one back for the visitors.

It was a lovely second-half attempt for Braunschweig -- and perhaps a poor one from Bayern -- but in the end? Top-of-the-table beat bottom-dwellers 2-0. Bayern Munich added to their unbeaten streak -- now 38 consecutive matches -- with a Bavarian Pokal match in mid-week.

While I'm definitely no Guardiola, I would have enjoyed seeing the youngsters get a run-out. The senior side is depleted and exhausted, and looked every bit of both on Saturday. Pierre Emile Hojbjerg and Julian Green? Why not?