Bayern eclipse Barcelona mark with win in Moscow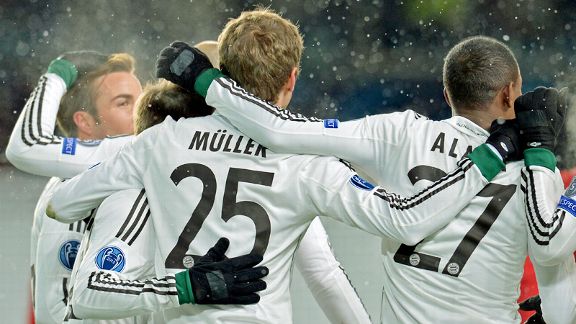 Epsilon/Getty ImagesThree-goal Bayern Munich had plenty to celebrate in Moscow Wednesday.
The fashion choices! The pitch conditions! Moscow traffic! The Bayern Munich injuries! The Mole! There were many subtexts to Bayern's fifth Champions League Group D victory at CSKA Moscow on Wednesday. Goals by Arjen Robben, Mario Goetze and Thomas Mueller in the 3-1 win sealed a maximum 15 points from five matches as Bayern Munich won their 10th Champions League game in a row, cruising past the previous record set by Barcelona in 2002.

The Rekordmeister strikes again!

The result could have been far different as Bayern was forced to warm up in their hotel prematch as their buses were unable to manoeuvre the apparently horrible traffic. Perhaps that's why even the stray dogs in Moscow take the trains.

Or it may have been a boon to Bayern -- even though they struggled mightily with conditions in the Arena Khimki, adding the insult of snow to the injury of the pitch -- preventing additional players from being hurt before the match started.


Bayern were taken completely out of their game plan at times, unable to find traction on a slippery, painted, divot-filled field. Indeed, it appeared Bayern's "mole" had taken up residence in the arena as Moscow got the first shots off; the hosts were comfortable at home. Bayern defender David Alaba misfired to keeper Manuel Neuer, and Bayern gifted Moscow the first corner just five minutes in: Moscow's Keisuke Honda headed down Zoran Tosic's effort -- which Neuer cleared -- only to see a ricocheted shot right back at goal that was picked off the line by Bayern's Dante.

With Bayern's XI slipping all over the place, Moscow continued their great start; Neuer punched out Honda's corner before the Japanese international headed straight at the German keeper.

Honda, again, would get a shot off at Neuer -- crawling over Rafinha to do so -- before the legging wonder twins activated their powers to open up Bayern's account. Mueller got down smartly on the left and slotted back to an onrushing Robben, who thrashed one in past keeper Igor Akinfeev near post. Robben celebrated by running his fingers lovingly through Goetze's hair.

Toni Kroos got off a couple of smart crosses that neither Robben nor Rafinha was quite able to deal with before captain Philipp Lahm came off with a thigh injury. He will be evaluated in Munich on Thursday.

Thiago Alcantara came on for the injured Lahm as Tom Starke handed Neuer the captain's armband, but Moscow wasn't cowed as forward Ahmed Musa began to make his presence known. He would test but never beat Neuer -- Musa shot over him, got into a one-on-one with Neuer before being called offside, and couldn't convert a fine chance set up by a Tosic pass.

Dante fluffed a free kick and Mueller came close to heading a Goetze cross before the rebel Javi Martinez -- he with the cutoff undersleeves -- saw yellow. Musa again was a threat, going past a stand-still Dante, before the half would close out with a legitimate handball call for Bayern.

Honda continued his semi-excellent play to start the second half (I say "semi" because Neuer got the best of him on the day) as he fluffed another one-on-one situation before shooting very weakly for an easy Neuer scoop.

Musa fed Honda for another shot -- a rip straight at Neuer -- before the Bavarians doubled their lead against the run of play. Goetze nimbly traipsed across the top of the box, beating three defenders, slotting home a low finish. But Honda would finally get his goal, pulling one back for Moscow, as he scored a penalty after a Dante handball.

The 2-1 score line wouldn't last long as Goetze clanged one off the crossbar before Robben was tripped in the box. Mueller sent Akinfeev the wrong way on the penalty. A strange free kick inside the box for Bayern followed, with Robben curling just wide.

Then Tosic began to make his presence known as he'd sky over before banging the crossbar himself. But the ever-present Robben was still there, eliciting a diving save out of Akinfeev.

Martinez came off for seldom-seen Jan Kirchhoff, and young American Julian Green made his professional debut for the senior side in lieu of the magician Goetze -- he of the white gloves -- but neither side could muster anything conclusive in the dying minutes. Bayern Munich remains the team to beat, firmly in control of first place in Group D.

And might I say, for as much hemming and hawing as everyone made about the allegedly racist behavior of CSKA supporters -- I'm glad none of it came to light. Or, at least, none that I could see.

I had a heavy heart ahead of this match, which could've gone very, very wrong. I'm heartily glad it didn't.