Bayern embarrassed by BATE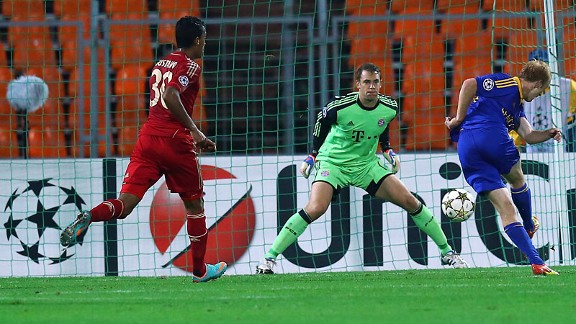 APAleksandr Pavlov of Borisov scores his team's opening goal against Bayern Munich


First of all, congratulations to BATE Borisov for playing a hell of a match! The opening goal by Aleksandr Pavlov (23) was scored on the break, absolutely befuddling the Bayern defence. Vitali Rodionov doubled the lead in the second half (78), again confusing our back four. Franck Ribery pulled one back in injury time (90+1) to give Bayern a whisper of a chance, but when the match hadn't quite been decided, Bressan (90+4) scored the third; out-pacing Neuer- who had come forward to give Bayern a maximum winning chance.

Hahahaha. A farce. A Schauspeil. Bayern Munich heartily deserved to lose this match. I can't even bring myself to be upset about it all. But perhaps, it was a match we needed to lose. Winners of nine straight on the bounce, and looking greatly invincible (just like last season at this time), die Roten have been solidly thumped down to Earth.

And maybe that's a good thing?

You can look at a pitch that my local YMCA league would balk at playing on - (and this begs the question: If the stadium is that bad in Minsk? What does it look like in Borisov?)- or the screens, blocks and absolute crap calls by Macedonian referee Aleksandar Stavrev... But still, while not easily overcome? Absolutely should have been.

Not one person in Bayern Munich's Startelf is beyond my ire. Except for, possibly, Manuel Neuer. He wasn't responsible for the last goal scored against him - as he was trying to help score in dying minutes, nor any of the others. The other two were "Oh! Who's got that guy?" style of defending.

But, still. This is a good thing.

Brought down to size by a small team, in an away stadium, that Bayern Munich should have never lost to. Eh. It happens. And, in truth, I can't even find myself that upset about it. Nor should you. Although, I had stopped taking notes long in to this match, because I was just... stunned. Stunned by how horrible it all was. I just sat in front of "my" television, at my local, (swearing, but laughing) taking in the first loss of the season.

The time was now for us to lose. Remember FC Basel?

Sammer went off in the press in the 2-0 win over Bremen, citing we only played ten minutes of football. Wonder what he was saying in the locker room after the game? His head must have exploded. Meanwhile Jupp's (Osram) looks like it's going to take off at any time...

Sloppy, complacent? What other adjectives can I level against them? But, I think we still win our group. Our trickiest match will be away at Valencia, and that just may be the Group F (for Finale!) decider. Bayern Munich has been brought down, and still has a Bundesliga record to chase if they beat Hoffenheim on the weekend.

Odds and ends:

Mandzukic's boots are horrible. (Perhaps because I'm an Adidas fan?) His boots stood out more than he did.

The triple corner kick by Badstuber went from horrible, to a little better, to... eh, alright.

Again, refs should not blow a whistle when then team fouled has a clear advantage! Does anyone disagree?

No reason Toni Kroos had to shoot for near post on his open goal! The angle was tight, yes, but it wasn't that tight.

Jupp, while making correct substitutions over the weekend, failed to do so today. Or, perhaps, no one was the answer? While I'm not blaming the loss on him, if Toni Kroos had scored the open goal? How different would this match have been?

Follow Susie on Twitter @fussballsusie .