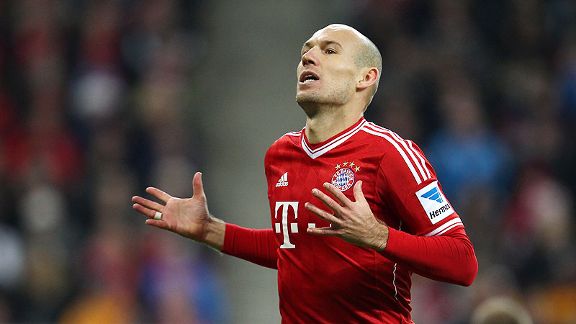 Alexandra Beier/Bongarts/Getty ImagesBayern Munich have found the going much easier this season when Arjen Robben is on the field.
As all of you know, I am squarely on "Team Arjen". Always have been, and always will be. The mercurial midfielder is likely the most polarizing squad member on Bayern Munich -- followed by Jerome Boateng (whose side I am also squarely on) -- and his career at the club since the 2009-10 season has been marked by a large swath of supporters' ire directed towards him until he scores one of his beautiful, improbable goals -- giving him a brief respite from the whistles.

- Report: Bayern backing of Hoeness criticised

I always wonder at people who support Bayern but do not like Robben, thinking to myself: "Are these people watching the same matches I am?" This is a guy, after all, who scored the deciding goal against Fiorentina and Manchester United in the 2010 Champions League knockout stages. He scored the tying goal against Real Madrid to propel his team to the 2012 finals, set up Mario Mandzukic AND scored the winner for Bayern against Borussia Dortmund at Wembley in 2013.

Champions League heroics aside -- although those very heroics should place Robben firmly into the hearts of Munich's fans forever -- Bayern Munich are simply a better team when Robben is on the pitch. There are a couple of reasons for this: The first is his style of play -- general excellence all around, mad dribbles, twinkle-toe speed and that left foot. The second is his influence on Franck Ribery's play when the pair are on the pitch together.

It may surprise some to know that Bayern Munich's testy Bundesliga matches this season have largely been fought without Robben on the pitch, or in a couple of instances, only included him as a late substitution. Mid-August saw the team narrowly win 1-0 at Eintracht Frankfurt with Robben only a second-half sub for Thomas Mueller. The first draw of the season at SC Freiburg, 1-1, was conducted without Robben on the pitch, while their second draw at Bayer Leverkusen, also 1-1, only saw the winger as a replacement for Xherdan Shaqiri. A testy match against Hertha BSC at the Allianz saw Bayern scrape by 3-2 as Robben left the pitch early due to injury, and he'd also miss out on a narrow victory at Hoffenheim 2-1.

When the winger has been included for 90 minutes -- or close to it -- the match stats in most cases look markedly better: A 3-1 victory against Borussia Moenchengladbach to open the season; a comfortable 2-0 over Nuernberg; again a 2-0 against Hannover 96, and the mauling of Schalke in Gelsenkirchen 4-0. A slight 1-0 over Wolfsburg came before the destruction of Mainz 05, 4-1, and Robben would make his way back from injury onto the pitch in the last match, a comfortable 3-0 win over FC Augsburg.

While there is nothing really to complain about when Robben isn't playing -- after all, the team has only dropped four points this season, and currently sit atop the Bundesliga by four, as well -- the results for and against speak volumes of his importance to the team. And to Ribery.

The two wingers -- I hate saying "Robbery" -- have built up a fantastic understanding of each other over the years, and it is evident on the pitch. Things just seem to click a little better when both midfield marauders are present. I would surmise that Ribery is most confident and comfortable with Robben on the opposite side, and feels less like he has to do everything himself.

Ribery is less likely to engineer take-ons and more likely to cross when Robben is present, the only exceptions being when Bayern is destroying a side -- then the two generally feel like they can have their way. And opposing defenses have found it much more difficult to have to cover both of their unique skill-sets, leading to at least one other attacking position being open.

While Ribery has certainly earned his Ballon d'Or nomination, also rightly has Robben. Though Ribery has been lauded, and Robben criticized, for most of their careers, the Frenchman might not be nearly the player he is today without that Dutch guy on the other side.