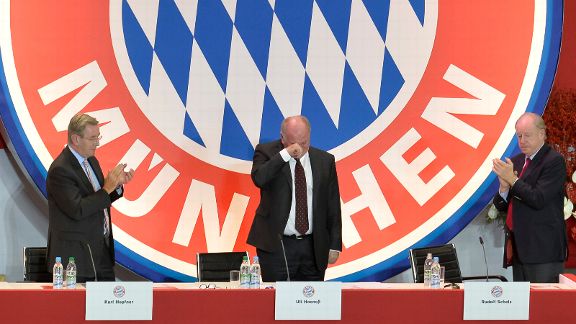 GettyImagesUli Hoeness is reduced to tears at Bayern Munich's AGM.
Jahreshauptversammlung. It's one of those crazy mouthfuls of a compound German word that means "annual general meeting". And on Wednesday, FC Bayern Muenchen had just that. Held in the Audi Dome-- where Bayern are also fielding a pretty good basketball team this season -- close to three thousand people were on hand to hear all the good news.

Karl-Heinz Rummenigge and Uli Hoeness entered to a minutes-long standing ovation, followed by Pep Guardiola soon after, looking quite dapper in his red pullover, as he took his seat in the front row. Four trophies were on display for all to see: Bundesliga, DFB-Pokal, Champions League, and European Super Cup as the meeting slowly built from the minutiae of the smaller sports -- chess, and the like, through last season's record-breaking figures, to the crescendo of a speech from embattled-president Hoeness, who was reduced to tears over his ongoing tax scandal.

Vice president Karl Hopfner announced a membership total of 223,985 -- double what it was ten years ago, and only second to Benfica in the world of football, before a clip of the movie Wembley - Football is Coming Hoam was shown to rapturous applause.

Rummenigge then took to the stage to talk all things Bayern. "It's never been a more beautiful time to be a Bayern fan," he said as he went on to discuss Luiz Gustavo, Mario Gomez, Anatoliy Tymoshchuk and the others that left after last season, before introducing new players Jan Kirchhoff, Mario Goetze and Thiago Alcantara -- even mentioning the pair of Amateure players that had recently been given senior contracts in Pierre Emile Hojbjerg and American Julian Green.

Rummenigge naturally mentioned treble-winning coach Jupp Heynckes to another standing ovation: "He was a great coach and more importantly a great person. I wish him all the best. He will always find an open door at Bayern." The members then had to get up once again as the CEO spoke about Guardiola. "I want the most to welcome a new addition to the new season: Pep Guardiola. He's a coach with a clear philosophy and a very great person," Rummenigge said.

The standing up and sitting down was beginning to resemble a Catholic church service, more than an annual board meeting, before Rummenigge commented on branching out by opening a Bayern office in New York to gain more of a presence in the United States market. With 15 million fans across their media platforms, it's a move that is long overdue.

As a little side note to that, SI.com's Grant Wahl released a tidbit on Wednesday saying that Bayern are likely to participate in next season's MLS All-Star game in Portland, Oregon.

While Hoeness could only sit and listen in tears ("the scandal over Hoeness' Swiss bank account has wound along inseparably from the club's successes in 2013, from the moment he made a self-declaration of unpaid tax in January, through his arrest in March, the revelation of the entire story in the press at Easter time, and the boos that rang through Wembley as the Bayern players briefly passed him the European Cup in May" - The Independent) Rummenigge spoke eloquently about "The Spirit of Bayern".

"Uli is currently experiencing a difficult time. Without his commitment, and without his help, we would not be the Bayern we are today..." Rummenigge said. The fans interrupted, literally singing Hoeness' praises, before he could continue: "I am his friend, and friendship shows up when you stand together with your problems and help each other. But when I now see how everyone has worshiped Uli Hoeness, I must say, I am not his only friend. All of Bayern is his friend. The fact that we all support him is a sign of solidarity and loyalty. I want to thank him and wish the story ends well for him."

After Jan-Christian Dreesen started reading off the financials -- and more on that in a moment -- giving the fans time to escape for free beer, Hoeness stood up -- still overcome -- and took the microphone: "I've made a big mistake. I have not declared investment income abroad and made a voluntary disclosure about it. My lawyers and I still think that my self-display is effective, which would mean impunity, but the authorities do not see it that way. I will only wish for a fair trial.

"I have for many years paid tens of millions of euros in taxes and donated over five million euros -- in which I took no fees for lectures and discussions. I stand by my mistake, now it comes to the process. I trust in the Bavarian justice, and just hope that the media's convictions [of me] will have no influence.

"My family and I have had no easy time. I want to thank Bayern for their support and backing. I'm proud of everyone and I will never forget them. There were loud calls for my resignation from the outside, but the club never did and that is the only important thing to me.

"I have therefore decided to convene a special general meeting after the process. I want to give the board the vote, if I'm still the right president for this club."

His trial begins on March 10, though he has already been convicted (or, absolved) in the court of public opinion. It will be interesting to see what the board does if he is found not guilty.

But, in the end, that issue is a small blight on what was financially and football-wise the best season in Bayern Munich's 113-year history. For the first time ever the club exceeded a €400 million turnover (€432.8 million, to be exact), a figure that's only been met by Real Madrid, Barcelona and Manchester United.

Dreesen noted: "FC Bayern is in the black for the 21st year in a row, and our club belongs among the biggest in world football." Up nearly 30 percent over a year ago, after-tax profits came in at €14.0 million.

With the club in rude financial health and firing on all football-cylinders, one can only wonder what next year's Jahreshauptversammlung will bring.