Schweinsteiger heartbreak before Bavarian derby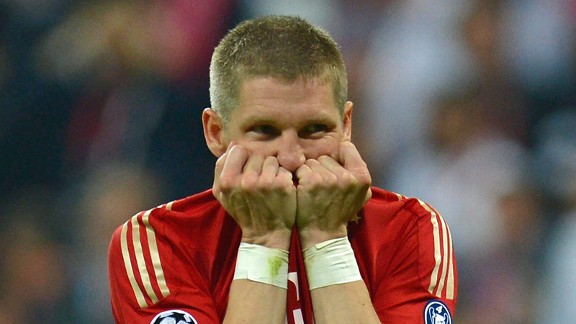 GettyImagesSchweinsteiger has suffered a blow to his playing hopes.
It has been normal, as of late, for German national coach Joachim Loew to call up his side for upcoming matches only to find Bastian Schweinsteiger "injured" or unavailable. In fact, Schweinsteiger hadn't participated in any Germany matches until this last round since March -- with his reoccurring ankle trouble.

The "wink-wink-nudge-nudge" was that he wasn't really injured; Bayern keeping him out was more preventative than anything else -- saving the midfielder for last season's treble-winning campaign. (I will never grow tired of saying that!) But he did require surgery, at season's end, to clean up scar tissue inside his ankle.

On Friday we find out that surgery didn't go as well as hoped, as Schweinsteiger is now out indefinitely, once again going under the knife to clean out that ankle. As the Bayern Munich press release revealed: "In the course of medical check-ups in recent weeks we have diagnosed progressive post-operative ossification in the area around Bastian Schweinsteiger's right ankle," commented FC Bayern Chief Medical Officer Dr. Hans-Wilhelm Mueller-Wohlfahrt [who is also the German national team doctor]. "This is causing tendinitis due to mechanical stress. Despite intensive conservative treatment it has been impossible to alleviate the condition satisfactorily. The player can no longer participate in training or matches. Surgery will be performed shortly."

Schweinsteiger added: "I've repeatedly felt severe pain over the last few weeks. I tried my best to keep going, but I've now come to a point where an operation can no longer be avoided. After the op, I hope I'll be able to play again completely free of pain."

Although losing Schweinsteiger is a huge blow to Pep Guardiola and the team, all is not lost as the rash of midfielders that were injured are now back-- or soon to be back. Javi Martinez had a nice second-half outing against Hoffenheim -- responsible for shoring up what was a dodgy defence -- while Mario Goetze has made some impressive starts. Arjen Robben thankfully came back to team training this week after suffering a groin injury against Mainz and Thiago Alcantara is now only a few weeks away from being back after tearing ligaments.

"I'm going to have to adjust my concept," Guardiola said after Hoffenheim match. "It's to do with a few tactical matters. We're going to have to improve if we want to win the title." This change in concept seems to signal a more direct style of play, with an out-and-out striker, and Bayern Munich do have the personnel to play that way.

With Robben likely to start on the bench, the offensive selection should be fairly straightforward against Augsburg: Mario Mandzukic as striker; with an attacking-midfield quartet of Thomas Mueller, Goetze, Toni Kroos and Franck Ribery.

The single pivot is up in the air, but will likely go to Philipp Lahm, with Martinez starting on the bench and used as a game-changer in the second half. If that's the case, you'll see Rafinha and David Alaba at full-back with Dante and Jerome Boateng pairing up at centre-back in front of Manuel Neuer.

Not a bad squad to run out against Augsburg who currently reside in Bundesliga's 13th spot, finally picking up a win against Mainz last week after losing three consecutive matches.

Fuggerstaedter coach Markus Weinzierl will be without midfielder Panagiotis Vlachodimos, forward Raul Bobadilla and defender Dominik Reinhardt due to injury; also missing midfielder Jan Moravek on yellow cards.

Despite Augsburg never having beaten Bayern in Bundesliga competition it is still a Bavarian derby, and Weinzierl has put together a tough squad that will certainly push to keep Bayern from breaking another Bundesliga record. It's astounding to think the last time Bayern Munich lost in the league was 28 October, 2012 -- a shock 2-1 loss in the Allianz Arena to a very determined Bayer Leverkusen squad.

Having equalled a Champions League record of consecutive matches won with their narrow victory over Viktoria Plzen, Bayern now look to better Hamburg's consecutive Bundesliga matches won record on Saturday. It's a record that many thought would stand the test of time.

Munich can be glad of a little footnote to this match, however, as FC Bayern Muenchen Amatuere recently ran out against the senior Augsburg squad, the high-flying second-team -- first in their league -- and managed a 3-3 draw. Now let's see how the first team pairs up. Auf gehts!