Sloppy Bayern sneak past Hoffenheim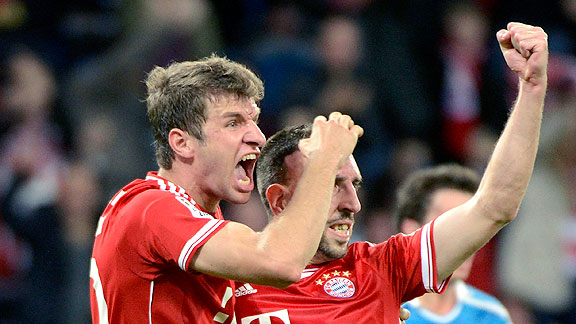 Thorsten Wagner/Bongarts/Getty ImagesBayern Munich managed to pick up all three points Saturday at Hoffenheim thanks to Thomas Mueller's second half winner.
Niklas Suele usurped David Alaba's record for youngest player ever to score for Hoffenheim to go ahead in Sinsheim on Saturday afternoon, but Bayern would not be denied their three points thanks to a Mario Mandzukic equalizer and a go-ahead goal from Thomas Mueller.

Munich equalizes the record set by Hamburg for consecutive matches without a loss (36), and betters former Bayern trainer Branko Zebek's club record start undefeated (1968-69.)

- Report: Hoffenheim 1-2 Bayern

Despite chants of "Hey! Hey! Spitzenreiter, Spitzenreiter!" coming out of Signal Iduna Park on Friday with Borussia Dortmund's demolishing of Stuttgart, the temporary Bundesliga leaders temporarily forgot that league leaders Bayern Munich still had a match in hand. However the match was not nearly in hand as one might think as Hoffenheim -- undaunted by the visitors -- came out to play.

With the travelling Bayern Munich support in fine form, it was end-to-end football initially as neither side's potent offences could penetrate. Hoffenheim may have had claims for penalty after a Javi Martinez tackle in the 12th minute, but referee Tobias Welz waved play on. But, Bayern would get the better run of play for a spell and almost scored multiple goals in succession: Philipp Lahm over-lapping Mueller got down, only to be blocked out by Hoffenheim 'keeper Koen Casteels; Mueller eliciting a reaction save with a thumping drive; and a Mandzukic shot gone sadly wide after an Alaba cross.

Mario Goetze made a meal of some contact in the box, pleading penalty, before Bayern had their best chance to open. A Bastian Schweinsteiger free-kick found both Martinez and Mueller open, only to see Martinez's glancing shot go wide. The duo shared a look as they both knew the kick should've been converted.

Ribery took a rip from distance after Mueller headed down, but then Suele opened the scoring, driving home after a Kai Herdling corner-kick in which Neuer was at fault. Kevin Volland got two saves out of the Bayern 'keeper before the visitors would equalize with a Ribery free-kick that deflected off of Mandzukic.

The second half opened with Dante floating a header just over, and losing his footing in the box which may have been the go-ahead goal for Bayern, all while Toni Kroos came on for Mandzukic to add some stability to Bayern's midfield. Guardiola's switch would pay off eventually as Mueller stabbed through after some wicked work in the box by the Bayern crew.

Guardiola's next substitution would be Rafinha for Goetze as the Munich coach was content to defensively clamp down on their slim one-goal-lead. Goetze left the pitch not having scored for the first time in his short Bayern career.

Mueller almost had a third for Bayern, but his header was downed just wide of Casteel's post. Schweinsteiger then gave up a free-kick in a dangerous position that yielded nothing, and the Bayern engine tried to right the wrong on the ensuing break, but could only manage to shoot directly at Casteels.

A somewhat sloppy, messy display from Bayern, and a classy one from Gisdol's men. Bayern Munich narrowly stay on top of the Bundesliga table with Dortmund breathing down their backs. A Tuesday match at Viktoria Plzen in the Champions League looms while Guardiola tries to find a solution to two uncharacteristically sub-par performances.