A pair of Marios get it done for Bayern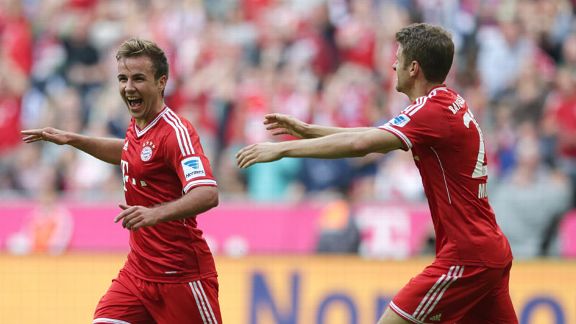 GettyImagesMario Goetze celebrates after netting Bayern's third goal.
Pep Guardiola was forced in to making two early substitutions on Saturday afternoon, but the pair of Marios -- Mandzukic and Goetze -- that came in for injured Arjen Robben and Toni Kroos proved to be the difference-makers as the duo scored all of Bayern's three goals in a narrow 3-2 win over fourth-placed Hertha Berlin.

Hertha striker Adrian Ramos headed past Manuel Neuer in the fourth minute, and Bayern Munich would suddenly have a ton of trouble trying to get back into the match. You might blame the lack of energy by Munich on the Englischer Woche -- playing their third match at home in eight days -- but you have to give credit to Jos Luhukay and his men for being the toughest competition Bayern have faced all season at the Allianz Arena.

The "English Week" also did a number on Toni Kroos and Arjen Robben; both forced out of the match in the initial half-hour with groin injuries. Thankfully both are not severe enough to keep the midfielders out for any length of time, as they were given the "all clear" after treatment in the dressing room.

Bayern appeared at times sluggish and slow compared to a highly energetic Hertha side that surprisingly did not do what most teams do when they play Bayern -- park the bus and wait for a counter attack. And after the initial Ramos goal it might have gone even worse for the home side as Anis Ben-Hatira chipped a woefully-out-of-position Neuer from 30 yards out. I sighed in relief as his effort struck the crossbar, and Guardiola -- perhaps fortuitously -- got to use his fantastic bench early to make some needed changes.

Thomas Mueller moved to right-attacking-midfield as Mandzukic replaced Robben and moved to the top of the formation, while Goetze came in as a direct replacement for Kroos. The pair energized a lack-lustre Bayern as Mandzukic headed home to open the account for Munich from a Franck Ribery free-kick just five minutes after his inclusion.

Goetze has said he's not yet at 100 percent, which should be a terrifying prospect to opponents, as he weaseled his way in to the box on any number of occasions to open the second half. Meanwhile, Mandzukic caused the Berlin defence a fair share of trouble as well, as he headed home the go-ahead goal from a lovely Bastian Schweinsteiger free-kick.

Goetze would then add Bayern's third just four minutes later -- only the second headed goal in his career for the diminutive midfielder -- but Hertha were not done just yet. Ben-Hatira headed a rebounded save by Neuer from Tolga Cigerci to bring the score to 3-2, and Guardiola used his last substitution wisely -- bringing in a finally-fit Javi Martinez to quell the Berlin tide. It was the defensive-midfielder's first match since the Super Cup, and he would prove an asset over the last 25 minutes, exerting control over the visitors.

Schweinsteiger had a chance to improve Bayern's tally, but shot over, while a Ribery cheeky back-heel almost found its way in to the net as Bayern closed out the match with a narrow, but ultimately deserved, victory over Hertha Berlin. Bayern Munich retain their slim one-point lead at the top of the Bundesliga table, while the boys can relax and re-group knowing there is no mid-week match upcoming.

And I, sadly, am at the end of my trip as I head home on Monday. I always hate leaving Munich. I know I'm completely biased, but it's my favorite place in the world. And the three matches in the Allianz -- 12 goals scored, three conceded -- made it the loveliest of an "English Week" in recent history. 'Til next time, Munich!