The re-emergence of Bastian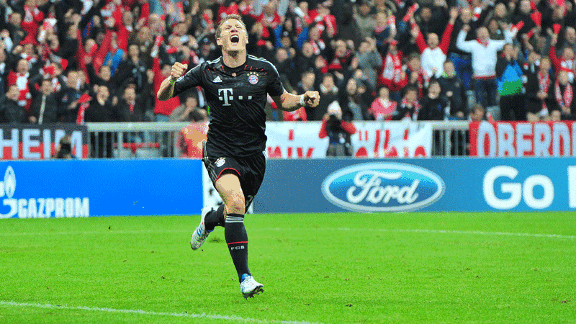 PA PhotosBastian Schweinsteiger scored on his last Champions League outing
If you have been following this blog for any length of time, it is fairly obvious who my favorite Spieler is: Bastian Schweinsteiger. In fact, he is so far ahead of anyone else I might consider, I have dedicated a full one-third of my Bayern Munich and German national team kits to him (six Bayern #31's, four German #7's- if anyone is counting). Because of him, last season was especially depressing for me as he suffered two grave injuries- a broken collarbone against Napoli and torn ankle ligaments against Stuttgart- and not to mention a calf problem that saw him sit out large patches of 2011-2012.

With four goals in eight matches this season, he has already surpassed his lousy stats from last term. He is happy and healthy and a star, once again, in a side that's chock full of them. Bastian gave an interview in Saturday's Sueddeutsche Zeitung (which I could not get my hands on), with excerpts of the interview by Andreas Burkert and Christoph Kneer available on the venerable newspaper's website. With helpful translations of the full article by @redrobbery at rekordmeister.net - as my German-to-English tends to be more direct - Herr Schweinsteiger talks about what happened last year in Madrid and Munich, how it good it felt to finally be pain free, what's different about this season, and his new holding midfield partner Javi Martinez.

On Madrid: "After the semi-final match in Madrid I was more exhausted than ever before. Before the match I thought I can play for about 60 minutes [he had to play 120 minutes]. [After the match] I was lying in bed in my hotel room and I couldn't move anymore - but I was so completely full of happiness because we made it to the final in Munich."

On the final in Munich: "I don't think it makes much sense to practice a shootout. We didn't prior to the match against Madrid and still won. The coach now said that it was a mistake that he didn't decide who shoots but I don't think you can blame him for that. There were enough players who had the chance to step up and say: 'I shoot'."

"There were many back stories that made the penalty shootout more difficult for us. For example many often forget that we already missed a penalty in extra-time. In the 112th minute I looked up to the scoreboard and thought: only eight minutes, I think we have to score a goal now or this becomes a game of luck. Right after that I ran to the sideline and made a slide tackle even though my adductor's stopped working in the 80th minute. I wanted to give my team-mates another boost.

"I got a kick in the calf after three minutes, that caused problems throughout the entire match. That's also why I missed the first part of the preparation for the Euros. When the referee blew the whistle after 120 minutes I thought: did Chelsea accomplish their goal now? Or will our dream still come true, the dream that had been on my mind for days before the match because there was such an amazing atmosphere in the city? Those were quick thoughts that appeared but when I shot my penalty I was completely focused."

He goes on to talk about why he chose the direction he chose against Cech in the shootout (Cech had gone the same way four times in a row). And that he'd initially thought it had gone in. But, somehow Petr got the barest of fingertips on the ball and pushed it aside.

He continues about the disappointment of losing the final at home, and how it is fuel for this season, "At first I felt a bit of everything [sadness, anger, despair] but what affected me more deeply than anything else was the disappointment for the fans who wanted this so much, the entire city and of course our team. And Uli Hoeness in his own stadium! Or Franck Ribery, Arjen Robben and other players, you couldn't stand by and watch, these faces in the locker room, you just don't forget them. Those faces are what motivates me now to do it again."

Who would be on the next penalty shootout list? "I think Arjen and I aren't that high on the coach's list [of penalty takers] right now… no idea who'd shoot, Badstuber is near the top, Ribery, also Mueller. If Thomas Mueller shoots a penalty like in practice, then it's gonna be a spectacle. I can only say that he has a, well, unusual way of taking penalties. You'll be surprised."

And on finally being pain-free: "At the beginning of the summer I didn't do anything - you simply hope that you can go down the stairs without any pain. It's always annoying when you wake up and are in pain. In the second half of last season there were way too many moments when I was in pain and with us playing in three competitions there wasn't enough time to make a full recovery. I still remember that one moment in August, right before our cup match in Regensburg, when I woke up and suddenly realized that something's missing: I wasn't in pain! On that day I hugged everybody on my way to the training ground."

He ruminates on why this season is working: "For me, the main reason for the good start this season is our compact game, that the front four work a lot defensively. Ribery, Robben, Kroos, Shaqiri, Mueller, Pizarro, Mandzukic, no matter who plays they work well. And when Arjen Robben wins a defensive tackle, that's something that makes everybody in the stadium stand up and applaud! Right now we have a really great team spirit. [...] For example when someone scores: Does the entire bench jump up? Right here they all jump up, that's maybe a small difference to the national team at the Euros. Not everybody jumped up there."

While there is a little dig at the German national team in that statement, he also reminded everyone that Deutschland had won 15 games in a row. And he couldn't understand, after the semi-final loss to Italy, why the entire nation had turned against Jogi Loew.

He continues about Dortmund, "I think [they] have been a huge incentive for us. Without Dortmund we might have not made this progress. This is a good thing because for international matches you need a team that works together. It won't be enough to succeed if even only one doesn't work hard."

And on Javi Martinez, "He's very intelligent. An unbelievably good mental player. When you watch him, you wouldn't think he's so young. He possesses all the tools to be one of the best at this position. And together we can work on the big goal - catching up to Barcelona."

The next step in catching up to Barcelona starts on Tuesday in Champions League group play: Matchday two at BATE Borisov. While I could have written a straight preview on that match, it would have been completely disingenuous, as I know next to nothing about the reigning Belorussian champions; except that they beat our other group opponents, Lille, in Matchday one; and that former Stuttgarter Alexander Hleb has returned to play for them.

Arjen Robben practiced on his own on Sunday before the team trip to Belarus. While he may travel, he seems unlikely to start. This sees (from R to L) Thomas Mueller, Toni Kroos and Franck Ribery in attacking midfield, and likely Javi Martinez and Bastian Schweinsteiger in the holding positions. Mario Mandzukic was held out of the start against Bremen, but will start on Tuesday against Borisov. The back four and Neuer will remain the same.

Although we've recently had a poor away record in European competiton- the lone win in five matches being against Olympique de Marseille (although I'm inclined to include the semifinal in Madrid)- this is an entirely different Bayern Munich. Gone are the days when we had to worry about Arjen not being fit. This ueber-talented midfield, with a re-invigorated Bastian Schweinsteiger, will certainly see us through!

For the brief article on the Sueddeutsche Zeitung website: http://www.sueddeutsche.de/sport/bayern-profi-bastian-schweinsteiger-dortmund-war-ein-grosser-antrieb-1.1482130

For @redrobbery and the rest of the entertaining gang at Rekordmeister: http://rekordmeister.net/

You should follow Susie on Twitter @fussballsusie .