Joyful Bayern stroll over Plzen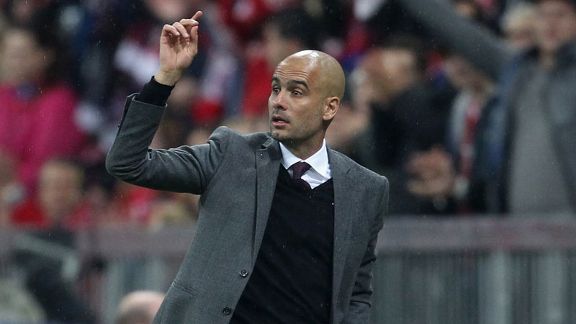 GettyImagesPep Guardiola's Bayern Munich are unbeaten in the Bundesliga and Champions League.
Well, that was fun. Bayern Munich took a delightful stroll past FC Viktoria Plzen, winning 5-0 in the Allianz Arena on Wednesday evening, well on their way to the Champions League round of 16. While Pavel Vrba's men stood resolute in the initial stretch against a crashing tide of Bavarian offense, the dam would crack on 25 minutes with a Franck Ribery penalty strike.

David Alaba doubled the lead before the half with a low drive in to the corner, before Ribery bagged his brace with a panenka. Bastian Schweinsteiger got the third -- converting substitute Mario Goetze's sneaky run in to the box -- and Goetze would add the final goal in injury time with a thumping strike from close range.

-Guardiola: Bayern can get better

I interviewed former USMNT players Tony Meola and John Harkes post-match from the Allianz for SiriusXM FC's Counter Attack (a snippet of which can be found here), where I likened Plzen to a pub team. A bit harsh, perhaps? Yes, but the gulf in class between the sides was so terribly wide that it looked as if Vrba had gone to my local and selected 10 random guys sitting at the bar. Only goalkeeper Matus Kozacik saved his team from utter humiliation with wonderful reaction saves on Daniel van Buyten, Mario Mandzukic and Arjen Robben.

Speaking of Robben: the penalty-taking kerfuffle continued when the Dutchman was brought down in the box on a desperate lunge by former Hertha centre-back Roman Hubnik. Remembering Saturday's match against Mainz when Robben won a penalty -- and actually wanted to take it -- coach Pep Guardiola insisted Thomas Mueller step up to the spot instead, causing an angry Robben to slam the ball in disgust.

Wednesday, Robben was instructed by Guardiola to take the penalty that he'd earned, with Ribery handing him the ball. Robben demurred, Ribery converted, and kicker would say Robben "refused defiantly, like a little child." The guy just can't win, can he? Guardiola brushed off the incident: "I'm not mad. I like players with guts and courage to pick up the ball on the penalty... We have many who can. I wanted Arjen to shoot, though, but that does not matter." And Ribery spoke: "[Robben] was still mad, but that's not an issue." Robben refused to comment.

Could you imagine if Robben had stepped up to the spot on Wednesday... and missed? Eventually, he will get over being angry. And eventually it will be the right time for him to step up for an Elfmeter once again.

I had initially thought that Guardiola might sit Ribery for Goetze, but the coach proved me wrong, and Ribery rightly carried away man-of-the-match honours. He proved me wrong again by starting Diego Contento as centre-back alongside van Buyten, leaving Jan Kirchhoff on the bench.

Admittedly, the centre-backs, plus goalkeeper Manuel Neuer, did not have much to do as Plzen could barely manage to get in their third of the pitch -- Neuer even coming out of the box to play defence a couple of times. But when called upon, Contento performed very well. And it's lovely to see the confidence the coach has in the German-Italian, something the defender did not have in Jupp Heynckes' tenure.

Some have said the match was boring on television, but in the stadium it was quite a bit of fun. When the Bayern boys figured out they could basically have their way with their opponents, all their tricks came out in full display. Robben and Ribery took on two or three defenders just because they could; crossovers and cheeky back-heels from everyone; passes slotted through defenders' legs.

The score might have been considerably higher had Munich played more directly, instead of toying with Plzen like a cat does with a mouse, but the joie de vivre in Bayern's play had me giggling considerably for much of 90 minutes.

"We did a good job very comfortably," Toni Kroos said. "But we don't measure ourselves against the likes of Plzen. Out there on the field, we really enjoy keeping on going for goal even when we're 3-0 up."

Kroos has the right of it, as this match wasn't a good indication of how far this team has come along under Guardiola. The 3-1 win at Manchester City was a much better benchmark -- a footballing clinic -- as City has talent that is close to par with Bayern Munich. I say "close" because everyone is now beginning to believe that Bayern is truly the best, deepest squad on the planet.

And Guardiola says: "We can get better, still."