Possibilities against Plzen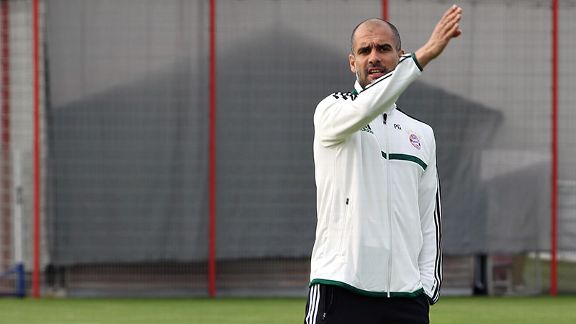 Alexandra Beier/Getty ImagesPep Guardiola
Admittedly, I know almost nothing about FC Viktoria Plzen. Information about the Czech squad in English, or German, is scant, and every article I've read basically say the same things: 2010 saw them in Europa League competition. In the 2011-12 season they competed in Champions League group stages, but ultimately got knocked down to the Europa League, where they made the Round of 32. Last season was their most successful yet; making the Round of 16 in the Europa League, before being bounced out by Fenerbahce.

- Report: Lahm to cover centre-back crisis

Currently second-place in their domestic league behind Sparta Prague, Viktoria drew 1-1 in their last match out against bottom-dwellers Slavia Prague, and manager Pavel Vrba said post-match, "Slavia were better than us in the first half and punished our mistakes." In a pre-match news conference he added: "It is not normal how we have played in defence lately. If we don't improve, it will be very bad against Bayern because they will certainly punish our mistakes."

And that's a lot of "punishing our mistakes."

While Vrba may fret over his defensive frailties, Pep Guardiola's injury woes may be cause for concern for Bayern's back four on Wednesday. Jerome Boateng is serving a one-match suspension for his red card against Manchester City, and Dante suffered a cut to his ankle -- requiring stitches -- in Saturday's win over Mainz. One might think Daniel van Buyten and Jan Kirchhoff would be automatic starters at centre-back, but on Tuesday Guardiola proclaimed with a wink: "We have Daniel [van Buyten], Jan [Kirchhoff], [...] Diego [Contento], and we have Philipp Lahm."

So, yes, Van Buyten and Kirchhoff will likely get the nod.

Franck Ribery was held out of the Mainz match with a knock, but returned to team training on Tuesday; Guardiola saying: "Franck is okay and trained very well today", which makes my theory of Mario Goetze getting a start on the left for this one doubtful. He'd further unwittingly poke more holes in my supposition, stating: "Mario played very well [on Saturday] and he's improving every day. But I don't know how many minutes he might get."

I wonder why Guardiola might risk a possibly not-fully-healthy Ribery, but perhaps the coach is inclined to get 12 points out of the way without the worrisome initial 45 minutes like the Mainz match. Although, it must be said that Vrba is no Thomas Tuchel.

Some misguided fans have called for Arjen Robben to be benched for his display of passion when told by Guardiola that Thomas Mueller -- not he -- would take the Elfmeter in the dying minutes of Saturday's match, but Guardiola's statement about the incident seems miles away from that: "I love his personality and that he took the ball and wanted to take the penalty."

Assuming that the devastating, inverted-winger duo start, who fills the other two positions? Or rather, who gets a seat on the bench? Either Mueller or Mario Mandzukic seems likely, with Bastian Schweinsteiger and Toni Kroos slotted in centre-midfield. But, it wouldn't surprise me to see Guardiola throw a wrench in to the whole works by starting Lahm at right-back, Schweinsteiger as single-pivot, with Goetze and Kroos in the centre and Claudio Pizarro up top.

Once again, I am in the Allianz Arena on Wednesday. I only ask to be entertained, whatever Guardiola brings forth. And by "entertained", I mean win.