Goetze and Guardiola make the difference against Mainz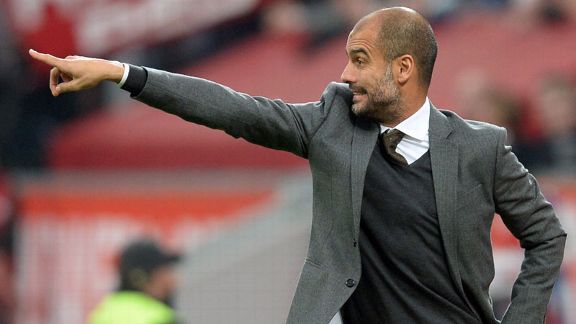 GettyImagesPep Guardiola's decision to introduce Mario Goetze proved effective.
Bayern Munich dictated and dominated play for nearly the entire match, but an injury to Dante and Jerome Boateng's misread of a lofted pass late in the first half saw Mainz ahead on a Shawn Parker goal. Thomas Tuchel's men would weather the die Roten storm for 50 minutes before Arjen Robben equalized. Thomas Mueller shot Bayern ahead two minutes later, also adding a penalty strike to his total later in the match. Mario Mandzukic got on the scoreboard as well as Munich closed out the second half in devastating fashion. Bayern Munich remain Spitzenreiter; also able to equalize second-placed Borussia Dortmund's goal differential.

Pretty much everyone has called the Mainz match a "tale of two halves", which it certainly was. So, I'm going to go one better and say Mario Goetze was the difference-maker here. Now you might say, "Susie! Other people have said that, too!" but if you know how I feel (and if you're on Twitter, you do) about Goetze and his pro-Nike antics since joining Bayern Munich, you'll understand that my praise -- while still grudgingly given -- is absolutely merited.

But, I won't call him "Super Mario" just yet.

That being said, I've got to hand it to Goetze, he played a heck of a second half. Finally starting to come back to full fitness, the Mainz match and his performance against Sweden for the DFB have begun to show the merits of his inclusion in Bayern Munich. He released Robben for the opening goal, and a scant two minutes later the two teamed up again to provide for Mueller. He'd close out an excellent showing with a pass to Mandzukic for his strike past Christian Wetklo.

"The more I play, the fitter I'll become. I'm not bothered about my position. I can play as a wide midfielder, an inside forward, a playmaker, or up front. Fortunately, I'm very versatile," Goetze told Bayern's official website. And if that's the case, Bayern won't have to worry about injuries to Xherdan Shaqiri -- out six weeks with a ruptured hamstring -- and Franck Ribery -- doubtful for the Plzen match with a sprained ankle.

Another "G"-man for Bayern, coach Pep Guardiola, also proved to make a difference in the second half. Sitting in the Suedkurve, I would puzzle at David Alaba's inclusion for the injured Dante. "Diego Contento is playing center back?! So, now we have two right backs [Philipp Lahm and Rafinha] and two left backs [Alaba and Contento] on the pitch," I remarked, puzzled, to my friend. At the time, it made more sense to me for Jan Kirchhoff to come on as a direct replacement. And it would seem to play out as Boateng misread the ball that led to Parker's opening goal minutes later, with Contento -- now playing center back -- not near the area.

Goetze for Rafinha to begin the second half would be a genius move by Guardiola -- shifting Alaba and Lahm into their regular wing-back positions as it strengthened the wide play that Mainz would have oodles of trouble trying to cover, and space that was not granted in the first half suddenly became available all over the pitch.

The fluid, interchangeable play of the entire midfield and forward units -- with a much better positional understanding that was shown the first half -- was a pleasure to watch live. Mueller and Robben could be found switching sides, or at times, both marauding one side of the pitch together. Bastian Schweinsteiger and Toni Kroos alternately slipped back and forward into holding or attacking roles, while Goetze was used wide -- and up top -- with Mandzukic doing the same.

It gave me shakes trying to figure out what formation was happening at any given time, but these are shakes I'll gladly weather with a performance like that. I've said before that you may call Guardiola's 4-1-4-1 whatever you wish, but good luck trying to keep up with it throughout an entire match. And also, not-so-grudgingly anymore -- that's the brilliance of the whole thing. It might make a good drinking game, too: Take a drink every time a player switches positions.

OK, maybe not.

There is still a catch. Defensively, this system needs the back four comprised of players with a great understanding of each other. I am of the opinion those four positions should remain as stable as possible, which is an impossibility if Guardiola is to keep everyone happy. But, then again, while Boateng had a leg up on all the center backs pre-season, Dante has finally started to truly grasp what the coach wants. And as Rafinha was shaky in his first couple of outings as right back in Lahm's stead, he has pleasantly surprised all with his great performances of late. In the end, perhaps, it will just take minutes on the pitch for all to become accustomed.

Here's hoping the offense can keep churning up goals while that happens.