Schweinsteiger finally collects 100th cap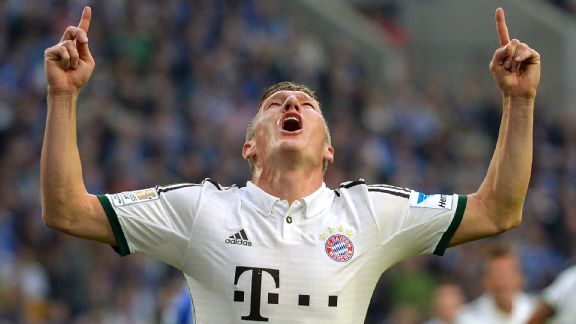 Patrik Stollarz/Getty ImagesBayern's Bastian Schweinsteiger has earned 100 caps, ninth-most in Germany's team history.
Those of you who have read my column for a long time-- or any amount of time, really-- are well aware of who my favorite player is: Bastian Schweinsteiger. He received his 100th cap for Germany against Sweden Tuesday, finally, after a lengthy stretch without being called up to Joachim Loew's side -- the midfielder had been keen to fully heal the ankle that had given him so many problems, and keen to heal the hurt of a disastrous 2012.

2012. After giving up the Bundesliga title to Borussia Dortmund, Bayern Munich then got whipped by the same in the DFB Pokal final. The heartbreak wouldn't end there as Chelsea came calling, overturning Munich on penalties in the Champions League final, with Schweinsteiger missing the last. A legion of Bayern supporters cried with him as he dropped to the pitch, jersey over his face.

Even the Chelsea players embraced Schweinsteiger, gutted for his loss. He and Frank Lampard exchanged shirts, as they had after the 2010 Germany-England World Cup match. Neither midfield marshal was willing to gloat at the others' expense; understanding the heartbreak of leaving it all on the pitch, yet still coming up a loser.

-Pep demands player loyalty
-Rummenigge enters Qatar debate

Though Schweinsteiger was still suffering his ankle problem, there was a renewed sense of optimism going in to 2012's Euro competition. After all, Germany were one of the favorites once again, and he -- along with his fellow Bayern and Germany teammates -- was ready to put the awfulness behind him and get down to brass tacks.

Then Germany met Italy and hopes were dashed once again.

How does one pick up the pieces of themselves, their hopes, their dreams after that? If you're Bastian Schweinsteiger and Bayern Munich, you go on to have the most spectacular season in Bundesliga history-- even breaking the record for breaking records -- while also winning the Pokal and the Champions League along the way.

Nobody dislikes Schweinsteiger. No one. Guys want to be him. Girls want to date him. Every team in Europe would kill -- or at least, maim to have him. He has the respect of his teammates, opponents, everyone. I took to Twitter before the Sweden match to ask my followers what their favorite Basti moment was (he does not wished to be called "Schweini" anymore), and the flood of replies was wonderful, beautiful; bringing tears to my eyes.

Schweinsteiger giving German chancellor Angela Merkel an Edelweiss. His back-heel flicked goal against Frankfurt to seal the 2013 Bundesliga title. He and Arjen Robben lying down on the Champions League logo post-match at Wembley. His two goals and assist against Portugal in 2006.

And then there were the moments I was there for: Scoring the first goal against Turkey in 2008. Striking the winning penalty shot over Real Madrid in 2012's Champions League semifinal. And finally, stealing the mike from stadium announcer Stephan Lehmann after a December 2010 match against St. Pauli, and announcing to the 69,000 faithful that he would extend his contract with Bayern Munich.

"My heart is red through and through," he said as he kissed his badge. "when I arrive at the Saebener Strasse, it's like coming home." I bawled like a baby, clutching a now-cold cup of Gluehwein at the news. My friends looked at me like I was a crazy person, as I wiped my tears with my Bayern Schal.

It's unreasonable the amount of love and respect I have for Schweinsteiger -- a man I've only briefly said "Hello!" to before -- until I consider how I've grown up watching matches over the years. And how his development and maturity have mirrored my growing understanding of Bayern Munich and Germany, and football in general.

A rebellious young Schweinsteiger broke in to Bayern's first team in 2002, but I'd yet to have the technology to watch matches; only able to read about Bayern's exploits, and catch the odd match when I visited Germany. My Bavarian side of the family have been Bayern supporters for years, so even as a youngster my teams were Germany, Bayern and the Fort Lauderdale Strikers, even though I was rarely able to watch the first two.

Then Germany's 2006 World Cup competition came a-calling, and who were these brash kids Jurgen Klinsmann put on the pitch? Lukas Podolski and Schweinsteiger would shine for Deutschland. And how couldn't you like Bastian? Brash, young, and full of attitude, he made a strikingly compelling figure. I would suddenly be more interested, more passionate, about football than I'd ever been.

The 2007-08 Bayern Munich season had me writing about football for the first time in my life. It was only a blog on MySpace, mind you, but was fairly popular at the time. Then came Euro 2008, and Soccernet gave me the dream chance to write about Germany. I would rue Schweinsteiger's red card against Croatia, for I had tickets to the Austria match, which he would miss through suspension The goal against Turkey in the semifinals would make up for it, though.

When this website began opening up the club blogs to the big teams in Europe, I asked for the Bayern Munich spot, and there the obsession began in full force. Meanwhile, Schweinsteiger would be trying to find his way for club and country, realizing he did not have enough speed on the wing.
It would take Louis van Gaal to recognize his potential, switching him to a holding position; a masterful, genius stroke of coaching that lead him to where he is now: a complete box-to-box midfielder with vision ... and Eier.

The "bad boy" image has long faded as Schweinsteiger has become the soul of Bayern Munich and Germany, and I have gotten better at expressing what was intuitive to me at first, now easily written.

And here we are today.

Although Tuesday's 5-3 win at Sweden was tumultuous -- Schweinsteiger would say, "I would've preferred 0-2" post-match -- Germany is seeded for Brazil with their most prolific qualification campaign to date. Interesting times lay ahead before June, as Bayern is coming to grips with Pep Guardiola's style of play, but don't count out the Germans in South America with my favorite player ever on the pitch.

Congratulations on your 100th cap, Basti!