Kiessling, snubbed by Germany, stars for Leverkusen
Although the public spat between Germany coach Joachim Loew and Bayer Leverkusen striker Stefan Kiessling seems to have abated somewhat, Loew still chose not to call up Kiessling for the DFB's next two qualifiers -- in Cologne against Ireland and Stockholm against Sweden -- instead calling up just one true striker in Mönchengladbach's Max Kruse.

One might think it's the perfect time to bring Kiessling back in to the fold since Loew's two first-choice strikers -- Lazio's Miroslav Klose and Fiorentina's Mario Gomez -- remain out with long-term injuries, but one is not Loew. There was some hullabaloo that Loew informed Kiessling of his decision just one day before Leverkusen's Champions League match against Real Sociedad. But Kiessling, presumably, was able to put it behind him and Leverkusen went on to beat the Spanish club, 2-1.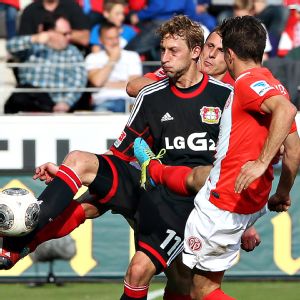 Daniel Roland/AFP/Getty ImagesStefan Kiessling (with ball) could have extra motivation when Bayer Leverkusen host Bayern Munich Saturday.
Domestically this season, Leverkusen is just one point back of Borussia Dortmund and Bayern Munich, and Kiessling is again in strong form (five goals in seven matches) after winning the Torschuet-
zenkoenig title last term. While he failed to score against Sociedad midweek, and Hannover the previous weekend, the striker told fcbayern.de: "I told my son I was saving my goals for the next match. Let us see ..."

Kiessling's got a point -- Bayer Leverkusen handed Bayern Munich their one and only loss in the Bundesliga last season; a shock 2-1 result in the Allianz last October, Bayern's only defeat in 45 league fixtures. But it's hard to deny that Bayern won't be favorites in Saturday's match at the BayArena, with the footballing clinic they put on at Manchester City mid-week.

Mario Goetze is back to full health -- Pep Guardiola content to let him run out the clock for his Bayern Munich Champions League debut -- and Javi Martinez's return is coming along nicely; the team posting pictures on Twitter of the Spaniard training with a ball Friday.

But, Guardiola is still a bit short in the holding midfield role, so we're most likely to see Philipp Lahm there once again.

I rather enjoyed the 4-3-3 formation with Thomas Mueller up top, partnering Arjen Robben and Franck Ribery. But, rotation -- and keeping all Guardiola's superstars happy -- is the name of the game, so I think Mario Mandzukic will be back in the Startelf.

Werkself boss Sami Hyypia, speaking at a pre-match news conference, understands Munich's fluidity: "Bayern are incredibly flexible in terms of tactics. Everybody knows it will be difficult. But I'm going into the game with the intention of winning. Bayern are stronger than they were a month ago and they are improving week by week. But it's not always the better team that wins in football, but rather the side in better form on the day. I'm not one of those people who throws in the towel before a match starts. We have to give 100 percent all over the pitch. Then anything's possible."

More than possible for Leverkusen with Kiessling heading things up, but also realizing that they've let in six goals in seven Bundesliga matches this term. If Manuel Neuer could somehow manage to keep a clean sheet in this one (a difficult task, for sure) and Bayern just gets a bit more clinical on the offensive side, it would be a fantastic result for the ever-improving treble winners.

Although Bayern brushed away their first "huge" opponents in Schalke 04, this matchlooks to be the most important of the season. Now, if only Kiessling could be wrong ...