Schalke goes down 0-4 again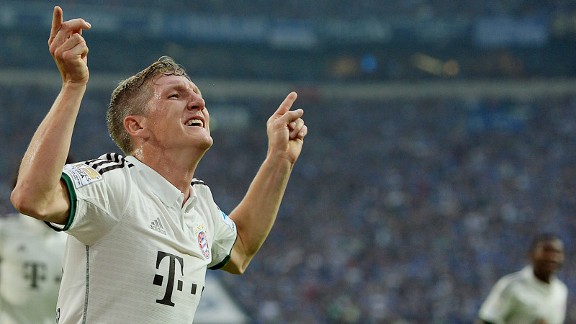 PATRIK STOLLARZ/AFP/Getty ImagesBastian Schweinsteiger's first half goal set Bayern Munich on their way to a 4-0 win at Schalke.
In the battle of the Boateng brothers, Jerome would come out on top as Bayern Munich again took down a Champions League side in Schalke 04 -- "null-vier" as it would turn out once again. First half headers by Bastian Schweinsteiger and Mario Mandzukic and second half strikes by Franck Ribery and Claudio Pizarro fired Bayern up to share the spoils at the top of the Bundesliga table with Borussia Dortmund as the Black and Yellows stumbled to a draw against Nuremberg earlier in the day.

- Match report: Schalke 0-4 Bayern Munich

It would seem that while Pep Guardiola had, perhaps, underestimated Bundesliga competition in the past month-and-a-half, he's finally got it figured out; saying post-match: "I have learned in Germany that the most, most important thing is to control the counter attacks [from opponents]."

We saw the shift in play start in the second half against Hannover, and then again in a pretty match against Moscow. But Saturday's performance is the best, and most complete, 90 minutes that Bayern Munich has managed this year. And what a sight to behold!

The set-up ran out a bit more double pivot -- again -- than the official lineup suggested; Schweinsteiger and captain Philipp Lahm playing mainly in a holding position, with Toni Kroos back from the attacking front three as well. It worked to great effect as Schalke, while still getting ten attempts off, rarely troubled Manuel Neuer over 90 minutes, the former Blues keeper still perfect against his old side.

Yet, Kevin-Prince Boateng struck first from distance, only to be parried by Neuer, before David Alaba tried to replicate his free kick curler against Moscow -- this time, unfortunately, going wide. Kroos also tried early to get on the board, before Adam Szalai collected from Jefferson Farfan only to be blocked out by Jerome Boateng.

Schweinsteiger also curled over before Bayern Munich struck twice in quick succession; the midfielder heading home a Robben corner kick before Mario Mandzukic headed his own. A lovely cross from Alaba found the Croatian at the back of the box -- his driven header could only be helped along by Schalke captain Benedikt Hoewedes into the net.

Guardiola got a tap to the backside of Jerome Boateng after a nice tackle out as the Royal Blues had little answer after giving up two goals in two minutes. It could have been three, minutes later, as Robben missed just wide after a nice interchange between him and Kroos. The onslaught continued to end the half with Mandzukic striking the side netting and Rafinha volleying wide of an open goal.

Two great early chances in the second half went wanting for Munich as Ribery, with a good look at goal, should have shot instead of passing off, and Mandzukic recalling shades of Sergio Ramos -- booting one well over the bar. But, Jens Keller's men weren't finished enjoying a nice spell of play as Kevin-Prince Boateng headed with pace wide and shot wide again minutes later. Julian Draxler also got a stab at goal before Robben came off for Thomas Mueller. But Bayern was back again as Alaba got down to the touchline, crossing in to Ribery -- his simple finish the Rekordmeister's third of the day.

Whistled at every time he touched the ball, Neuer came way out of the box to leap and slap away a threat; immediately getting down on the pitch to stretch out his back (!) before Schweinsteiger made way for Jan Kirchhoff and Mandzukic for Pizarro.

With the battle of the Boateng brothers already decided, Kevin-Prince was subbed off for Christian Clemens, before Bayern sealed the day as Mueller went down -- yet still managing to get a pass off to Pizarro who slotted past Timo Hildebrand as the Peruvian increased his lead in most goals scored by a foreigner in the Bundesliga.

Just when you thought the 90 minutes against Moscow were good, a match like this comes along. The Bayern press was fantastic, immediately hounding Schalke every time they had the ball, and the merits of Guardiola's new system are coming to light. Thinking about injuries to Mario Goetze, Thiago Alcantara and Javi Martinez: How much better can this team be when they come back healthy?

Mid-week sees Bayern match up against recent foes Hannover 96 in DFB Pokal competition. I can't see it going worse than today, can you?