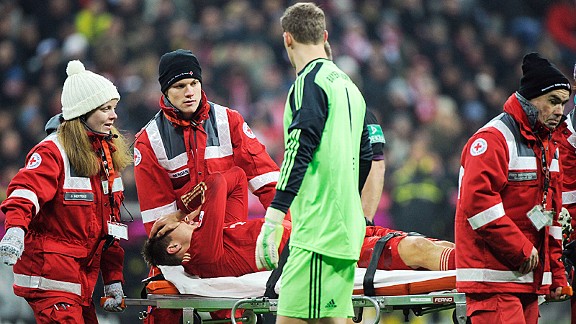 GettyImagesManuel Neuer checks on Holger Badstuber as the Bayern Munich and Germany defender is carried off injured against Borussia Dortmund.
I was in attendance at the Allianz Arena when Holger Badstuber ruptured his anterior cruciate ligament the first time; an awkward collision with present team-mate Mario Goetze. It was bitterly cold, the first day of December 2012, and I had remarked -- at the time -- that I was happy to see Jerome Boateng come in; not realizing the extent of Badstuber's injury.

In February 2013, just two months after the rupture, the defender and German international would sign a contract extension linking him to Bayern Munich until 2017.

Treatment of a ruptured ACL has come a long way since this writer's halcyon playing days, where two torn ligaments in three years -- ages ago -- eventually reduced me to punditry instead of my preferred central midfielder spot. So, a quick recovery was expected for Badstuber, by all Bayern supporters, until news broke in May 2013 that his ACL had been torn again.

While it was initially played down, Bayern Munich eventually released a press statement revealing the extent of Badstuber's injuries: "On Monday 20 May 2013, Dr. Richard Steadman performed surgery on Holger Badstuber in Vail, Colorado. Due to extensive ruptures, the player's cruciate ligament is no longer functional and was removed.

"Before the cruciate can be reconstructed using a surgical tissue graft replacement, the incisions and holes from the original op [sic] must heal completely."

So, Badsutber's been walking around without an ACL this whole time? Strange, yeah? I mean, I have a wonky knee, but there's a thread of an ACL left in there.

Apparently all the "incisions and holes" (gah!) have healed, and Badstuber's making the jaunt back to the United States this week to have a new cruciate ligament put in. His doctor, Richard Steadman, is "renowned in the football world for his work in helping the likes of Ruud van Nistelrooy, Alan Shearer and Michael Owen recover from major injuries".

And we all see how that worked out for Owen. I digress...

After five years of youth football with Bayern Munich youth, plus two years on the reserve squad, Badstuber has been capped 30 times for Germany and made 101 appearances for Bayern's first team. There's no question of his defensive prowess, but he will essentially miss football from December 1, 2012 -- through the World Cup -- until, likely, the start of the 2014-15 season. With a ligament replacement.

"I can again see light at the end of the tunnel," Badstuber would say at a Fair Play event in Munich recently; remarking on his -- hopefully-- last surgery. But, after missing a year-and-a-half of football? Does Holger Badstuber ever get his groove back?