You can never have too many midfielders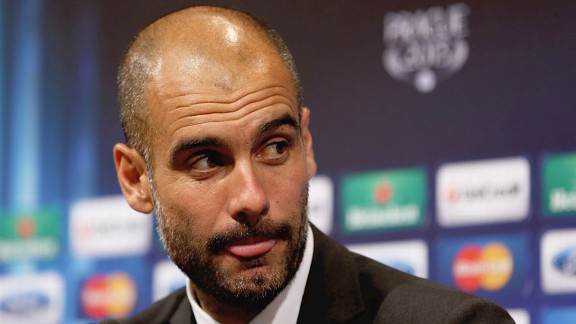 Getty ImagesWith a host of injuries plaguing the Bayern midfield, manager Pep Guardiola hopes to avoid any further problems during the international break.
The end of the silly season and the start of the international break couldn't come at a better time for a host of Bayern Munich players with varying degrees of injuries. While Bayern -- if everyone were healthy -- might normally send out 18 or 19 squad members to their respective countries, only 13 are fit enough to compete this time.

- Report: Germany trails despite spending records

While Anatoliy Tymoshchuk, Luiz Gustavo and Emre Can were judged to be superfluous to Pep Guardiola's needs this summer, the Bayern coach couldn't have imagined the plague of injuries that has befallen his side -- with most being, of course, in the midfield. I suppose you can never have too many midfielders.

Although Javi Martinez came on as a second half substitution, and scored a last-gasp equalizer against Chelsea in the Super Cup, he wasn't 100% fit. After long complaining of adductor muscle pain, the Spanish international underwent successful groin surgery on Tuesday and is expected to be out for three weeks.

His Spanish counterpart, Thiago Alcantara, injured his ankle in the draw against Freiburg and also underwent successful surgery. But this injury is more serious than Martinez's groin, as he'll spend six weeks on crutches and is likely out until November.

Mario Goetze took a nasty ankle knock from Chelsea's Ramires' red card tackle and is projected to miss Hannover's visit to the Allianz Arena after the international break ends.

Bastian Schweinsteiger, declared unfit after returning to team training the day before the Chelsea match, has been kept in Munich as a precautionary measure to get him back to full health. However, he is not training with the team; instead restricted to stabilization exercises.

Eighteen-year-old Bayern reserves starlet Pierre-Emile Hojbjerg has been out for a lengthy spell with an ACL injury, but is set to be available in two weeks' time. And while Jan Kirchhoff is listed as a defender, he did feature as a holding midfielder for Mainz 05 and I'll include him here. These two would be a stop-gap measure at holding midfield for Guardiola, but at least Kirchhoff is finally fit -- playing 90 minutes in Bayern's friendly against Passau.

Everyone's hoping for Schweinsteiger to regain full fitness before the Hannover match, as Bayern would then be relying on Philipp Lahm, Toni Kroos (neither who impressed against Chelsea at the 6), or Kirchhoff to fill Schweinsteiger's very big shoes. Martinez has, so far, been the only one to do it admirably.

Meanwhile the rest of the midfield -- Arjen Robben with the Netherlands, Franck Ribery with France, Thomas Mueller and Kroos with Germany, and Xherdan Shaqiri with Switzerland -- will be hoping to come out of their respective encounters unscathed. It'll be truly "squeaky bum time" if more than one go down as Bayern Munich would then be left with not enough attacking midfielders to fit Guardiola's line-up.

While I love the DFB as much as the next person, my heart truly resides with the club, and I generally spend these international breaks praying that no one gets injured while hoping for the best out of all Bayern's national team members. A special mention goes out to Bayern and Germany captain Lahm, earning his 100th cap for Germany in the Allianz Arena against David Alaba's Austria on Friday.

Good luck and come home healthy, boys! And for those that are recovering, "Gute Besserung!" (Get well soon!) You can, after all, never have too many midfielders.