Freiburg sneak late draw as Bayern prepares for Chelsea
With one eye on Friday's Super Cup matchup with Chelsea, Pep Guardiola used an unfamiliar lineup Tuesday evening to face Freiburg in the Mage Solar Stadion -- the host team gracious to allow the midweek match. While Xherdan Shaqiri opened the scoring for Munich in the first half, Freiburg substitution Nicolas Hoefler equalized with minutes remaining. And although the Bavarians dropped points, they temporarily take over the top Bundesliga spot before this upcoming weekend's fixtures.

My snap judgement -- when I saw the Bayern starting XI -- was that Guardiola had forgone, or maybe underestimated, Freiburg in the fervent hope that he could overcome his nemesis in Jose Mourinho, and Bayern's in Chelsea, with his best possible 11. But that would turn out not to be exactly the case as die Roten outshot die Breisgauer 17-8.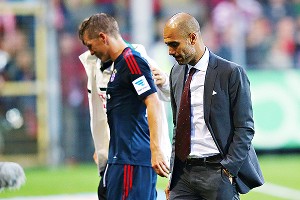 Alex Grimm/Bongarts/Getty ImagesA banged-up Bastian Schweinsteiger could leave Pep Guardiola in a bind against Chelsea.
The problem was not the lineup but finishing in the last third -- especially by the central midfield trio of Toni Kroos, Mario Goetze and Bastian Schweinsteiger; the latter playing in almost a Libero role. That role would see him hobble off the pitch with 11 minutes remaining, and that injury would be more important than the draw in most Bayern Munich supporters' minds.

Freiburg coach Christian Streich and his new-look team took it to Munich in the opening stage of the match, winning a couple of early corners before Oliver Sorg's long-range belter forced Manuel Neuer into a nice save. On the other end, keeper Oliver Baumann saved long-distance efforts from Kroos and Shaqiri in succession before Claudio Pizarro chipped over him -- Thomas Mueller's chance from the play denied after he was judged to push in the box.

Bayern had wrested control over the match now, and Shaqiri got on the scoreboard from a lovely Mueller cross. There could've been two for Bayern after great build-up play by Pizarro and Mueller found Goetze crossing low in front of an open goal, but no Munich player was in reach for an easy tap home. The half would close out as Sorg struck the side of the net after Johnathan Schmid broke fast.

The second half started with a scary moment as Daniel van Buyten failed to clear in the Bayern box, but Bayern marched back immediately; Goetze failing to bring the ball under control at the other end. The visitors had a long spell of tempo-killing keep-away with Shaqiri getting a couple of attempts, before Neuer got a fingertip on a Charles-Elie Laprevotte curler -- Germany's No. 1 looking to preserve his 100th clean sheet in Bundesliga competition.

Hoefler came on only two see yellow two minutes later for a tackle on Kroos, and teammate Christian Gunter followed him in the books just a minute after that, fouling Mueller. It seemed that FCB were starting to frustrate SCF, but Baumann kept his head in the game, making a fantastic triple save against Kroos, Pizarro and Mueller.

Neuer saved a header from Sebastian Kerk from the back post as Bayern's defense was nowhere to be found before Schweinsteiger asked to come off with a bit over 10 minutes remaining -- frighteningly hobbling off the pitch. His replacement, Franck Ribery, took a rip from distance before Bayern's defensive problems came to light -- Hoefler striking past Neuer from Sebastian Freis' cross. Even though Pizarro would come off for Mario Mandzukic, Bayern was unable to make the last minutes count as Dante shot over the bar to end the match.

Philipp Lahm would say post-match: "We have only ourselves to blame. We conceded an equalizer just before the end. But we had plenty of chances to score a second of our own before that."

Lahm speaks the truth, but putting together 11 guys who don't normally play competitive matches together must also be a part, especially against a Freiburg team that always plays tough.

But more unsettling than missing out on two points was watching Schweinsteiger leave the field, injured. After the match, Markus Hoerwick said: "Schweinsteiger only has a strained ankle. He will be examined in Munich and we hope he can play Friday against Chelsea."

We hope. Everyone hopes. Complaining about having too many midfielders is no longer the case. Luiz Gustavo, Anatoliy Tymoshchuk and Emre Can -- defensive midfielders all -- wanted away from the club and their wishes were granted. Unfortunately, pretty much every other person that can play the holding spot are all hurt. Jan Kirchhoff ... check. Javi Martinez ... check. Thiago Alcantara ... check. Pierre Hojbjerg ... check.

If Schweinsteiger is unable to start Friday, Bayern's options are limited to Kroos or David Alaba. That's it. Not only does Bayern not have the personnel for a double pivot healthy, the single pivot is also in doubt.