Alcantara injury not so bad for Bayern Munich
I am about to say something very unpopular here: Thiago Alcantara should've been subbed after the first 45 minutes of Bayern's 2-0 win against Nurnberg. Pile on me all you want, Pep Guardiola/Barcelona fan boys and girls. While statistically Thiago had a great match -- 69 out of 74 passes completed -- he created only one chance and had zero shots on goal. The majority of those passes being lateral or just slightly forward but certainly not enough for an attacking midfielder.

In contrast, Thiago's replacement (after the Spaniard suffered an ankle sprain, which will require surgery and likely sideline him until November), Thomas Mueller, quickly got in the game with three shots at goal and a chance created.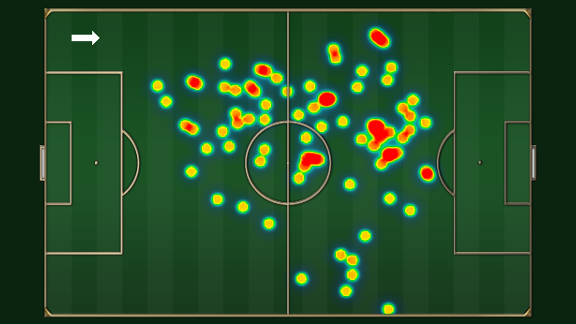 Other / ESPN statsHeat map of Thiago Alcantara's touches against Nurnberg
If Guardiola had correctly subbed Alcantara off at the half, perhaps the coach's transfer dream wouldn't be looking at surgery. High ankle sprains are a nasty business.

Many think I have it in for Thiago, and that is patently untrue. While I will say he is presently superfluous to Bayern's needs, I see -- with Arjen Robben and Franck Ribery not getting any younger -- that he is a player for Bayern's future. And saying that, the Bundesliga is a totally different animal from La Liga. If you recall, Javi Martinez was pushed around a fair bit before he found his footing in Germany's physical league.

- Bayern suffer Thiago Alcantara blow
- Schaaf: Bayern break through late

Tuesday's match against Freiburg will be an interesting selection for Guardiola, noting that Bayern face their 2012 Champions League final nemesis in Chelsea in Friday's Super Cup action. As an added bonus, the world gets Jose Mourinho versus Guardiola again.

However, losing Thiago for a couple of months is not the end of all things for a squad that has, arguably, the deepest midfield in the world; despite Anatoliy Tymoshchuk and Luiz Gustavo leaving. And I wouldn't expect Guardiola to field a "B" team in a Bundesliga match.

But perhaps more interesting than seeing who Pep will start in midfield against Freiburg, is who the starting back four (or three) will be. While Dante is a fan favourite for his exuberance and fabulous hair, he hasn't really had a good match for Bayern since mid-May, against Augsburg last season. Then the self-implosion started after facing his old side, Monchengladbach. And with the single pivot, Bayern really only have two trusted centre-backs, Jerome Boateng and the aforementioned Dante, that are capable of the speed required to face one-on-one situations.

Meanwhile, Christian Streich's Freiburg -- while qualifying for Europa League with a fifth-placed Bundesliga finish last season -- have yet to win a match in three attempts this year. Eight goals conceded points to a not-so-fantastic defence this campaign. Streich will be looking to striker Sebastian Freis to get behind Bayern's defence at the Mage Solar Stadion.

Bayern need points in Bundesliga games much more than a revenge win over Chelsea in the Super Cup. Nobody ever really complained after losing the Super Cup. And Bayern have lost it three times. A record, by the way.