Bayern break through late to top Nurnberg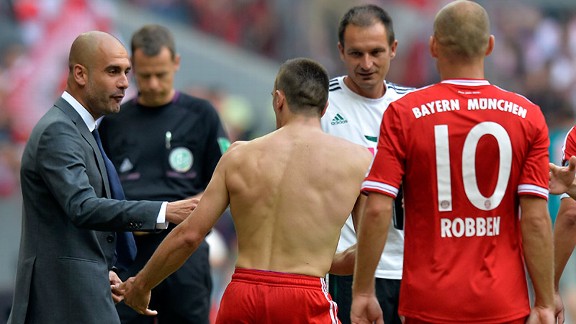 Guenter Schiffmann/AFP/Getty ImagesFranck Ribery's 69th minute goal helped hand Pep Guardiola a three-for-three start as Bayern manager.
The 187th Bavarian derby was utterly dominated by the home side; however, despite a Bundesliga record-breaking 81 per cent possession by Munich, it would take nearly 70 minutes to finally unlock a compact Nurnberg defense. Goals by Franck Ribery and Arjen Robben sealed Bayern's win and the team surpassed another club record, taking them to 28 league games without defeat.

- Report: Bayern maintain perfect record

Pep Guardiola granted his wonder boys -- Thiago Alcantara and Mario Goetze -- a start together in the middle of attacking midfield, while Ribery and Robben devastated the wings; supporting Mario Mandzukic up top.

With Bastian Schweinsteiger as a single pivot and Philipp Lahm spending the majority of the match upfield, the back four looked more like a back three with a sparkling Jerome Boateng -- easily Bayern's best defender so far this year -- drifting in to Lahm's spot on the right while partnering with Dante and David Alaba.

The match opened all Bayern Munich as they retained an amazing amount of possession, and won the ball back quickly when it was lost. But, the first real chance came at the other end 15 minutes in as Daniel Ginczek ran at Bayern, ripping off a monster shot that had Manuel Neuer beat. Luckily for the home team, it crashed off the bottom of the crossbar in front of goal.

Bayern's back line was busy trying to draw FCN out, but they weren't biting; instead settling into two banks of four and letting Munich come at them. And how they came! Goetze nicely servicing Ribery and Robben, while Mandzuic drew fouls from Javier Pinola and Ginczek before he headed directly at Raphael Schaefer from a Boateng cross.

Alaba might have opened Bayern's account on a penalty after Per Nilsson was harshly judged to have fouled Robben, but the defender struck low and poorly -- an easy save for Schaefer. And the quest for a Bayern penalty-taker carries on.

Nurnberg got the better run of play for a bit, eliciting a couple free kicks and corner kicks over the space of several minutes before Boateng and Robben ended the half with rockets from distance.

Second verse, same as the first, as Bayern came out after the break dominating once again, the only glitch being a yellow card for Lahm for a last-ditch tackle on Marvin Plattenhardt, the captain's first yellow in over 40 matches.

Munich was playing more direct football now, the wings controlled by the home side and offering up balls to Mandzukic. Two headers by the forward were saved in succession by Schaefer, before Guardiola finally made the one substitution he needed. Thomas Mueller came in for a struggling Thiago to immediate effect, finding space in the box for crosses from Ribery and Robben.

In the 69th minute the deadlock was finally broken as Alaba's low cross made it through the box to a waiting Lahm. Lahm lofted the ball back in to Ribery; the Frenchman scoring a bullet header, and shown yellow for his exuberant, shirtless celebration. Robben doubled the lead minutes later with his trademark juke, but then a very un-Robben-like finish with his right foot.

Ribery jokingly asked for one more minute on the pitch as he was replaced by Xherdan Shaqiri -- the Swiss international hitting the outside of the post before Robben half-volleyed just wide before Ginczek closed out the match with a drive over the cross bar.

Another Bavarian derby in the book and another win for Bayern Munich -- now three-for-three and level on points with Dortmund, Leverkusen and Mainz. While I'm well happy with the result, this was definitely a tale of two halves -- or thirds, if you will.

It's striking, to me, that Bayern only got better when Lahm dropped back to right back, and Mueller came in for an ineffectual Thiago. And with the additional inclusion of Toni Kroos, all the sudden Bayern started playing Jupp Heynckes-style ball, and not Guardiola-style. I wonder how that goes over with our new trainer, but it will have to be sorted quickly as Bayern travel for a Tuesday match in Freiburg before facing Chelsea in the Super Cup on Friday.