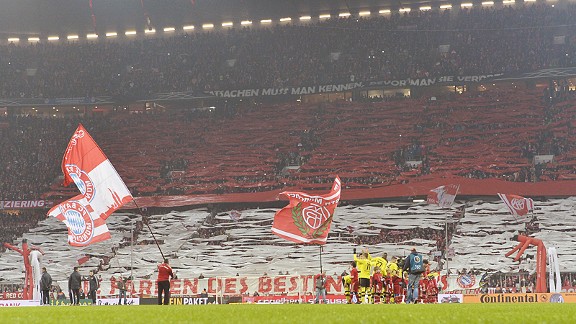 GettyImagesBayern's once famous supporters group has been silenced.
The German Bundesliga's packed and vibrant atmospheres have been, in recent times, enviable to many a football supporter across Europe. Whether it's Schalke 04's Nordkurve, Borussia Dortmund's Suedtribuene or Bayern Munich's Suedkurve, standing terraces bring community and liveliness to matches throughout Germany with those supporters, being the linchpin -- the loudest detractors and the most stalwart support -- for any action happening in their respective stadiums.

So, take those supporters out of the mix and what do you have left?

- Bayern supporters rift continues

A gigantic ball of nothing -- as it would turn out in the Allianz Arena for treble-winning Bayern Munich's season opener against Borussia Moenchengladbach. The atmosphere was called "a cemetery" and "flat" by media. And at one extremely cringe-worthy point in the second half, Bayern fans desperate to sing along with anything sung along to 'Gladbach's "Stand up... if you pay your taxes!" dig at Uli Hoeness.

And, why aren't the Suedkurve in attendance?

Blocks 112 and 113 comprise the 'Kurve. And season tickets there are cheap. Really cheap. You can pay more for one Arsenal home match than you can for a Suedkurve season ticket. And with that pricing structure creates a problem: No one wants to relinquish their season tickets in those two blocks. However, as people start to age, maybe they can't -- or don't want to -- jump around for a full match anymore, while the ultra movement is generally comprised of young, possibly inebriated supporters, who are willing to sing their lungs out and wave flags for 90 minutes.

A disclaimer: While I'm in attendance at the Allianz, I do sit on the south end, as well. If you look at the Suedkurve, I'm a level up, just on the right. But, I sit. All that flag-waving gets in the way of my beer-drinking and note-taking. I digress...

The Suedkurve was willing to take in anyone with a big heart for Bayern and a match ticket, regardless of where that ticket was, to keep the passion and atmosphere going. That is, until this summer when Bayern put a second row of turnstiles behind blocks 112 and 113; therefore preventing people without tickets entry into those two blocks. To add insult to injury, Bayern Munich also revoked several hundred DFB Pokal and Champions League away tickets to supposed pyrotechnic offenders and other misbehavers, further angering their loyal support. Enough was enough, and the ban on home matches began by Schickeria Muenchen, the largest of the Suedkurve's supporters groups.

"They're always on about something, aren't they," a friend of mine who supports BvB (and will remain nameless) said when I mentioned writing this piece. And while I have not agreed with Suedkurve decisions over the years-- most notably the "Koan Neuer" shambles, their heart is in the right place, mostly. But it's hard for any Bayern fan across the world to listen to a quiet stadium, and see those empty seats, and have empathy.

Most FC Bayern Muenchen supporters would kill, or at least maim, to be standing there.

That being said, there may be a light at the end of the tunnel. Uli Hoeness and Karl-Heinz Rummenigge sat down with the supporters groups recently to try to hammer out a deal that suits both sides. The away tickets for Champions League and DFB Pokal matches have been reinstated.

The statement from Club Nr. 12: "At one of the next games, as proposed by many fans, a free choice block will be tested within the Suedkurve. Other suggestions to improve the mood of the fan base will be tested in the coming weeks or months as it is feasible.

Club Nr.12 welcomes these measures in full. We hope that now a common way can be found to ensure that consenting fans -- who could not get into the fan curve after the introduction of turnstiles -- soon can stand together to support our team loudly."

That match is Hannover. Get ready.