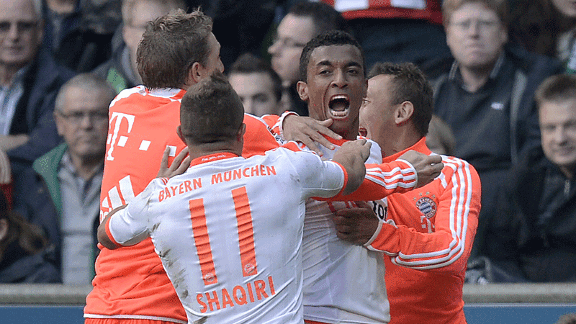 EmpicsLuiz Gustavo is the subject of a transfer battle between Wolfsburg and Arsenal
Luiz Gustavo Dias-- affectionately known as Gustl-- came over to Bayern Munich on a winter transfer from 1899 Hoffenheim in 2011. Quickly winning over Bavarian hearts, he became a fan favorite for his aggressive style of play; filling the hole that destroyer Mark van Bommel left.

His transfer fee, reported to be €15-20 million, seems to be the same amount that Munich are willing to let him go for now. But, with a club as financially storied as Bayern, one would think that they'd like to turn a profit on a player every once in a while. Regarded as the Evil Empire by most, they are usually willing to acquiesce to a want-away player -- sending them on their way to the club of their choice. (See: just about everyone) This Gustavo transfer might be a bit different, perhaps, in who is to gain the most from it.

Marginalized by the brilliant signing last season of Javi Martinez from Bilbao -- what, was Jupp Heynckes not going to start a 40 million euro guy?! -- Gustavo quickly went from first team regular to afterthought. Despite being second fiddle to the Spaniard, Brazil coach Luiz Felipe Scolari still called up the defensive midfielder for the Confederations Cup tournament. Gustavo would impress mightily, and come back to Bayern with hopes of getting more playing time.

"I want to stay at Bayern Munich," he said late July. "I am under contract with the club and I want to fulfill that commitment. I have been in a position to fight for a first team role throughout my career. I will keep on fighting this year, too."

Millions of Bayern fans across the globe sighed relief at the statement, but the hard truth began to show through. With Pep Guardiola's new 4-1-4-1 system, even Javi Martinez has found a spot on the bench (or used unsuccessfully at center back). So what kind of minutes could Gustavo be guaranteed this season at Bayern? Mindful of the fact that he's gunning to start for a Selecao next June.

Before Brazil's midweek match against Switzerland, Gustavo said: "My contract with Bayern runs until 2015, but it is very important that I play first-team football to keep getting called up for the national team.

"I am in a delicate situation at Bayern, and this needs sorting out. I have personal and professional reasons to move. I have heard about the Arsenal interest. It's a big club we're talking about here, so of course I'd like to play for them."

The three clubs with the most interest in the midfielder were Napoli, Wolfsburg and Arsenal. While Wolfsburg seemed to be the initial leader for the Brazilian, when he heard Arsene Wenger's head had been turned, all press and rumors turned tide in favor of the London outfit. And I, along with many others, thought, 'this is a perfect fit'. Tall, strong -- a bruiser -- he might be just what the Gunners need.

Then Arsenal tabled an offer. And this is where the whole thing gets squirrely. While some reports suggest that the transfer fee wasn't large enough -- €20 million from most accounts -- it's that Gustavo was asking for wages probably no other Gunner is paid: somewhere in the realm of 130 thousand euro a week. Possibly the only three guys that are making anywhere near that at Arsenal are Lukas Podolski, Theo Walcott and Jack Wilshere.

Despite his interest in playing for Arsenal, others suggested that he wouldn't be guaranteed a starting place in London. And in one day, Arsenal dropped out and Wolfsburg dropped in. A report from Die Welt stated that Bayern had accepted a lower bid for Gustl from the Wolves, noting that Prof. Dr. Martin Winterkorn, Volkswagen AG chairman, sits on Bayern's supervisory board; while kicker said that the good Professor-Doctor sealed the deal in Hungary over the weekend during the Gyori friendly.

Hmmmm...

Whatever deal is finalized, it's likely to do so in the next few days, or even hours. But one must pause to consider what is better for Gustavo. On the one hand, if player wage expectation was too great at Arsenal, then I'm inclined to think that Gustavo and his agent blew the deal. Yes, Wolfsburg -- owned by Volkswagen -- can afford his salary, and Gustavo can certainly look to be in the first team on a regular basis at the club. But that comes at the cost of Champions League competition, and playing for a bottom-half Bundesliga side. And while that might get him to Brazil, who says that the Gunners wouldn't, as well?