Excitement to start the season as Bayern prevail over 'Gladbach

Bayern Munich began their Bundesliga title defense in a wholly exciting, end-to-end match against Borussia Monchengladbach on Friday night in Munich, winning 3-1.

Goals from Arjen Robben and Mario Mandzukic fired the Bavarians to a 2-0 lead, before Dante (playing against his former club, again) brought one back for 'Gladbach. David Alaba shot a penalty past Marc-Andre ter Stegen in one of the strangest scenarios I've ever seen on a pitch to close out the match, and Bayern Munich went to 26 unbeaten games in a row in the league, one away from tying the record.

Bastian Schweinsteiger accepted his German Player of the Year award prematch and also made his 300th Bundesliga appearance -- closing in on Lothar Matthaeus' 302 matches for the club. I would have loved to see him score in this one, but as a single pivot in Pep Guardiola's 4-1-4-1 system, it makes it a bit harder for him to truly get forward.

Schweinsteiger, lonely as defensive midfielder, was joined on the pitch by Manuel Neuer in goal; captain Philipp Lahm, Jerome Boateng, Dante and Alaba as back four; Robben and Franck Ribery book-ending Thomas Müller and Toni Kroos in attacking midfield, with Mandzukic as striker up top.

Guardiola said postmatch: "We knew it would be tough. It's always hard work against 'Gladbach. We had no control over the match in the first 15 minutes of the second half. We're satisfied with this first victory, but we need a couple more wins to build up our confidence."

While the initial Startelf for Bayern looked like Guardiola might have reconsidered his preseason and put out a 4-2-3-1, it would come to naught as Kroos was not a holding midfielder alongside Schweinsteiger, instead starting in the attack. A very high defensive line, plus the single pivot, continues to make Bayern Munich vulnerable to counterattacks. And counterattacking is what Borussia Monchengladbach does best.

Christoph Kramer would attempt to draw first blood as his shot from a corner was deflected by Dante on top of the box. Robben tried to strike twice in quick succession before he opened the scoring for Bayern after a perfect Ribery pass found his foot -- the Dutchman just chipping over an on-rushing ter Stegen.

The ensuing celebration almost saw Robben out on a Ribery chest bump, but "Robbery" and Mandzukic linked up just minutes later to double for Munich. Ribery flicked from a quick Robben free, which ter Stegen could only bat out -- directly at Mandzukic. The Croatian bundled home past the Foals keeper.

Bayern's very high defensive line was caught out as Raffael broke to eventually shoot wide before Ribery dribbled past nearly everyone in 'Gladbach's defense. But Raffael was unimpressed after his shot at Neuer was followed by a header down to Max Kruse, whose shot was saved at point-blank range.

A rare Ribery error delivered a ball to Tony Jantschke, which Neuer came out to smother before Dante once again shot past Neuer after a Juan Arango cross.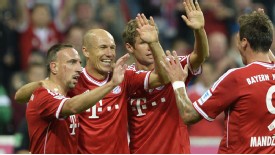 GettyImagesBayern Munich players celebrate during their Bundesliga win against Borussia Monchengladbah.
Shortly before the half, Ribery fed Kroos for a rocket, which was saved again by the excellent ter Stegen, while Arango shot to Neuer to close out the initial 45 minutes.

Monchengladbach controlled the run of play to start the second half as new signing Kruse's blast careened off Raffael, while, defensively, the Foals held as Ribery was tackled out by Martin Stranzl and a touchline shot was pushed out by ter Stegen.

Dante, trying to make up for his own goal, pushed through the Borussia defense before getting caught on the counter as Kruse shot at Neuer from distance after a lovely exchange by Alvaro Dominguez and Patrick Herrmann.

The match opened up in end-to-end football; Ribery brilliantly made his way through a slew of defenders before Dominguez was called for handling in the box. Ter Stegen swatted away Müller's effort, but Dominguez was called for a second penalty on the rebound.

While the initial call was good from referee Tobias Welz, the second was harsh. However, Alaba made no mistake, bringing Bayern two goals in front of the Foals. Lucien Favre's men weren't done, though, as Dante blocked Raffael and Kruse just missed a far-post cross.

Rafinha came on for Müller -- slotting Philipp Lahm in to midfield -- and Kroos made way for Javi Martinez as 'Gladbach were lucky not to be called for another penalty as Robben (making a meal of it) went down in the box.

Kruse got one last shot in before the whistle blew, and Bayern Munich started their defense of their Bundesliga title in fairly convincing fashion. While I'm not wholly comfortable with the tactical formation, I suppose, for now, I'd have to say "the best defense is a great offense." There's work to be done, for sure, but in the broad spectrum of things, it was a nice account by Bayern Munich.

And good on ya, Monchengladbach! Nearly two-thirds of the game was exciting as could be asked for. And a wonderful way to open up this 50 + 1 edition (credit: Archie Rhind-Tutt) of the Bundesliga season.