German Super Cup: Dortmund 4-2 Bayern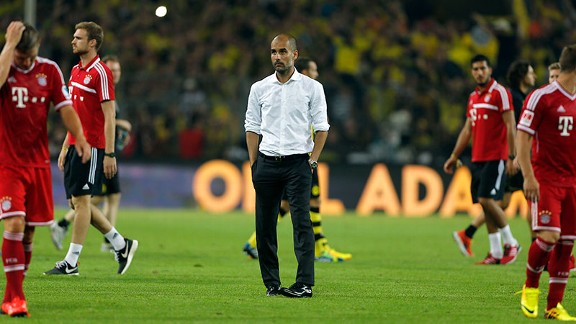 APPep Guardiola cuts a lonely figure after Bayern Munich's German Supercup loss to Borussia Dortmund
In a vastly entertaining German Super Cup match, Borussia Dortmund took down Bayern Munich 4-2 on a steamy night at Signal Iduna Park. Marco Reus and Arjen Robben each scored a brace, but the deciders in Dortmund's favor were an own goal by Daniel van Buyten and a superior effort by Ilkay Gundogan.

Pep Guardiola dressed for the occasion, while Juergen Klopp did his usual casual (read: homeless) look for the first meeting between the two sides since they met a scant two months ago in the Champions League final. And while Klopp opted for his Startelf from the May 25 meeting in London -- less Lukasz Piszczek out long-term, Guardiola debuted his 4-1-4-1 to true German and European competition, with a vastly different line-up than the one that triumphed at Wembley.

With Manuel Neuer and Franck Ribery late scratches, Bastian Schweinsteiger unable to complete a full 90 minutes and Javi Martinez out, Bayern's starting XI looked nothing like their display in London.

After David Alaba lost Kevin Grosskreutz early on for the first decent chance for Munich, BvB struck early after Robert Lewandowski's cross found Sven Bender to shoot. Deputy goalkeeper Tom Starke was only able to punch out Bender's effort, losing sight of the ball before Reus headed through.

A scant two minutes later, Lewandowski could have doubled for Dortmund, but was called offside as he broke free. Xherdan Shaqiri warmed Roman Weidenfeller's gloves with a well-struck volley, but the Dortmund 'keeper was really called into action shortly after, saving from both Shaqiri (again) and Thomas Mueller in quick succession.

It only took 17 minutes to see that Daniel van Buyten should have been called to the bench, after Lewandowski broke free of the Belgian again, only to have his shot saved by Starke. The Bayern keeper continuously had problems with the Polish striker, but on each end of a water break (?!) Mario Mandzukic might have scored. The first -- a one-on-one with Weidenfeller, the second -- a low service from Alaba.

Reus made one more attempt before the half ended -- which was punched out by Starke -- before the second half began. Bender made way for Sebastian Kehl, and Schweinsteiger could be seen warming up on the sidelines as Jerome Boateng and Lewandowski continued their animosity.

Toni Kroos took a stab at Weidenfeller from distance before the man that everyone who supports Dortmund loves to hate -- Arjen Robben -- headed past the BvB keeper from a lovely whipped Lahm cross.

But pleasure turned to horror as Dortmund pulled two back in two minutes. The first was a diving header by Bayern's van Buyten from a Gundogan cross, and the second saw Gundogan go all on his own with a well-struck volley from the top of the box.

Robben wasn't quite done yet. Whistled at loudly every time he touched the ball, he accepted a tight pass from Lahm, turned and shot through a clutch of defenders -- and Neven Subotic's legs -- to beat Weidenfeller and put the game within reach for Bayern.

Mandzukic came close with a bicycle kick before Shaqiri was subbed off for Schweinsteiger, and after another water break (?!) Mandzukic made way for Claudio Pizarro after tangling with Marcel Schmelzer one too many times.

Mueller had the best chance to equalize with a volley that glanced off the top of the crossbar before Pierre-Emerick Aubameyang began to prove why he is so highly rated. He'll be a star, and a trouble to opposition across the Bundesliga.

Reus sealed his brace on the night, sealing Bayern Munich's doom by latching onto Aubameyang's speedy run down the flank. With almost 2/3 possession, Bayern could not convert the necessary amount of chances, while Dortmund pressed well and to good effect. Bayern, in the end, sealed their own fate with Starke's opening howler and the own goal by van Buyten. I'll be happy to see a full squad back at Bayern match up again, and let the chips fall where they may. It's gonna be a very entertaining Bundesliga season.